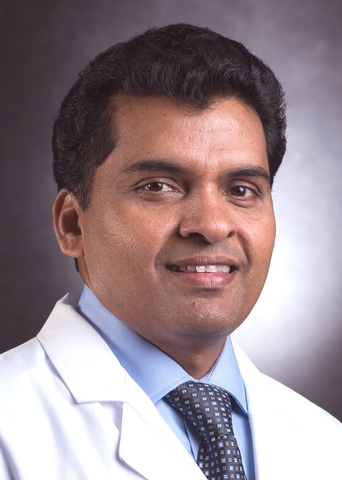 Regents Professor, Department of Neuroscience and Experimental Therapeutics
Director, Institute of Pharmacology and Neurotherapeutics
Pathophysiology and New Drug Development for Epilepsy and Brain Disorders
Chancellor EDGES Fellow
Contact
Department of Neuroscience & Experimental Therapeutics
8447 Riverside Pkwy
2008 Medical Research and Education Building
Bryan, TX 77807
sambareddy@tamu.edu
Phone: 979.436.0324
Fax: 979.436.0086

Education and Training
Panjab University, Chandigarh, PhD, Pharmacology, 1998
Texas State BOP, Austin, TX, R.Ph, Pharmacy
National Institutes of Health, Bethesda, MD, Postdoctoral
Research Interests
Molecular Pathophysiology and Neurotherapeutics of Epilepsy and Brain Disorders
Dr. Reddy is a board-certified pharmacist-pharmacologist who has been researching new drug development for epilepsy and brain disorders for over 25 years. Epilepsy and seizure disorders affect about 65 million people worldwide, including 3.4 million civilians and veterans in the United States. There are no medications that can cure epilepsy, and about 30% of epilepsy cases are resistant to antiseizure medications. The Reddy lab is developing innovative, disease-modifying therapies for preventing the development and progression of epilepsy. Dr. Reddy directs a productive multidisciplinary research group utilizing pharmacological, neuroimaging, electrophysiological, neuropathological, molecular, and bioengineering techniques. Current projects in the Reddy lab are centered on elucidating the molecular pathophysiology of, and developing mechanism-based novel drug therapies for, epileptogenesis, status epilepticus, post-traumatic epilepsy, post-stroke epilepsy, and chemical neurotoxicity. Dr. Reddy has a longstanding interest in neurosteroids as novel anticonvulsants and neuroprotectants, and his lab has been conducting pioneering investigations on neurosteroid interactions at synaptic and extrasynaptic GABA-A receptors. The seminal contributions of the Reddy lab in elucidating the role of neurosteroids in the brain culminated in the discovery of the landmark "neurosteroid replacement therapy" (NRT). NRT consists of administering a natural or synthetic neurosteroid during a period of decreased levels or deficiency state to control seizures or alleviate mood disorders such as catamenial epilepsy, premenstrual syndrome, and post-partum depression. Dr. Reddy made critical foundational contributions in developing allopregnanolone (brexanolone), ganaxolone and other synthetic neurosteroids for epilepsy & women's health conditions.
Many of Dr. Reddy's research innovations have had a profound impact on healthcare and clinical practice. His contributions led to the development of two new clinically-used medicines. In 2019, brexanolone (Zulresso) became the first FDA-approved drug for postpartum depression, a condition which affects nearly 10% of childbearing women. In 2022, ganaxolone (Ztalmy), the first neurosteroid for epilepsy, became the first FDA-approved therapy for CDKL5-deficient epilepsy. Another neurosteroid (zuranolone) was approved in 2023 for postpartum depression. Dr. Reddy lab's critical contributory role in developing these medicines is evident from extensive work and publications for over 20 years, including foundational investigations into drug safety, efficacy, mechanism, and lack of tolerance upon chronic use. He was the first to discover neurosteroids' ability to preferentially activate extrasynaptic GABA-A receptors, which represent novel targets for refractory epilepsy. In a patented invention, he discovered that neurosteroids can terminate hard-to-treat seizures, called status epilepticus, a life-threatening neurological emergency with persistent seizures. His "first-in-class" synthetic neurosteroid product is undergoing BARDA-sponsored, phase-3 trials for treatment of status epilepticus disorders in patients. It is poised to be a life-saving anticonvulsant antidote.
The Reddy lab has been conducting innovative research on identifying epigenetic mechanisms and developing FDA-approvable, histone deacetylase-based therapies for epilepsy, epileptogenesis, and other chronic neurological disorders.
The Reddy lab has been conducting clinically-translatable research on cannabinoids for epilepsy and brain injuries. In 2018, the FDA approved the first CBD product (Epidiolex) for pediatric epilepsies. His lab has uncovered the antiseizure and disease-modifying potential of CBD.
Dr. Reddy is a Professor of Engineering Medicine & Affiliate Professor of the Biomedical Engineering department, where he runs interdisciplinary projects focused on the development of artificial Intelligence-based smart therapies for epilepsy and chronic brain disorders.
The Reddy lab also has great interest in military medicine projects, such as development of novel antidotes for chemical warfare nerve agents, identification of prevention strategies for post-traumatic epilepsy, and testing treatments for Gulf War illness in veterans. Reddy was instrumental in discovering many preclinical models, mechanism-based treatment strategies, and novel medicines for such complex brain disorders. His research projects have been funded by the NIH and DOD for over 15 years. He is the principal investigator of an NIH CounterACT project focusing on novel treatments for organophosphate and nerve agent intoxication. He also directs a DOD project on post-traumatic epilepsy after traumatic brain injury, which affects many soldiers who have been in combat.
Dr. Reddy teaches in medical, EnMed, and graduate courses on human pharmacology and therapeutics. He has presented 175 invited talks, authored/co-authored 475 presentations, and mentored over 100 students/ postdocs, and serves as an expert member in federal panels and organizations, including NIH, DOD and USP. He has published over 230 papers and book-chapters (H-index 57), which are available online (http://orcid.org/0000-0003-2735-9550).
Awards, Recognition and Service
Fellow, American Epilepsy Society (AES)
Fellow, American Association for the Advancement of Science (AAAS)
Fellow, American Association of Pharmaceutical Scientists (AAPS)
SAB Member, Environmental Protection Agency (EPA)
Contributing Editor, Epilepsy Currents (AES Journal)
Chartered Member, NIH Study Section ANIE & CNNT
Delegate Member, The United States Pharmacopoeia (USP)
Registered Pharmacy Practitioner, Texas, United States
Sigma Xi Faculty Research Award
NIH Fellows Award for Research Excellence
Texas A&M Medicine Excellence in Research Award (2015)
Science & Technology Excellence award (2018)
Mario Toppo Distinguished Scientist Award (2019)
Lifetime Achievement Award in Pharmacy by ABAP Association (2019)
Texas A&M Association of Former Students Distinguished Achievement Award in Research (2020)
Texas A&M University System Chancellor EDGES Fellow (2020)
Editorial Member, Journal of Pharmacology and Experimental Therapeutics (IF, 4.5)
Editorial Member, Experimental Neurology (IF, 5.6)
Editor-in-Chief, International Journal of Pharmaceutical Sciences and Nanotechnology
Associate Editor, Frontiers in Aging Neuroscience
Associate Editor, Current Protocols (Wiley Inc)
Guest Editor, Experimental Neurology (ESI: Cannabinoids in Neurology)
Global Leader Award (2020) by the American Association of Pharmaceutical Scientists for his lifetime contributions to pharmaceutical sciences with an outstanding impact on research and public health.
Dr. Reddy is listed among the world's top 2% scientists, as per the 2021 Stanford University survey of "highly cited scientists" worldwide.
Guest Editor, Journal of Pharmacology and Experimental Therapeutics (JPET)
Regents Professor Award (2022), the highest honor bestowed by the System to a faculty member
Representative Publications
Reddy DS (2023). Neuroendocrine insights of neurosteroid therapy for postpartum depression. Trends in Molecular Medicine, Aug 2;S1471-4914(23)00156-9.
https://pubmed.ncbi.nlm.nih.gov/37541828/
Reddy DS (2023). Preclinical and clinical pharmacology of brexanolone (allopregnanolone) for postpartum depression. Psychopharmacology, Aug 11: PMID: 37566239
https://pubmed.ncbi.nlm.nih.gov/37566239/
Kodali M, Jankay T, Shetty AK and Reddy DS (2023). Pathophysiological Basis and Promise of Experimental Therapies for Gulf War Illness. Psychopharmacology 240(4):673-697.
https://pubmed.ncbi.nlm.nih.gov/36790443/
Reddy DS, Wu X, Singh T and Neff M (2023). Experimental Models of Gulf War Illness, a Chronic Neuropsychiatric Disorder in Veterans. Current Protocols March; 3(3):e707.  https://pubmed.ncbi.nlm.nih.gov/36947687/
Reddy DS (2023). Building evidence on therapeutic efficacy and innovative mechanisms of cannabinoids in neurological disorders. Exp Neurology 362, 114390.
https://doi.org/10.1016/j.expneurol.2023.114390
Reddy DS (2023). Therapeutic and clinical foundations of cannabidiol therapy for difficult-to-treat seizures in children and adults with refractory epilepsies. Exp Neurology 359: 114237.
https://pubmed.ncbi.nlm.nih.gov/36206806/ 
Talwar A, Estes E, Aparasu R and Reddy DS (2023). Clinical efficacy and safety of cannabidiol for pediatric refractory epilepsy indications: A systematic review and meta-analysis. Exp Neurology 359: 114238.  https://pubmed.ncbi.nlm.nih.gov/36206805/
Reddy DS, Mbilinyi R and Ramakrishnan S (2023). Efficacy of the FDA-approved cannabidiol on the development and persistence of temporal lobe epilepsy and complex focal onset seizures. Exp Neurology 359: 114240. https://pubmed.ncbi.nlm.nih.gov/36216124/ 
Golub T, Ramakrishnan S and Reddy DS (2023). Isobolographic analysis of antiseizure activity of clinical-approved cannabidiol with neurosteroids and benzodiazepines in an adult refractory focal onset epilepsy. Exp Neurology 260: 114294.
https://pubmed.ncbi.nlm.nih.gov/36493860
Afrin K, Dusi R, Reddy DS and Bukkapatnam STS (2022). Prognosis of epileptic seizure event onsets using random survival forests. IISE Transactions on Healthcare Systems Engineering 12(3): 221-231. https://doi.org/10.1080/24725579.2022.2051645      
 Golub V and Reddy DS (2022). Contusion brain injury in mice for modelling of post-traumatic epilepsy with contralateral hippocampus sclerosis: Comprehensive and longitudinal characterization of spontaneous seizures, neuropathology, and neuropsychiatric comorbidities. Exp Neurology 348:113946.  https://pubmed.ncbi.nlm.nih.gov/34896334/
Golub VM and Reddy DS (2022). Post-Traumatic Epilepsy and Comorbidities: Advanced Models, Molecular Mechanisms, Biomarkers, and Novel Therapeutic Interventions. Pharmacological Reviews 74(2):387-438. https://pubmed.ncbi.nlm.nih.gov/35302046/
Elmer S and Reddy DS (2022). Therapeutic Basis of Generic Substitution of Antiseizure Medications. J Pharmacol Exp Therap 381:1-9.  https://pubmed.ncbi.nlm.nih.gov/35241634/
 Reddy DS, Golub V, Ramakrishnan S, Abeygunaratne H, Dowell S and Wu X (2022). A Comprehensive and Advanced Mouse Model of Post-Traumatic Epilepsy with Robust Spontaneous Recurrent Seizures. Current Protocols June;2(6):e4472.  https://pubmed.ncbi.nlm.nih.gov/35671160/
 Reddy DS, Thompson W and Calderara G (2022). Does Stress Trigger Seizures? Evidence from Experimental Models. Curr Topics Behav Neurosci 55: 41-64.
https://pubmed.ncbi.nlm.nih.gov/33547597/
Reddy DS and Abeygunaratne HN (2022). Experimental and Clinical Biomarkers for Progressive Evaluation of Neuropathology and Therapeutic Interventions for Acute and Chronic Neurological Disorders. Int. J. Mol.Sci. 23: 11734.
https://pubmed.ncbi.nlm.nih.gov/36233034/
Reddy DS, Thompson W and Calderara G (2021). Molecular mechanisms of sex differences in epilepsy and seizure susceptibility in chemical, genetic and acquired epileptogenesis. Neuroscience Letters 750:135753.
https://pubmed.ncbi.nlm.nih.gov/33610673/
Reddy DS, Zaayman M, Kuruba R and Wu X (2021). Comparative evaluation of experimental models of refractory status epilepticus following exposure of cholinergic agents pilocarpine, DFP, and soman. Neuropharmacology 191:108571.
https://pubmed.ncbi.nlm.nih.gov/33878303/
Golub V and Reddy DS (2021). Cannabidiol Therapy for Refractory Epilepsy and Seizure Disorders. Adv Exp Med Biol.1264:93-110. 
https://pubmed.ncbi.nlm.nih.gov/33332006/
Wu X, Shetty AK and Reddy DS (2021). Long-term Changes in Neuroimaging Markers, Cognitive Function and Psychiatric Symptoms in an Experimental Model of Gulf War Illness. Life Sciences 285; 119971; 1-12.
https://pubmed.ncbi.nlm.nih.gov/34560085/
Reddy DS (2021). Neurosteroid replacement therapy for catamenial epilepsy, post-partum depression and neuroendocrine disorders. J Neuroendocrinology 34(2): e13028: 1-17.
https://pubmed.ncbi.nlm.nih.gov/34506047/
 Reddy DS, Wu X, Kuruba R, Sridhar V and Reddy DS (2020). Magnetic resonance imaging analysis of long-term neuropathology after acute exposure to the nerve agent soman: Correlation with histopathology and neurological dysfunction.  Annals of New York Acad Sci 1480(1):116-135.
https://pubmed.ncbi.nlm.nih.gov/32671850/
Christine C, Reddy DS, Maguire J and Forcelli PA (2020). Sex Differences in the Epilepsies and Associated Comorbidities: Implications for Use and Development of Pharmacotherapies. Pharmacological Reviews 72:767–800.
https://pubmed.ncbi.nlm.nih.gov/32817274/
Rees KA, Halawa AA, Garcia DC, Tan AM, Clossen BL, Golub VM, Reddy DS, Montgomery KS, Griffith WM and Winzer-Serhan UH (2020). Molecular, physiological and behavioral characterization of the heterozygous Df[h15q13]/+ mouse model associated with the human 15q13.3 microdeletion syndrome. Brain Research 1746:147024.
https://pubmed.ncbi.nlm.nih.gov/32712126/
Reddy DS (2020). Clinical pharmacology and therapeutics of antiepileptic drugs for epilepsy and seizure disorders. Int J Pharm Sci Nanotechnology 13(6): 5165-5184.
https://doi.org/10.37285/ijpsn.2020.13.6.1
Chuang S-H and
Reddy DS (2020). Isobolographic Analysis of Anticonvulsant Activity of GABA-A Receptor-Modulating Synthetic Neurosteroids Brexanolone and Ganaxolone with Tiagabine and Midazolam. J Pharmacol Exp Therap Dec 372:285–298  https://pubmed.ncbi.nlm.nih.gov/31843812/
Reddy DS, Perumal DR, Golub V, Habib A, Kuruba R and Wu X (2020). Phenobarbital as Alternative Anticonvulsant for Organophosphate-Induced Benzodiazepine Refractory Status Epilepticus and Neuronal Injury. Epilepsia Open 5:198–212.https://pubmed.ncbi.nlm.nih.gov/32524045/
 Reddy SD, Younus I, Sridhar V, Reddy DS (2019). Neuroimaging Biomarkers of Experimental Epileptogenesis and Refractory Epilepsy. Int J Mol Sci. Jan 8;20(1): 1-23.
https://pubmed.ncbi.nlm.nih.gov/30626103/
 Chuang S-H and Reddy DS (2019). Zinc reduces antiseizure activity of neurosteroids by selective blockade of extrasynaptic GABA-A receptor-mediated tonic inhibition in the hippocampus. Neuropharmacology 148:244-256.
https://pubmed.ncbi.nlm.nih.gov/30471294/
 Reddy DS, Carver CM, Clossen B and Wu X (2019). Extrasynaptic GABA-A receptor-mediated sex differences in the antiseizure activity of neurosteroids in status epilepticus and complex partial seizures. Epilepsia 60(4):730-743.
https://pubmed.ncbi.nlm.nih.gov/30895610/
 Reddy DS (2019). An enigmatic role of tonic inhibition in gabapentin therapy. EBioMedicine (Lancet group) 42:14-15.
https://pubmed.ncbi.nlm.nih.gov/30910483/
 Reddy DS (2019). Mechanism-based novel antidotes for organophosphate neurotoxicity. Current Opinion in Toxicology 14:35-45.
https://pubmed.ncbi.nlm.nih.gov/32856007/
 Reddy DS, Yoshimurab RF, Ramanathana G, Carver CM, Johnstone TB, Hogenkamp DJ, and Gee KW (2018). Role of β2/3-specific GABA-A receptor isoforms in the development of hippocampus kindling epileptogenesis. Epilepsy & Behavior 82:57-63.
https://pubmed.ncbi.nlm.nih.gov/29587186/
 Reddy DS, Jones M, Hunn, Crepeau AZ and Maganti R (2018). Neuroendocrine aspects of improving sleep in epilepsy. Epilepsy Research 147: 32-41.
https://pubmed.ncbi.nlm.nih.gov/30212766/
 Reddy DS, Wu X, Golup V, Dashwood WM and Dashwood RH (2018). Measuring histone deacetylase inhibition in the brain. Current Protocols in Pharmacology June; 81(1):e41.
https://pubmed.ncbi.nlm.nih.gov/29927058/
 Chuang S-H and Reddy DS (2018). 3β-Methyl-neurosteroid analogs are preferential positive allosteric modulators and direct activators of extrasynaptic dGABA-A receptors in the hippocampus dentate gyrus subfield. J Pharmacol Exp Therap 365(3):583-601.
https://pubmed.ncbi.nlm.nih.gov/29602830/
Kuruba R, Wu X and
Reddy DS(2018). Benzodiazepine-refractory status epilepticus, neuroinflammation, and neurodegeneration after acute organophosphate intoxication. Biochim Biophys Acta 1864(9 Pt B):2845-2858. https://pubmed.ncbi.nlm.nih.gov/29802961/
 Wu X, Kuruba R, and Reddy DS (2018). Midazolam-resistant seizures and neuronal injury following acute intoxication with diisopropylfluorophosphate, an organophosphate pesticide and surrogate for nerve agents. J Pharmacol Exp Therap 367(2):302-321.
https://pubmed.ncbi.nlm.nih.gov/30115757/
 Chuang S-H and Reddy DS (2018). Genetic and molecular regulation of extrasynaptic GABA-A receptors in the brain: Therapeutic insights for epilepsy. J Pharmacol Exp Therap 364:180-197.
https://pubmed.ncbi.nlm.nih.gov/29142081/
 Reddy SD, Clossen B and Reddy DS (2018). Epigenetic histone deacetylation inhibition prevents the development and persistence of temporal lobe epilepsy. J Pharmacol Exp Therap 364:97-109.
https://pubmed.ncbi.nlm.nih.gov/29101217/
 Reddy DS (2018). GABA-A Receptors Mediate Tonic inhibition and neurosteroid sensitivity in the brain. Vitamins and Hormones 107:177-191.
https://pubmed.ncbi.nlm.nih.gov/29544630/
 Reddy DS (2018). Drug Therapy for the Management of ADHD (Chapter 18). In: Brody's Human Pharmacology, 6th Edition (Eds. Lynn Wecker et al,), Elsevier, pp-18-2-18-7.
 Reddy DS (2018). Drug Therapy for Migraine Headache (Chapter 31). In: Brody's Human Pharmacology, 6th Edition (Eds. Lynn Wecker et al,), Elsevier, pp-31-2-31-7.
 Reddy DS (2017). Sex differences in the anticonvulsant neurosteroids. J Neurosci Res 95:661-670.
https://pubmed.ncbi.nlm.nih.gov/27870400/
Reddy DS, Gangisetty O and Wu X (2017). PR-Independent neurosteroid regulation of a2-GABA-A receptor plasticity in the hippocampus subfields. Brain Res 1659: 142–147.
https://pubmed.ncbi.nlm.nih.gov/28137424/
Reddy DS and Colman E (2017). A comparative analysis of human organophosphate poisonings using social media. Clin Transl Sci 10(3):225-230.
https://pubmed.ncbi.nlm.nih.gov/28238224/
Reddy DS (2017). Do oral contraceptives increase epileptic seizures? Expert Rev Neurotherapeutics 17(2):129-134.
https://pubmed.ncbi.nlm.nih.gov/27690666/
Clossen BL and Reddy DS (2017). Novel therapeutic approaches for disease-modification of epileptogenesis for curing epilepsy. Biochim Biophys Acta 1863(6):1519-1538.
https://pubmed.ncbi.nlm.nih.gov/28179120/
Younus I and Reddy DS (2017). Epigenetic interventions for epileptogenesis: A new frontier for curing epilepsy. Pharmacology & Therapeutics 177: 108-122.
https://pubmed.ncbi.nlm.nih.gov/28279785/
Clossen BL and Reddy DS (2017). Catamenial-like seizure exacerbation in mice lacking extrasynaptic dGABA-A receptors. J Neurosci Res, 95:1906-1916.
https://pubmed.ncbi.nlm.nih.gov/28236431/
 Wu X, Muthuchamy M and Reddy DS (2017). Atomic force microscopy investigations of fibronectin and α5β1-integrin signaling in neuroplasticity and seizure susceptibility in experimental epilepsy. Epilepsy Res 138: 71-80.
https://pubmed.ncbi.nlm.nih.gov/29096132/
Reddy DS (2017). Perimenstrual seizures and neurosteroid withdrawal (Chapter 63). In: Models of Seizure and Epilepsy, 2nd edition (Eds. Pitkanen A, Buckmaster P, Galanopoulou A, Moshe SM), Elsevier Press); pp-933-940.
 Younus Y and Reddy DS (2017). A Resurging boom in new drugs for epilepsy and brain disorders. Exp Rev Clin Pharmacol 11(1):27-45.
https://pubmed.ncbi.nlm.nih.gov/28956955/
Reddy DS (2017). Clinical pharmacology of modern antiepileptic drugs. Int J Pharma Sci Nanotech 10(6): 3875-3890.
https://doi.org/10.37285/ijpsn.2017.10.6.1
Reddy DS and Volkmer II R (2017). Neurocysticercosis as an infectious acquired epilepsy worldwide. Seizure: Eur J Epilepsy 52:176-181.
https://pubmed.ncbi.nlm.nih.gov/29055271/
Reddy DS (2016). Catamenial epilepsy: discovery of an extrasynaptic molecular mechanism for targeted therapy. Front Cell Neurosci 10(101): 1- 14.
https://pubmed.ncbi.nlm.nih.gov/27147973/
Younus I and Reddy DS (2016). Seizure facilitating activity of the oral contraceptive ethinyl estradiol. Epilepsy Res 121:29-32.
https://pubmed.ncbi.nlm.nih.gov/26874323/
Carver CM and Reddy DS (2016). Neurosteroid structure-activity relationships for functional activation of extrasynaptic dGABA-A receptors in the hippocampus. J Pharmacol Exp Therap 357:188–204.
https://pubmed.ncbi.nlm.nih.gov/26857959/
Carver CM, Chuang S-H and Reddy DS (2016). Zinc selectively inhibits the neurosteroid-sensitive, extrasynaptic d-GABA-A receptors in the hippocampus. J Neurosci 36(31): 8070–8077.
https://pubmed.ncbi.nlm.nih.gov/27488628/
 Reddy DS and Golub VM (2016). The pharmacological basis of cannabis use for epilepsy. J Pharmacol Exp Therap 357:45–55.
https://pubmed.ncbi.nlm.nih.gov/26787773/
Reddy DS and Estes W (2016). Clinical potential of neurosteroids for CNS disorders. Trends Pharmacol Sci 37(7): 543-561.
https://pubmed.ncbi.nlm.nih.gov/27156439/
Reddy DS (2016). Neurosteroids for the potential protection of humans against organophosphate toxicity. Ann NY Acad Sci 1378(1):25-32.
https://pubmed.ncbi.nlm.nih.gov/27450921/
Xin W, Muthuchamy M and Reddy DS (2016). Application of atomic force microscopy protocol for measurement of membrane plasticity and extracellular interactions in single neurons in epilepsy. Front Ageing Neurosci 8(88):1-19.
https://pubmed.ncbi.nlm.nih.gov/27199735/
Reddy DS (2016). The neuroendocrine basis of sex differences in epilepsy. Pharmacol Biochem Behav 152:97-104.
https://pubmed.ncbi.nlm.nih.gov/27424276/
Reddy DS, Bhimani A, Kuruba R, Park MJ and Sohrabji F (2016). Prospects of modeling post-stroke epileptogenesis. J Neurosci Res 95:1000-1016.
https://pubmed.ncbi.nlm.nih.gov/27452210/
Reddy DS, Clossen B and Medi H (2016). Cellular and molecular mechanisms of neuroinflammation in epilepsy. Int J Pharm Sci Nanotech 9(4):  3331-3336.
https://doi.org/10.37285/ijpsn.2016.9.4.2
Reddy DS (2016). The utility of cannabidiol in the treatment of refractory epilepsy. Clin Pharmacol Therap 17(2): 129–134.
https://pubmed.ncbi.nlm.nih.gov/27506704/
Reddy SD, Younus I, Clossen B and Reddy DS (2015). Antiseizure activity of midazolam in mice lacking delta-subunit extrasynaptic GABA-A receptors. J Pharmacol Exp Therap   353:517–528. 
https://pubmed.ncbi.nlm.nih.gov/25784648/
Reddy SD and Reddy DS (2015). Midazolam as an anticonvulsant antidote for organophosphate intoxication: A pharmacotherapeutic appraisal. Epilepsia 56(6):813–821.
https://pubmed.ncbi.nlm.nih.gov/26032507/
Golub VM, Brewer J, Wu X, Kuruba R, Short J, Manchi M, Swonke M, Younus Y and Reddy DS (2015). Neurostereology protocol for unbiased quantification of neuronal injury and neurodegeneration. Front Aging Neurosci 7:196.
https://pubmed.ncbi.nlm.nih.gov/26582988/
NEWS & REPORTS:
Dr. Reddy's discoveries are archived in the TEXAS A&M TODAY and the Vital Records:
TEXAS A&M TODAY
https://today.tamu.edu/2019/04/03/texas-am-research-leads-to-first-drug-for-postpartum-depression/
https://today.tamu.edu/2017/07/25/researchers-epilepsy-landscape-with-new-therapies/
Birth Control Pills May Increase Risk of Seizures [Texas A&M Today]
https://today.tamu.edu/2016/03/30/birth-control-pills-may-increase-risk-of-seizures/
Combating Chemical Warfare With Social Media [Texas A&M Today]
https://today.tamu.edu/2017/04/05/combating-chemical-warfare-with-social-media/
Invented epigenetic therapy for post-traumatic epilepsy [Texas A&M Today]
https://today.tamu.edu/2017/07/25/researchers-epilepsy-landscape-with-new-therapies/
Discovered the neurocode for treating catamenial epilepsy [Texas A&M News]
https://vitalrecord.tamhsc.edu/researchers-crack-neuro-code-for-treating-menstrual-period-epilepsy/
Texas A&M Professor Honored with Lifetime Achievement Award [Texas A&M Today]
https://today.tamu.edu/2020/01/21/texas-am-professor-honored-with-lifetime-achievement-award/
Texas A&M Neuroscientists Discover New Therapy for Refractory Epilepsy [Texas A&M Today]
https://today.tamu.edu/2020/06/24/texas-am-neuroscientists-discover-new-therapy-for-refractory-epilepsy/
Texas A&M Neuroscientists Discover Possible Treatment for Victims of Chemical Warfare
https://today.tamu.edu/2021/09/15/texas-am-neuroscientists-discover-possible-treatment-for-victims-of-chemical-warfare/
A Potential End To Postpartum Depression [Texas A&M Today]
https://today.tamu.edu/2021/10/12/a-potential-end-to-postpartum-depression/
Researchers Create Breakthrough Model for Helping Patients with Post-Traumatic Epilepsy
https://today.tamu.edu/2022/03/16/researchers-create-breakthrough-model-for-helping-patients-with-post-traumatic-epilepsy/
TAMHSC Vital Records:
https://vitalrecord.tamhsc.edu/texas-am-team-creates-a-breakthrough-model-for-helping-patients-with-post-traumatic-epilepsy/
Putting an end to postpartum depression (Oct 2021)
https://vitalrecord.tamhsc.edu/putting-an-end-to-postpartum-depression/
Texas A&M neuroscientists discover possible treatment for victims of chemical warfare (Sept 2021)
https://vitalrecord.tamhsc.edu/texas-am-neuroscientists-discover-possible-treatment-for-victims-of-chemical-warfare/
Reddy Honored with the AAPS Global Leader Award (Oct 2020)
https://vitalrecord.tamhsc.edu/reddy-announced-as-recipient-of-aaps-global-leader-award/
Reddy named a 2020 Chancellor EDGES Fellow recipient (Oct 2020)
https://vitalrecord.tamhsc.edu/reddy-named-a-2020-chancellor-edges-fellow-recipient/
Reddy Leads Research Project Chosen for Funding in X-Grants Program (July 2020)
https://vitalrecord.tamhsc.edu/reddy-leads-research-project-chosen-for-funding-in-x-grants-program/
Texas A&M Neuroscientists Discover New Therapy for Refractory Epilepsy (June 2020)
https://vitalrecord.tamhsc.edu/texas-am-neuroscientists-discover-new-therapy-for-refractory-epilepsy/
Two COM Faculty (Reddy) Receive Distinguished Achievement Awards (April 2020)
https://vitalrecord.tamhsc.edu/two-college-of-medicine-faculty-receive-distinguished-achievement-awards/
Professor Reddy Honored with Lifetime Achievement Award (Jan 2020)
https://vitalrecord.tamhsc.edu/association-of-biotechnology-and-pharmacy/
New Hope for Sex-Specific Personalized Medications for Brain Disorders (Dec 2019)
https://vitalrecord.tamhsc.edu/new-hope-for-sex-specific-personalized-medications-for-brain-disorders/
Texas A&M Research Leads To First Drug For Postpartum Depression (2019)
https://vitalrecord.tamhsc.edu/texas-am-research-leads-to-first-drug-for-postpartum-depression/
Mario Toppo Distinguished Scientist Award (2019)
https://twitter.com/TAMUHealth/status/1118533056346902528
Science & Technology Achievement award (2018)
https://vitalrecord.tamhsc.edu/telangana-science-technology-excellence-award/
New Hope for Sex-Specific Personalized Medications for Brain Disorders (2019)
https://vitalrecord.tamhsc.edu/new-hope-for-sex-specific-personalized-medications-for-brain-disorders/
Neuroscientists Win DOD Grant to Help Veterans with Gulf Ware Illness (2019)
https://vitalrecord.tamhsc.edu/neuroscientists-win-dod-grant-to-help-veterans-with-gulf-war-illness/
New Antidotes to Shield Military and Civilians from Chemical Agents (2018)
https://vitalrecord.tamhsc.edu/new-antidotes-to-shield-military-and-civilians-from-chemical-agents/
Epigenetic Drug Therapy Offers Possible Epilepsy Prevention (2018)
https://vitalrecord.tamhsc.edu/epigenetic-drug-therapy-offers-possible-epilepsy-prevention/
Researchers Crack the Neuro-code for Treating Women with Epilepsy (2017)
https://vitalrecord.tamhsc.edu/researchers-crack-neuro-code-for-treating-menstrual-period-epilepsy/
Epigenetic Interventions Combat Complex Brain Conditions like Epilepsy (2017)
https://vitalrecord.tamhsc.edu/epigenetic-interventions-combat-complex-brain-conditions-like-epilepsy/
Texas A&M Neuroscientists Use Social Media to Combat Chemical Warfare (2017)
https://vitalrecord.tamhsc.edu/texas-am-neuroscientists-use-social-media-to-combat-chemical-warfare/
Texas A&M Seizure Expert Receives DOD Grant to Study Post-Traumatic Epilepsy (2016)
https://vitalrecord.tamhsc.edu/texas-am-seizure-expert-receives-dod-grant-to-study-post-traumatic-epilepsy/
Zinc Might Increase Risk of Seizures, New Research Says (2016)
https://vitalrecord.tamhsc.edu/zinc-might-increase-risk-seizures-new-research-says/
Using Medical Marijuana to Stop Seizures in Kids (2016)
https://vitalrecord.tamhsc.edu/using-medical-marijuana-to-stop-seizures-in-kids/