Rapport Society: Dean's Leadership Council
The Rapport Society is an organization of former students, friends and parents of the Texas A&M School of Medicine, dedicated to assisting the dean in meeting the mission and vision of the college and providing direct support for students enrolled in the college.
Rapport Society members embrace the college's mission of improving the health and well-being of the people of Texas through excellence in education, research and health care delivery. Members share the college's vision of developing the innovators and leaders in medicine and biomedical research who will transform American medicine in the 21st century.
Members of the Rapport Society actively promote and support the School of Medicine through advocacy efforts on behalf of the college and through philanthropic gifts. The organization promotes endowed scholarships—providing perpetual student support - through a generous matching gift program that helps individual funds achieve endowed status more expeditiously.
Rapport Society members meet twice annually, fall and spring, for fellowship, networking and organization business. Annual membership dues of $1,000 are tax-deductible as provided by law. Members pay all individual costs associated with meetings (lunches, dinners, transportation, sporting event tickets, etc.) thereby preserving all donated funds to support students and programs at the School of Medicine.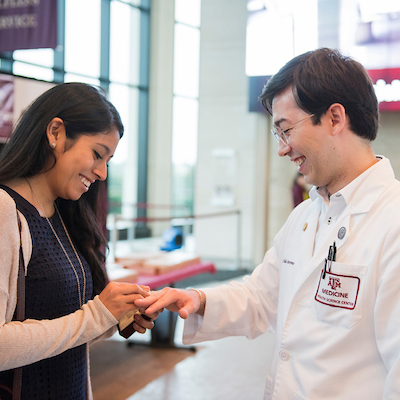 For More Information
David Boggan
Gary Ozier, MD, and Andrea Ozier, Rapport Society
Phone: 979.436.0811
dboggan@txamfoundation.com