2020 Reaccreditation: Moving our mission and vision forward
The Texas A&M College of Medicine will host a site visit from the Liaison Committee on Medical Education (LCME) on February 17-19, 2020. Ongoing accreditation from the LCME, the national accrediting body for educational programs leading to the MD degree in the United States and Canada, is essential to our medical school and the university.
Obtaining LCME accreditation ensures that medical education programs are in compliance with defined standards. The accreditation process has two general purposes: to promote institutional self-evaluation and improvement, and to determine whether a medical education program meets prescribed standards.
The process leading up to this on-site review is officially underway. It is an intensive process requiring all members of our college to be engaged and support the efforts of moving forward, together. We have been involved in a comprehensive data collection effort, an institutional self-study, and an independent student analysis to identify strengths and challenges of our educational program.
Resources
Timeline
Major 2018-2020 Deadlines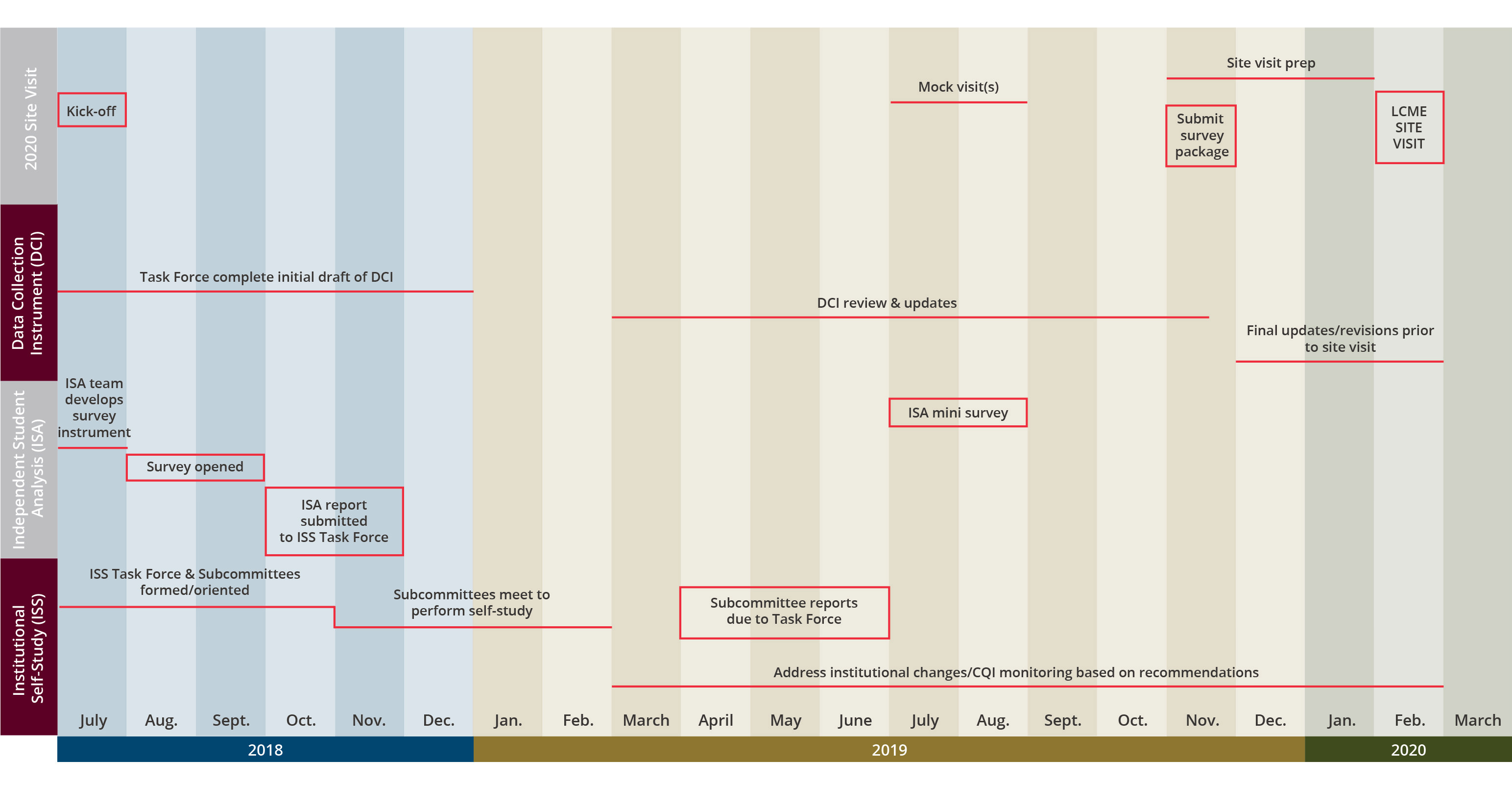 Timeline description
Institutional Self-Study (ISS)
July through October of 2018: ISS task force and subcommittees are formed/oriented
November 2018 through February 2019: Subcommittees meet to perform self-study
April through June 2019: Subcommittee reports are due to the task force
March 2019 through February 2020: Institutional changes/CQI monitoring based on recommendations will be addressed
Independent Student Analysis (ISA)
July 2018: ISA team develops survey instrument
August through September 2018: The survey is opened
October through November 2018: The ISA report is submitted to the ISS task force
July through August 2019: An ISA mini-survey takes place
Data Collection Instrument (DCI)
July through December 2018: The task force completes an initial draft of the DCI
March through mid-November 2019: The DCI review and updates take place
December 2019 through February 2020: The final updates/revisions prior to site visit take place
2020 Site Visit
July 2018: Kick-off takes place
July through August 2019: Mock visits take place
November 2019 through January 2020: Site visit prep takes place
November 2019: Survey package is submitted
February 2020: LCME site visit