School of Medicine Alumni
Each graduate of the School of Medicine is a member of the Health Science Center family. As alumni forge their own career paths, they bolster and expand the Aggie network across the health disciplines and improve the lives of the communities they serve.
School of Medicine Alumni Association
Board of Trustees
Sue Rudd Bailey '81
Mark Barhorst '88
Jody Barnard '81
Terrell Chambless '82
Randy Eckert '84
Jay Franklin '81
Stephen Hamilton '00
Belinda Kohl-Thomas '98
Darla Lowe '90
Christopher Mason '99
Mike Middleton '85
Beth Nauert '81
Mark Rahm '86
L. Keith Routh '87
Scott Thomas '98
Dr. Susan Rudd Bailey '78 '81 is president of the American Medical Association. She was the first female student accepted into the Texas A&M University School of Medicine and has a Fort Worth allergy practice.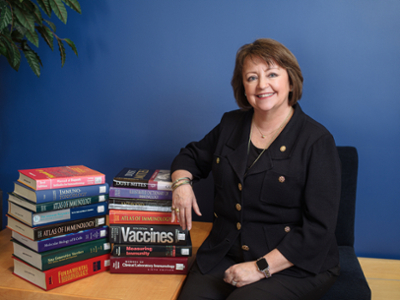 Your ability to connect with your alumni network is your most valuable asset - right up there with your School of Medicine degree. Alumni Association membership brings you a variety of exclusive programs designed to keep you connected and gives you the power of the Texas A&M School of Medicine network.