What is TCHATT?

Texas Child Health Access Through Telemedicine (TCHATT) provides the opportunity for students to receive FREE teletherapy and telepsychiatry services while in school. Senate Bill 11 was revised to include statutes for the provision of telehealth services for primary and secondary students across the State of Texas. TCHATT is a component of the Texas Children's Mental Health Care Consortium (TCMHCC). Our role is to work with schools to identify and provide services to K-12 at-risk students. Our services include consultation, risk assessment, medication evaluation and management, counseling, community referrals, and training all through mediums of telehealth.
2-4 sessions with a Texas A&M Health mental health professional

 

Psychological and psychiatric support

 

Mental health care and crisis intervention

 

Community referrals for long-term counseling as 

needed

 

Consultation with school staff

 

Training as requested by 

schools

 
Decrease disparity by increasing access to psychological care and supports through telebehavioral health care. Increasing student engagement and academic achievement through the reduction of psychological distress and development of mental wellness.

Collaborate with school staff to build lasting relationship and supports for students. Utilize telebehavioral supports to provide crisis prevention and intervention for at-risk students across the Brazos Valley Region. Provide brief interventions and psychiatric supports for students in need. Support school staff in building safe and successful academic environments. Provide training for members of the community regarding child and adolescent development and psychological wellness.
K-12 students, schools, and families throughout the Brazos Valley and beyond.
FREE! TCHATT services are funded through the state by Senate Bill 11 and are completely free to students, families, and schools.
TCHATT services can be accessed by contacting your school counselor and requesting they make a referral.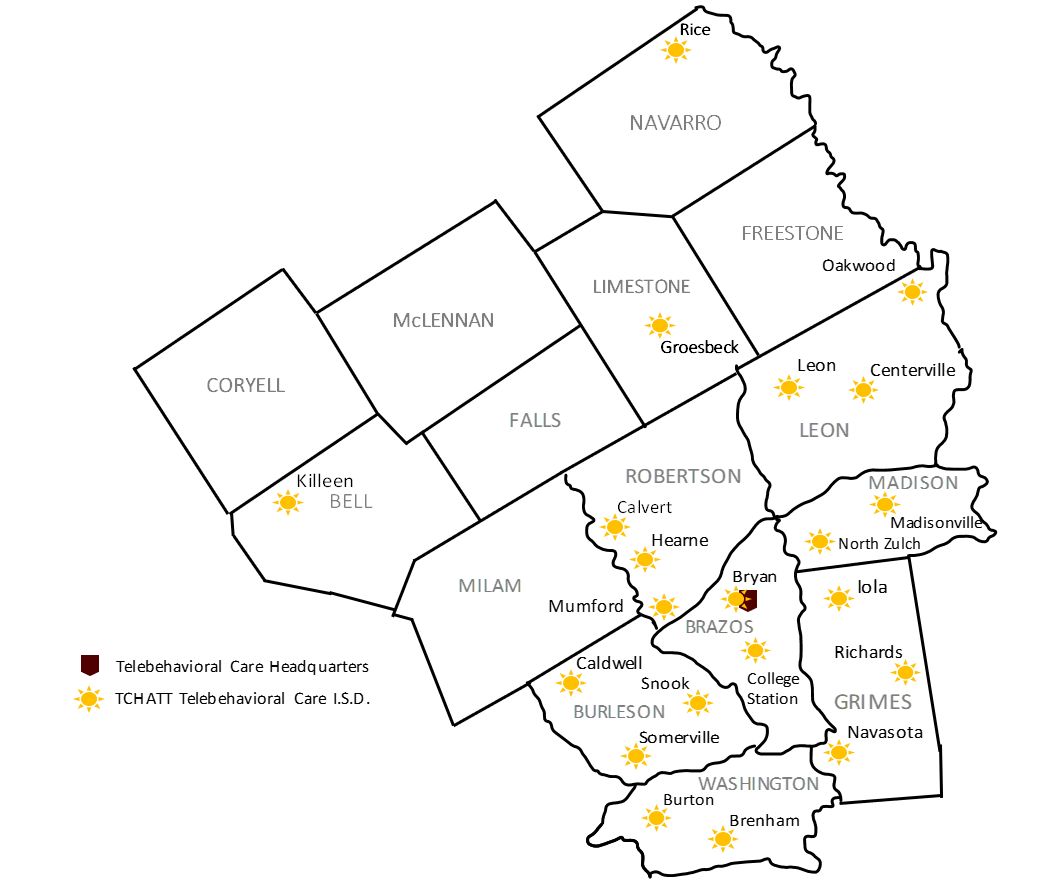 List of school districts currently served: 
Bremond ISD

 

Brenham ISD

 

Bryan ISD

 

Burton ISD

 

Caldwell ISD

 

Centerville ISD

 

College Station ISD

 

Hearne ISD

 

Killeen ISD

 

Iola ISD

 

Leon ISD

 

Madisonville ISD

 

Mumford ISD

 

Navasota ISD

 

North Zulch ISD

 

Oakwood ISD

 

Snook ISD

 

Somerville ISD

 

Richards ISD

 
Contact your school counselor and ask them to contact Dr. Kelly Sopchak (
ksopchak@TAMU.edu
) to set up TCHATT services.
While not every school district in Texas is covered by TCHATT at this time, the map shows which university medical center to check with for services throughout Texas.