Kamlesh K Yadav , MTech, PhD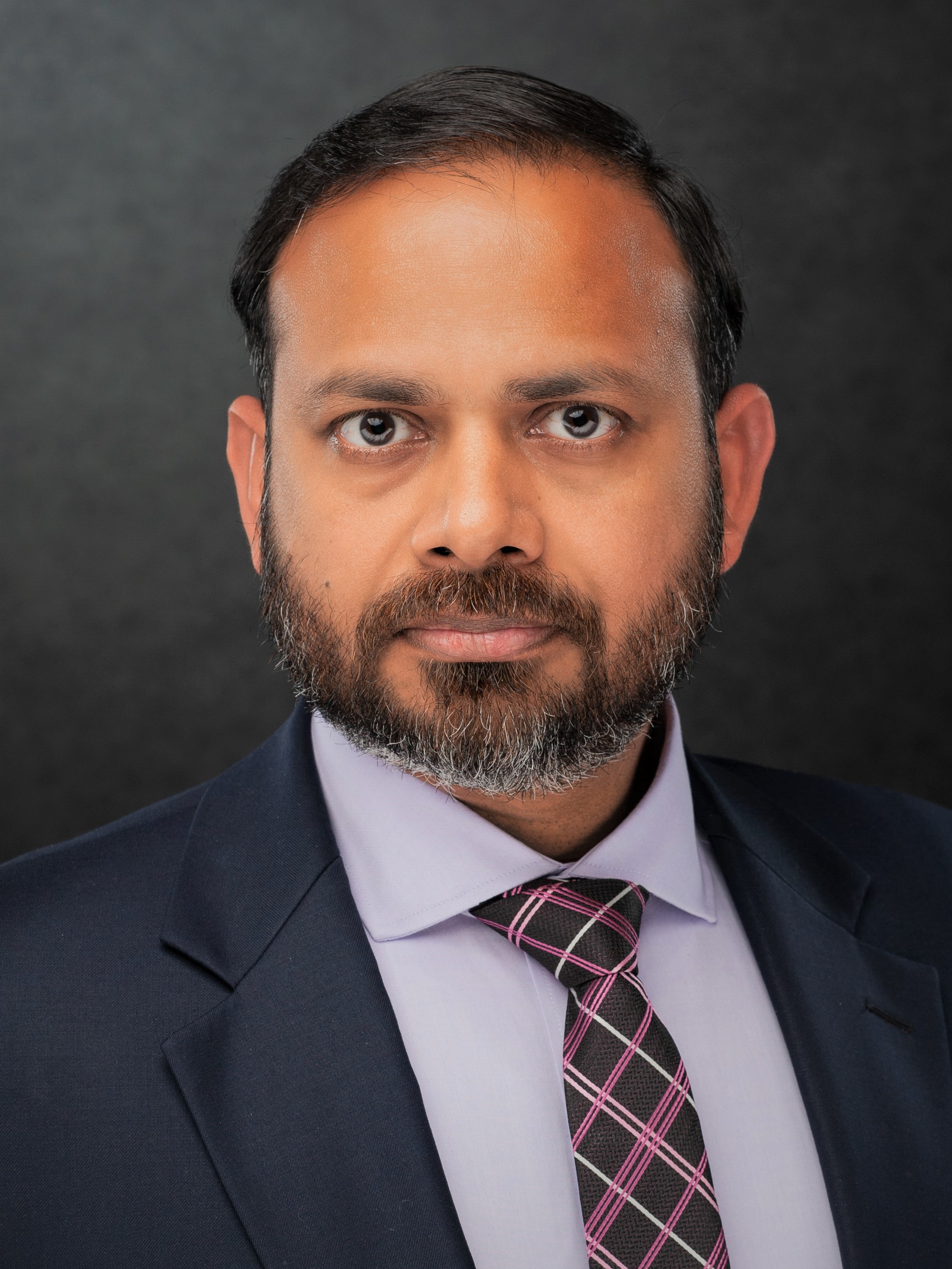 Kamlesh
K
Yadav
, MTech, PhD
Associate Professor
Contact
Molecular & Cellular Medicine
1020 Holcombe Blvd
Room 1607
Houston, TX 77030
kamlesh.yadav@tamu.edu
Phone: 713.677.7752

Biography
Dr. Yadav has been engaged in research in both the fields of Engineering and Medicine for the past 20 years both in academic and industrial settings. He has carried out seminal studies in the field of cell-signaling, especially focused on the RAS-MAPK pathway. He was one of the first in the field to develop large-molecule inhibitors to inactivate the RAS oncogene (Nature Genetics 2007, PNAS 2010, Nature Chemical Biology 2011, Nature Structural and Molecular Biology 2016, Patent WO2012122059A1).

Another aspect of his research focuses on studying various aspects of oncology (specifically prostate cancer). These include its biology, prognosis, and therapy, in order to develop new biomarkers for personalized diagnosis and treatment. With his industrial training in digital health, he has also contributed extensively in clinical data mining, and genomic data analysis. (Cell 2019, JCEU 2019, J of Urology 2019, Cancer Reports 2018, eLife 2018, J of Urology 2018, Translational Oncology 2017 and Oncotarget 2016).
Education and Training
New York University (Cell and Molecular Biology), PhD, 2010
IIT Kanpur (Environmental Engineering & Management), MTech, 2004
Banaras Hindu University, Varanasi (Biochemistry, Metabolism & Molecular Biology), MSc, 2001
Burdwan University, BSc, 1999
Professional Certifications
2020 Leadership course in Medical Education from Harvard Macy Institute
2020 Certified training in TBL through the Team Based Learning Consortium (TBLC)
2016 Grant writing workshop, AUA, Linthicum, MD
2013 EpiWorkshop-2013 (Cornell Univ) for genomic-data analysis using Unix
2012 Trained in PARTEK for genomic data analysis
Research Interests
Digital health: Clinical data analysis, EHR mining, Genomic data analysis for biomarker identification
Translational research: Patient-derived tumor lines to identify novel/combinatorial/synthetic-lethal drug sensitivity, and resistance development
Teaching Interests
Co-Director, Foundation of Medicine II (FOM II): Cell and Molecular Biology, Genetics, Basic Pharmacology
Co-Director, Team Based Learning (TBL) modules in Medicine
Instructor: Introduction to Disease (ID): Cancer Biology and Therapeutics
Instructor: Hematology Oncology (Heme Onc): Prostate cancer and AI in Oncology
Awards, Recognition and Service
2020 TAMU grant to attend Harvard Macy Institute's Leadership in Medical Education course.
2018-19 Principal Scientist Sema4 genomics, CT
2014-19 Assistant Professor of Urology, Mount Sinai School of Medicine New York
2016 Selected for Early Career Investigators Workshop held by the AUA, Linthicum, MD
2014 Competitive Prostate Cancer Foundation Young Investigator Award
2012 Competitive DoD PCRP Postdoctoral Training Award
2009 Competitive Travel Fellowship by the American Society of Biochemistry and Molecular Biology (ASBMB) for the EB2009 meeting, New Orleans,
2009 Graduate School of Arts and Science (GSAS) NYU travel award
2001 Banaras Hindu University Gold medal for outstanding scholar
2000 NET-CSIR Junior Research Fellowship
Patents
Hydrogen bond Surrogate macrocycles as modulators of Ras/Sos, WSGR Docket No. 3224-754.101 Inventors: Bar-Sagi, Dafna; Arora PS; Patgiri, A; Yadav, Kamlesh, K.
Methods of modulating binding of son of sevenless to phosphatidic acid Pub. No.: WO/2008/137819, Docket No.: 29527.0683 Application No. 13/568878. Inventors: Bar-Sagi, Dafna; Chen, Zhao; Skowromek, Karl; Yadav, Kamlesh, K.
Representative Publications
Full list of publications can be viewed here: https://www.ncbi.nlm.nih.gov/myncbi/1tKjvlde5ybAU/bibliography/public/

Rayford W, Alger J, Beksac AT, Alshalalfa M, Takhar M, Ahmed M, Khan I, Jordan J, Alter J, Fishbane N, Davicioni E,Spratt DE, Schaeffer EM, Feng FY, Mahal B, Nguyen PL, Den RB, Greenberger MD, Bradley R, Watson JM, Beamer M, Stamatakis L, Carmen DJ, Yamoah K, Hwang J, Deane LA, Yadav KK, Tewari AK; Comparative Genomic Analysis Of 1,152 African American And European American Men with Localized Prostate Cancer: A Report From The Decipher GRID Collaborative, Communications Biology, Accepted, 2021
Stockert JA, Weil R, Kyprianou N, Yadav KK, Tewari AK, Pseudouridine as a Novel Biomarker in Prostate Cancer – a review, Urologic Oncology, 2020
Woo J, Santasusagna S, Banks J, Pastor-Lopez S, Yadav KK, Carceles-Cordon M, Den RB, Knudsen KE, Languino L, Lallas CD, Luyao G, Rodriguez-Bravo V, Tewari AK, Kelly WK, Leiby BE, Prats JM, Gomella L, Domingo-Domenech J, Urine Extracellular Vesicle GATA2 mRNA Discriminates Biopsy Result in Men with Suspicion of Prostate Cancer, Journal of Urology, 2020
Stockert JA, Gupta A, Herzog B, Yadav SS, Tewari AK, Yadav KK; Predictive Value of Pseudouridine in Prostate Cancer, American Journal of Clinical and Experimental Urology, 2019
Hectors S, Cherny M, Yadav KK, Beksac AT, Thulasidass H, Lewis S, Davicioni E, Wang P, Tewari AK, Taouli B; Radiomics measured with multiparametric MRI predicts prostate cancer aggressiveness, Journal Urology, April 2019
Murillo OD, (et al), Yadav KK, (et al), Milosavljevic A; ExRNA Atlas analysis reveals distinct extracellular RNA cargo types present across human biofluids, Cell, April 2019
Mohamed N, Tewari, AK, Yadav KK, Development and validation of a polygenic hazard score for aggressive prostate cancer identification. Translational Cancer Research, (Suppl 2), 2018
Rai R, Yadav SS, Pan H, Elemento O, Tewari AK, Yadav KK; Epigenetic analysis identified factors driving racial disparity in prostate cancer, Cancer Reports Nov 2018
Smith JT, Wunsch BH, Dogra N, Ahsen ME, Lee K, Yadav KK, Pereira M, Patel JV, Duch EA, Papalia J, Lofaro M, Tewari AK, Cordon-Cardo C, Stolovitzky G, and Gifford SM, Integrated Nanoscale Deterministic Lateral Displacement Arrays for Rapid, Reliable Separation of Extracellular Vesicles from Biological Samples, Lab Chip, Nov 2018
Yadav, KK; How AI is Optimizing the Detection and Management of Prostate Cancer. IEEE Pulse. Sept 2018.
Hieronymus H, Murali R, Yadav KK, Tin A, Abida W, Fisher G, Carver BS, Scardino PT, Vickers A, Cuzick J, Taylor BS, Sawyers CL; Copy number alteration burden is a pan-cancer prognostic factor associated with metastasis and death in conservatively treated prostate cancer, eLife, Sept 2018
Beksac AT, Cumarasamy S, Falagario U, Xu P, Takhar M, Alshalalfa M, Gupta A, Prasad S, Martini A, Thulasidass H, Rai R, Berger M, Hectors S, Jordan J, Davicioni E, Nair S, Haines 3rd K, Lewis S, Rastinehad A, Yadav KK, Jayaratna I, Taouli B, Tewari AK; Multiparametric MRI Features Identify Aggressive Prostate Cancer at the Phenotypic and Transcriptomic Level, Journal of Urology, July 2018
Yadav, SS, Hackert, V, Yadav, KK*, Tewari AK; Intra-tumor heterogeneity in prostate cancer, Urologic Oncology, Jun 2018 (Corresponding author)
Ashley V Alford AV, Brito III, JM, Yadav KK, Yadav SS, Tewari AK, Renzulli II, J, The use of biomarkers in prostate cancer screening and treatment, Reviews in Urology, 19(4), 2017
Yadav SS, Li J, Jennifer A Stockert, Herzog B, O'Connor J, Garzon-Manco L, Parsons R, Tewari AK, Yadav KK; Induction of neuroendocrine differentiation in prostate cancer cells by Dovitinib (TKI-258) and its therapeutic implications, Translational Oncology, Mar 2017
Yadav SS*, Li J*, Stockert JA, O'Connor J, Herzog B, Elaiho C, Galsky MD, Tewari AK, Yadav KK, Combination effect of therapies targeting the PI3K-mTOR and AR signaling pathways in prostate cancer; Oncotarget, Oct 2016
Christensen, SM, Tu H, Jun J, Alvarez S, Triplet M, Iwig JS, Yadav KK, Bar-Sagi D, Roose JP, Groves JT, One-way membrane trafficking of SOS in receptor-triggered Ras activation, Nature Structural and Molecular Biology, July 2016
Yadav KK*, Shameer K*, Readhead B., Yadav SS, Li L, Kasarksis A, Tewari AK* and Dudley JT*, Systems Medicine Strategies to Develop Precision Therapies for Neuroendocrine Prostate Cancer, Current Pharmaceutical Design, May 2016.
Yadav SS, Li J, Lavery HJ, Yadav KK*, Tewari AK*, Next-generation sequencing technology in prostate cancer diagnosis, prognosis, and personalized treatment, Urologic Oncology, Mar 2015 (*Co-corresponding authors)
Patgiri A*, Yadav KK*, Arora PS, Bar-Sagi D. An Orthosteric Inhibitor of the Ras-Sos interaction, Nature Chemical Biology, July 2011.
Yadav KK & Bar-Sagi D. Allosteric Gating of Sos activity by the Histone Folds domain, PNAS, Feb 2010.
Tartaglia M, Pennacchio LA, Zhao C, Yadav KK, et al. (Bar-Sagi D, Gelb BD). Gain-of-function SOS1 mutations cause a distinctive form of Noonan syndrome, Nature Genetics, 2007.
Yadav KK, Iyengar L., Birkeland N.K. and Ramanathan G. Transient accumulation of metabolic intermediates of p-Cresol in the culture medium by a Pseudomonas sp strain A isolated from a sewage treatment plant, World Journal of Microbiology and Biotechnology, 2005