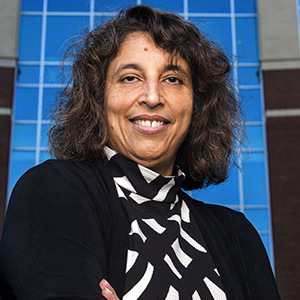 Regents Professor, Department of Neuroscience and Experimental Therapeutics
Department Head, Department of Neuroscience and Experimental Therapeutics
Director, Women's Health in Neuroscience Program
Contact
Department of Neuroscience & Experimental Therapeutics
8447 Riverside Pkwy
1010 Medical Research and Education Building
Bryan, TX 77807
f-sohrabji@tamu.edu
Phone: 979.436.0335
Fax: 979.436.0086

Research Interests
My research interests lie at the intersection of neuroendocrinology, neuroinflammation and aging. For the last 15+ years, my work has focused on the acute and chronic consequences of ischemic stroke, which is a leading risk factor for AD and related dementias. In North America, stroke risk increases with age and in this aging demographic, women are more likely to sustain a stroke and more likely to have long term disability, poor quality of life and have more neuropsychiatric problems after stroke such as depression and cognitive impairment. Using preclinical models, we have focused on acute pathological changes at the blood brain barrier and central and peripheral inflammation as well as long-term consequences, such as changes to reward pathways and post-stroke depression and dementia. My work has also focused on developing novel stroke therapies for stroke in this population and our studies on epigenetic modifications such as histone methylation and non-coding (mi)RNA due to aging/stroke have provided several candidate molecules. Our recent work focuses on the role of the gut microbiome and gut metabolites and gut permeability after stroke, and supports the idea that "Gut health is brain health"
Related to my research goals, I am actively interested in promoting the inclusion of sex as a biological variable and attention to sex differences in medicine. Through medical and graduate coursework, research seminars and community talks, I am a vocal advocate for recognizing sex and gender differences in disease processes and drug therapies. I founded the Women's Health in Neuroscience program at Texas A&M University College of Medicine to create a community of researchers and foster collaboration on gender medicine and women's health, and to train new scholars in this area.
I am committed to training the next generation of scientists, through graduate and postdoctoral programs.
Research in my lab is supported by the National Institute of Aging (NIA), National Institute for Neurodegenerative Disease and Stroke (NINDS), National Institute of Alcohol Abuse and Alcoholism (NIAAA), the John and Maurine Cox Endowed Chair and generous support from the Woodnext Foundation.
Representative Publications
Mani KK, El-Hakim Y, Branyan TE, Samiya N, Pandey S, Grimaldo MT, Habbal A, Wertz A, Sohrabji F (2023) Intestinal epithelial stem cell transplants as a novel therapy for cerebrovascular stroke. Brain, behavior, and immunity, 107:345-360
Sampath D, Branyan T. E., Markowsky K. G., Gunda R., Samiya N., Obenaus A., Sohrabji F. Sex differences in cognitive impairment after focal ischemia in middle-aged rats and the effect of iv miR-20a-3p treatment Neurobiol Aging 2023 Vol. 129 Pages 168-177
Bake S, Hurst DA, Miranda RC, Sohrabji F (2022) Prenatal alcohol exposure exacerbates acute sensorimotor deficits and impedes long-term behavioral recovery from the effects of an adult-onset cerebrovascular ischemic stroke. Alcoholism, clinical and experimental research, 46(12):2267-2279
Branyan TE, Selvamani A, Park MJ, Korula KE, Kosel KF, Srinivasan R, Sohrabji, F. (2021) Functional Assessment of Stroke-Induced Regulation of miR-20a-3p and Its Role as a Neuroprotectant. Translational Stroke Research. 2021. doi: 10.1007/s12975-021-00945-x
Bake, S., M. R. Pinson, S. Pandey, J. P. Chambers, R. Mota, A. E. Fairchild, R. C. Miranda and F. Sohrabji (2021). "Prenatal alcohol-induced sex differences in immune, metabolic and neurobehavioral outcomes in adult rats." Brain Behav Immun 98: 86-100
El-Hakim Y, Mani KK, Eldouh A, Pandey S, Grimaldo MT, Dabney A, et al. (2021)Sex differences in stroke outcome correspond to rapid and severe changes in gut permeability in adult Sprague-Dawley rats. Biology of Sex Differences, 12(1):1-16.
Panta A, Montgomery, K, Nicolas, Mani, K.K. Sampath D, Sohrabji, F (2020) Mir363-3p treatment attenuates delayed cognitive deficits precipitated by ischemic stroke in middle-aged female rats. Frontiers in Aging Neuroscience, doi: 10.3389/fnagi.2020.586362
Park M-J, Pilla R, Panta A, Pandey S, Sarawichitr B, Suchodolski J, Sohrabji F (2020). Reproductive Senescence and Ischemic Stroke Remodel the Gut Microbiome and Modulate the Effects of Estrogen Treatment in Female Rats. Transl Stroke Res, 11: 812–830
Bake S, Okoreeh A, Khosravian H, Sohrabji F (2019) Insulin-like Growth Factor (IGF)-1 treatment stabilizes the microvascular cytoskeleton under ischemic conditions. Experimental neurology 311:162-172
Panta A, Pandey S, Duncan IN, Duhamel S, Sohrabji F (2019) Mir363-3p attenuates post-stroke depressive-like behaviors in middle-aged female rats. Brain, Behavior, and Immunity. 1591(18)30489-6
Okoreeh AK, Bake S, Sohrabji F. (2017) Astrocyte-specific insulin-like growth factor-1 gene transfer in aging female rats improves stroke outcomes. Glia. 65:1043-1058. PMC5432389.
Park, M. J., & Sohrabji, F. (2016). The histone deacetylase inhibitor, sodium butyrate, exhibits neuroprotective effects for ischemic stroke in middle-aged female rats. J Neuroinflammation, 13(1), 300. doi:10.1186/s12974-016-0765-6
Selvamani A. and Sohrabji F. (2010) The neurotoxic effects of estrogen on ischemic stroke in older female rats is associated with age-dependent loss of IGF-1. J. Neurosci. 30: 6852-61. PMID: 20484627
Lewis DK, Bake S., Thomas K., Jezierski MK., Sohrabji, F. (2010) A high cholesterol diet elevates hippocampal cytokine expression in an age and estrogen-dependent manner in female rats. Journal of Neuroimmunology, 223:31-38, PMID: 20435353
Lewis DK, Thomas KT, Selvamani A, Sohrabji, F. (2012) Age-related severity of focal ischemia in female rats is associated with impaired astrocyte function. Neurobiol of Aging, 33:1123.e1-16. Epub 2011. PMID: 22154819
Selvamani A, Sathyan P, Miranda R.C. Sohrabji, F. (2012) An antagomir to microRNA Let7f promotes neuroprotection in an ischemic stroke model. PLoS ONE 7(2): e32662. PMID: 22393433
Balden R., Selvamani A., Sohrabji, F. (2012) Vitamin D deficiency exacerbates experimental stroke injury and dysregulates ischemia-induced inflammation in adult rats. Endocrinology, 153: 2420-35 PMID: 22408173
Sohrabji F, Selvamani A, Balden R. (2012) Revisiting the timing hypothesis: Biomarkers that define the therapeutic window of estrogen for stroke. Horm Behav. Jun 19. [Epub ahead of print] PMID: 22728278.
Sohrabji F, Williams M. Stroke neuroprotection: Estrogen and IGF-1 interactions and the role of microglia. J Neuroendocrinol. 2013 Jun 14. doi:10.1111/jne.12059. [Epub ahead of print] PubMed PMID: 23763366.
Sohrabji F, Bake S, Lewis DK. (2013) Age-related changes in brain support cells: Implications for stroke severity. Neurochem Int. 63: 291-301. Epub 2013 Jun 28. PubMed PMID: 23811611.
Selvamani A, Williams M, Miranda RC, Sohrabji F. (2014) Circulating miRNA profiles provide a biomarker for severity of stroke outcomes associated with age and sex in a rat model. Clin Sci, 127:77-89. PMID: 24428837
Bake S, Selvamani A, Cherry J. Sohrabji F. (2014) Blood Brain Barrier and Neuroinflammation Are Critical Targets of IGF-1-Mediated Neuroprotection in Stroke for Middle-Aged Female Rats. PLoS One, e91427.