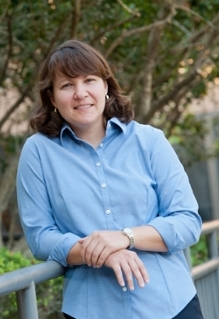 Associate Professor
Contact
Cell Biology and Genetics
4412 Medical Research Education Building II
College Station, TX 77843
kaylajb@tamu.edu
Phone: 979.436.0763
Fax: 979.847.7287

Education and Training
Texas Lutheran College, BS, Molecular Biology, 1994
Texas A&M University School of medicine, PhD, Medical Physiology, 1999
Texas A&M University Health Science Center, Post-Doc, Department of Pathology
Research Interests
The Bayless lab seeks to uncover molecular signals that initiate angiogenesis, the process of new blood vessel formation from existing structures. Endothelial cells line blood vessels and remain dormant for decades but respond rapidly to pro-angiogenic signals and initiate new blood vessel growth. We have shown a variety of cytoskeletal, adaptor and transmembrane proteins are essential for this transition and continue to uncover new molecular pathways using genetic, biochemical, pharmacological, and microscopy techniques.
We are also actively collaborating with multiple investigators to design biomaterials to promote angiogenesis, along with model systems to study lymphangiogenesis, angiogenic responses to nutraceutical compounds, decidualization, and tumor metastasis.
Representative Publications
2009
Kwak HI, Mendoza EA, Bayless KJ. (2009). ADAM17 co-purifies with TIMP-3 and modulates endothelial invasion responses in three-dimensional collagen matrices. Matrix Biology. 28: 470-479. PMID: 19666115 http://www.ncbi.nlm.nih.gov/pubmed/19666115
Bayless KJ, Kwak HI, Su SC. (2009). Investigating endothelial invasion and sprouting behavior in three-dimensional collagen matrices. Nature Protocols.4: 1888-1898. PMID: 20010936 http://www.ncbi.nlm.nih.gov/pubmed/20010936
2010
Su SC, Maxwell SA, Bayless KJ. (2010). Annexin 2 regulates endothelial morphogenesis by controlling AKT activation and junctional integrity. Journal of Biological Chemistry. 285: 40624-40634. PMID: 20947498 http://www.ncbi.nlm.nih.gov/pubmed/20947498
2011
2012
2013
Dave JM, Kang H, Abbey CA, Maxwell SA, Bayless KJ. (2013) Proteomic profiling of endothelial invasion revealed receptor for activated C kinase 1 (RACK1) complexed with vimentin to regulate focal adhesion kinase (FAK). Journal of Biological Chemistry.288(42): 30720-30733. PMID: 24005669 http://www.ncbi.nlm.nih.gov/pubmed/24005669
Patterson JL, Abbey CA, Bayless KJ, Bondos SE. (2013) Materials composed of the Drosophila melanogaster protein ultrabithorax are cytocompatible. Journal of Biomedical Materials Research Part A. 102(1): 97-104. PMID: 23596050 http://www.ncbi.nlm.nih.gov/pubmed/23596050
2014
Abbey CA, Bayless KJ. (2014) Matrix density alters zyxin phosphorylation, which limits peripheral process formation and extension in endothelial cells invading 3D collagen matrices. Matrix Biology. 38:36-47. PMID: 25038525 http://www.ncbi.nlm.nih.gov/pubmed/25038525
Dave JM, Bayless KJ. (2014) Vimentin as an integral regulator of cell adhesion and endothelial sprouting. Microcirculation. 21(4): 333-44. PMID: 24387004 http://www.ncbi.nlm.nih.gov/pubmed/24387004
2015
Gao Y, Duran S, Lydon JP, DeMayo FJ, Burghardt RC, Bayless KJ, Bartholin L, Li Q. (2015) Constitutive Activation of Transforming Growth Factor Beta Receptor 1 in the Mouse Uterus Impairs Uterine Morphology and Function. Biology of Reproduction, In press. PMID: 25505200 http://www.ncbi.nlm.nih.gov/pubmed/25505200
Howell D, Tsai SP, Churion K, Patterson J, Abbey C, Atkinson JT, Porterpan D, Bayless KJ, Bondos SE.Identification of multiple dityrosine bonds in materials composed of the Drosophila protein Ultrabithorax. Advanced Functional Materials.  25(37):5988–5998. 
2016
Dave JM, Abbey CA, Duran CL, Seo H, Johnson GA, Bayless KJ.Hic-5 mediates the initiation of endothelial sprouting by regulating a key surface metalloproteinase. Journal of Cell Science, 129(4):743-56. PMID: 2676990
2017
Howell DW, Duran CL, Tsai SP,Bondos SE, Bayless KJ. Functionalization of Ultrabithorax Materials with Vascular Endothelial Growth Factor Enhances Angiogenic Activity. Biomacromolecules; 2016.17(11):3558-3569. PMID: 27715013
Duran CL, Kaunas R, Bayless KJ. S1P Synergizes with Wall Shear Stress and Other Angiogenic Factors to Induce Endothelial Cell Sprouting Responses. Methods in Molecular Biology.  1697:99-115. doi: 10.1007/7651_2017_26. PMID: 28456951
Antfolk D, Sjöqvist M, Cheng F, Isoniemi K, Duran CL, Rivero-Muller A, Antila C, Niemi R, Landor S, Bouten CVC, Bayless KJ, Eriksson JE, Sahlgren CM. Selective regulation of Notch ligands during angiogenesis is mediated by vimentin. Proc Natl Acad Sci U S A. 114(23):E4574-E4581.
2018
Duran CL, Abbey CA, Bayless KJ. Establishment of a three-dimensional model to study human uterine angiogenesis. Molecular Human Reproduction. 2018 24(2):74-93. PMID: 29329415
Duran CL, Howell DW, Dave JM, Smith RL, Torrie ME, Essner JJ, Bayless KJ. Molecular Regulation of Sprouting Angiogenesis. Comprehensive Physiology. 2018 8(1):153-235. PMID: 29357127
2019
Fang X, Ni N, Lydon JP, Ivanov I, Bayless KJ, Rijnkels M, Li Q. Enhancer of Zeste 2 Polycomb Repressive Complex 2 Subunit Is Required for Uterine Epithelial Integrity. Am J Pathol. 2019; 189(6):1212-1225. PMID: 30954472
van Engeland NCA, Suarez Rodriguez F, Rivero-Müller A, Ristori T, Duran CL, Stassen OMJA, Antfolk D, Driessen RCH, Ruohonen S, Ruohonen ST, Nuutinen S, Savontaus E, Loerakker S, Bayless KJ, Sjöqvist M, Bouten CVC, Eriksson JE, Sahlgren CM. Vimentin regulates Notch signaling strength and arterial remodeling in response to hemodynamic stress. Scientific Reports. 2019; 9(1):12415. PMID: 31455807
Shi L, Zhao M, Abbey CA, Tsai SH, Xie W, Pham D, Chapman S, Bayless KJ, Hein TW, Rosa RH Jr, Ko ML, Kuo L, Ko GY. Newly Identified Peptide, Peptide Lv, Promotes Pathological Angiogenesis. J Am Heart Assoc. 2019. 8(22):e013673. PMID: 31698979
2020
Roy S, Kumaravel S, Sharma A, Duran CL, Bayless KJ, Chakraborty S. Hypoxic tumor microenvironment: Implications for cancer therapy. Exp Biol Med. 2020. 245(13):1073-1086. PMID: 32594767
Kumaravel S, Abbey CA, Bayless KJ, Chakraborty S. The β1-integrin plays a key role in LEC invasion in an optimized 3-D collagen matrix model. Am J Physiol Cell Physiol. 2020. 319(6):C1045-C1058. PMID: 33052069
Fang X, Ni N, Gao Y, Lydon JP, Ivanov I, Rijnkels M, Bayless KJ, Li Q. Transforming growth factor beta signaling and decidual integrity in mice. Biol Reprod. 2020. 103(6):1186-1198. PMID: 32902612
Wing TT, Erikson DW, Burghardt RC, Bazer FW, Bayless KJ, Johnson GA. OPN binds alpha V integrin to promote endothelial progenitor cell incorporation into vasculature. Reproduction. 2020. 159(4):465-478. PMID: 31990676
2021
Roy S, Kumaravel S, Banerjee P, White TK, O'Brien A, Seelig C, Chauhan R, Ekser B, Bayless KJ, Alpini G, Glaser SS, Chakraborty S. Tumor Lymphatic Interactions Induce CXCR2-CXCL5 Axis and Alter Cellular Metabolism and Lymphangiogenic Pathways to Promote Cholangiocarcinoma. Cells. 2021. 10(11):3093. PMID: 34831316
2022
Mao Y, Kleinjan ML, Jilishitz I, Swaminathan B, Obinata H, Komarova YA, Bayless KJ, Hla T, Kitajewski JK. CLIC1 and CLIC4 mediate endothelial S1P receptor signaling to facilitate Rac1 and RhoA activity and function. Sci Signal. 2021. 14(679):eabc0425. PMID: 33879602
Fang X, Ni N, Wang X, Tian Y, Ivanov I, Rijnkels M, Bayless KJ, Lydon JP, Li Q. EZH2 and Endometrial Cancer Development: Insights from a Mouse Model.  2022. 11(5):909. PMID: 35269532
Lab Members
Research Associate