School of Medicine Aggie Awareness
School of Medicine Aggie Awareness
We appreciate the opportunity to help identify instances where members of our college exemplify professionalism and instances that may have benefitted from a greater example of the Texas A&M Core Values in action. Please share your responses with us using the Aggie Awareness Form.
Exemplary conduct are behaviors identified by the reporter as exemplifying (e.g., extensive work beyond scope of responsibilities) Aggie Core Values and contributing to the learning environment.
Concerning conduct are behaviors identified by the reporter as a concern (e.g., person to person outburst) by not aligning with Aggie Core Values and detracting from the learning environment.
Mistreatment
We welcome anonymous reports but please understand that if you submit anonymous concerns reports there are limitations to actions and outcomes. Your information is not required, however, it may be needed if you are utilizing this form to report mistreatment. Please see key definitions below to aid in effective reporting of concerning behavior:
Student mistreatment, either intentional or unintentional, occurs when the behavior in the teacher/learner(s) relationship shows disrespect for the dignity of others as a result of inappropriate or abusive behavior on the part of the teacher that unreasonably interferes with the learning process. This behavior includes but is not limited to humiliation, belittlement, intimidation, psychological or physical punishment, and the use of grading and other forms of assessment in a punitive manner. If the behavior reported under this internal mistreatment policy contains allegations of illegal discrimination, harassment or retaliation, the College of Medicine will immediately refer the report to the Department of Civil Rights and Equity Investigations at the Texas A&M University Office of Risk, Ethics & Compliance for their handling and investigation under University Rule 08.01.01.M1.
If you think your submission relates to mistreatment, please consider submitting your name as your identity may be needed to initiate a further inquiry.
Title VII/IX, Risk, Fraud, and Misconduct
Title IX, as defined in the Education Amendment of 1972, prohibits discrimination on the basis of sex in educational programs and activities at institutions that receive federal financial assistance.
"Sexual harassment, including sexual violence, is a form of sex discrimination and is therefore prohibited under Title IX. Unwelcome sexual advances, requests for sexual favors, and other verbal, nonverbal or physical conduct of a sexual nature constitute sexual harassment when this conduct is so severe, persistent or pervasive that it explicitly or implicitly affects an individual's employment, unreasonably interferes with an individual's work or educational performance, or creates an intimidating or hostile work or educational environment."
More about Title IX at Texas A&M
If you think your submission relates to risk, fraud, and misconduct of a Texas A&M University system member, please report this concern directly to the Texas A&M University System by clicking on the following link for more information: How to report a risk, fraud, or misconduct concern
If you think your submission relates to Title VII (discrimination based on status as a protected group [race, ethnicity, gender identity, etc.]), please report this concern directly to Texas A&M University by clicking on the following link for information: Stop Hate
If you think your submission relates to Title IX (sexual harassment or sex-based discrimination), please report this concern directly to the appropriate contact at Texas A&M University.
Reporting Process
The School of Medicine is committed to providing an environment free of harassment or discrimination and abides by Texas A&M University's policy regarding retaliation. Notice of Nondiscrimination.
Part of fostering a professional and dynamic learning environment includes empowering members to call out exemplary and concerning behaviors in an effective manner; especially when it relates to concerning behaviors so that those concerning behaviors do not become, "normal and accepted" and indirectly enable others to behave similarly.
It is the LEEP's hope that members of the COM community can feel empowered to address behaviors (exemplary and concerning) directly or to report effectively, by reporting with integrity and respect.
Please focus on:
the specific behavior rather than vague generalities about the person;
the perceived intent and frequency of the behavior;
alignment/misalignment of the behavior with our Aggie Core Values;
fostering a professional and dynamic learning environment rather than retaliating or personally attacking others; and, finally
your comfort level in addressing the perceived behavior on your own, should you choose.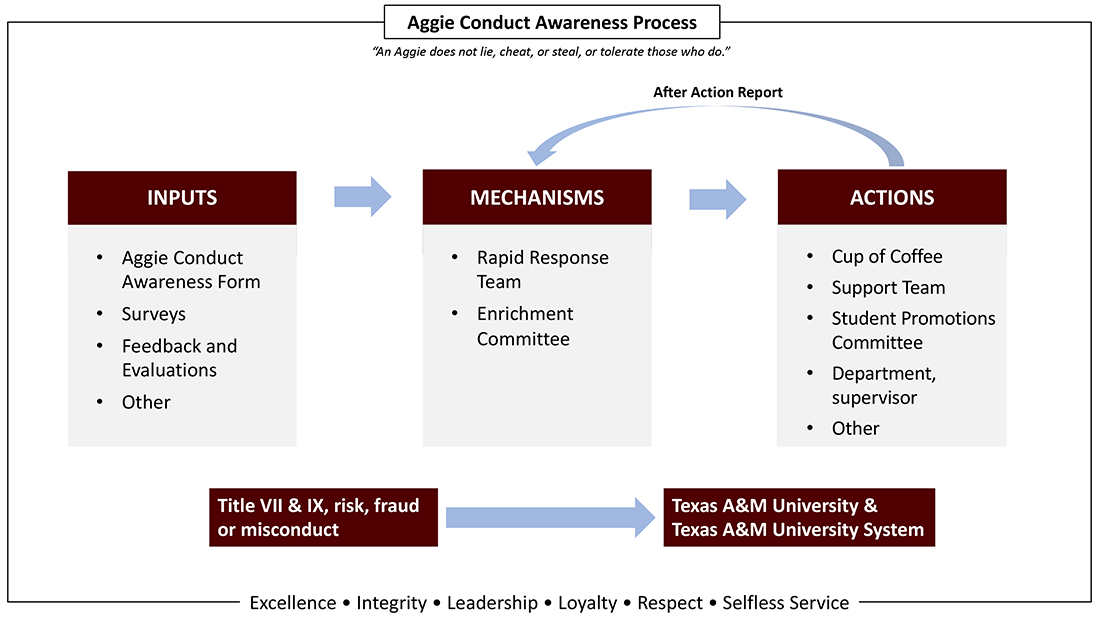 The modules listed below and are a part of the effort to improve communication, and acknowledgment (no quizzes), of policies and guidelines. Please complete the modules as soon as possible. They will renew on an annual basis.
In regards to students, these modules will be assigned through the eCampus. For affiliate faculty, Faculty Affairs will manage through a specified process to be communicated in the near future. For affiliate staff, the modules can be completed through an external portal to be communicated in the near future.
We Welcome your Feedback
In an effort to improve the overall learning environment for all members of our College of Medicine community, the Learning Environment Enrichment Program (LEEP) welcomes your feedback on any aspect you think could improve our learning environment. Please fill out the comment form below. You may submit the comment anonymously; however, if you would not mind if the LEEP circled back to you to clarify information or seek additional input, then please consider inserting your contact information. These comments will be reviewed on a monthly basis. Thank you. We are all in this together!