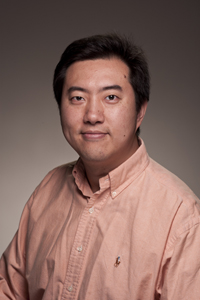 Associate Professor
Contact
Medical Physiology
8447 Riverside Pkwy,
2417 Medical Research and Education Building
Bryan , TX 77807
shenyuan.zhang@tamu.edu

Education and Training
University of California, Irvine, PhD, Physiology and Biophysics, 2005
Fudan University, BS, Physiology and Biophysics, 2000
Research Interests
Ca2+ is a key element in cell signaling mechanism. As an ion, it contributes to the cell membrane potential. As a messenger, it interacts with tens of intracellular effector proteins, including many enzymes, and regulates diversified cellular functions: contraction, secretion, motility, gene expression, proliferation, differentiation, and apoptosis etc.
Resting intracellular free calcium level ([Ca2+]i) is usually low (100 nM), considered as a "zero / silent state". Upon stimulations, [Ca2+]i can be raised up either by Ca2+ influx across the plasma-membrane or by Ca2+ release from intracellular store (the ER and related organelles) through variety of calcium channels. For example, store-operated Ca2+ channels (SOC) exist in numerous cell types, serving as the main source for Ca2+ entry in most non-excitable cells. Regulated activity of SOC channels is essential to the immune response and may play an important role in the cardiovascular system.
I am interested in the Ca2+ signaling transduction network. My goal is to discover and understand the missing pieces of this big puzzle, using techniques of molecular biology, biochemistry, and genetics. Currently I am focusing on the structures and functions of two newly identified protein components of SOC channels: Stim1 (the ER Ca2+ sensor for SOC activation) and Orai1 (the pore-forming subunit of SOC channels), which are both potential drug targets to treat autoimmune disorders and prevent organ transplant rejection.
Representative Publications
Zhang SL*+, Yeromin AV*, Hu J, Amcheslavsky A, Zheng H, Cahalan MD+. Mutations in Orai1 transmembrane segment 1 cause STIM1-independent activation of Orai1 channels at glycine 98 and channel closure at arginine 91. Proc Natl Acad Sci U S A. 2011 Oct 25;108(43):17838-43. [+: corresponding authors *: equal contribution] PMID: 21987804; PMCID: PMC3203763
Flach H, Rosenbaum M, Duchniewicz M, Kim S, Zhang SL, Cahalan MD, Mittler G, Grosschedl R. Mzb1 protein regulates calcium homeostasis, antibody secretion, and integrin activation in innate-like B cells. Immunity. 2010 Nov 24;33(5):723-35. PMID: 21093319; PMCID: PMC3125521
Yu Y, Keller SH, Remillard CV, Safrina O, Nicholson A, Zhang SL, Jiang W, Vangala N, Landsberg JW, Wang JY, Thistlethwaite PA, Channick RN, Robbins IM, Loyd JE, Ghofrani HA, Grimminger F, Schermuly RT, Cahalan MD, Rubin LJ, Yuan JX. A functional single-nucleotide polymorphism in the TRPC6 gene promoter associated with idiopathic pulmonary arterial hypertension. Circulation. 2009 May 5;119(17):2313-22. PMID: 19380626; PMCID: PMC2749566
Penna A, Demuro A, Yeromin AV, Zhang SL, Safrina O, Parker I, Cahalan MD. The CRAC channel consists of a tetramer formed by Stim-induced dimerization of Orai dimmers. Nature. 2008 Nov 6;456(7218):116-20. PMID: 18820677; PMCID: PMC2597643
Zhang SL*, Kozak JA*, Jiang W, Yeromin AV, Chen J, Yu Y, Penna A, Shen W, Chi V, Cahalan MD. Store-dependent and -independent modes regulating Ca2+ release-activated Ca2+ channel activity of human Orai1 and Orai3. J Biol Chem. 2008 Jun 20;283(25):17662-71. [*: equal contribution] PMID: 18420579; PMCID: PMC2427323
Yeromin AV*, Zhang SL*, Jiang W, Yu Y, Safrina O, Cahalan MD. Molecular identification of the CRAC channel by altered ion selectivity in a mutant of Orai. Nature. 2006 Sep 14;443(7108):226-9. [*: equal contribution] PMID: 16921385; PMCID: PMC2756048
Zhang SL, Yeromin AV, Zhang XH, Yu Y, Safrina O, Penna A, Roos J, Stauderman KA, Cahalan MD. Genome-wide RNAi screen of Ca2+ influx identifies genes that regulate Ca2+ release-activated Ca2+ channel activity. Proc Natl Acad Sci U S A. 2006 Jun 13;103(24):9357-62. PMID: 16751269; PMCID: PMC1482614
Zhang SL, Ying Y, Roos J, Kozak JA, Deerinck TJ, Ellisman MH, Stauderman KA, Cahalan MD. STIM1 is a Ca2+sensor that activates CRAC channels and migrates from the Ca2+ store to the plasma membrane. Nature. 2005 Oct 6;437(7060):902-5. PMID: 16208375; PMCID: PMC1618826
Roos J, DiGregorio PJ, Yeromin AV, Ohlsen K, Lioudyno M, Zhang SL, Safrina O, Kozak JA, Wagner SL, Cahalan MD, Velicelebi G, Stauderman KA. STIM1, an essential and conserved component of store-operated Ca2+channel function. J Cell Biol. 2005 May 9; 169(3):435-45. PMID: 15866891; PMCID: PMC2171946
Zhang S, Sokolchik I, Blanco G, Sze JY. Caenorhabditis elegans TRPV ion channel regulates 5HT biosynthesis in chemosensory neurons. Development. 2004 Apr; 131(7):1629-38. PMID: 6809184; PMCID: 14998926