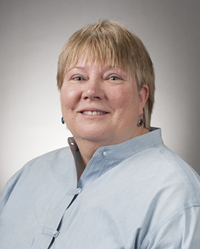 Professor
Associate Vice President for Faculty Development
Contact
Medical Physiology
3113 Clinical Building I
8441 Riverside Pkwy
Bryan , TX 77807
emilyw@tamu.edu
Phone: 979.436.9142
Fax: 979.862.4638

Education and Training
Utah State University, BS, Biology, 1980
Utah State University, MS, Biochemistry, 1984
Emory University, PhD, Biochemistry, 1987
Research Interests
The goals of my lab are to understand the role of mechanical forces in vascular growth and remodeling processes. Cells within the blood vessel wall are exposed to numerous mechanical forces including fluid shear stress, circumferential wall stress, and axial stress as part of their normal environment and alterations in these parameters plays important roles in the development and progression of vascular pathologies such as atherosclerosis, hypertension and aneurysms. Our experiments are focused on how understanding how vascular smooth muscle cells sense changes in the mechanical environment and how this leads to changes in gene expression and cellular phenotype. To this end we use experimental strategies that range from promoter analysis in cultured cells to in vivo manipulation of mouse models of various vascular diseases. During the course of our studies we have developed methods for culturing mouse carotid arteries under precise mechanical environments to study short term remodeling. Much of our work has focused on the role of the extracellular matrix-integrin-cytoskeletal system in mediating these responses.
Representative Publications
Gleason RL, Gray S, Wilson E and Humphrey JD (2004) A multiaxial computer-controlled organ culture and biomechanical device for mouse carotid arteries. J of Biomech Eng 126: 787-795.
Neiger JD, Crow TY, Partridge CR, Williams ES, Chao JT, Meininger GA, Ramos GA, Wilson E. (2005) Modulation of alpha4 integrin mRNA levels is coupled to deficient in vasomotor function in rat arterioles by allylamine. Life Sci 76: 1895-1905.
Partridge CR, Williams ES, Barhoumi R, Tadesse MG, Johnson CD, Lu KP, Meininger GA, Wilson E, Ramos KS. (2005) Novel genomic targets in oxidant-induced vascular injury. J Mol Cell Cardiol 38: 983-96.
Chao JT, Martinez-Lemus L, Kaufman SJ, Meininger GA, Ramos KS, Wilson E. (2005) Modulation of alpha7 integrin-mediated adhesion and expression by platelet-derived growth factor. Am J Physiol Cell Physiol. 2005 Nov 9; [Epub ahead of print] PMID: 16282198 [PubMed - as supplied by publisher]
Gleason RL, Wilson E, Humphrey JD. Biaxial biomechanical adaptations of mouse carotid arteries cultured at altered axial extension. J Biomech. 2006 Jun 1; [Epub ahead of print]
Gui P, Wu X, Ling S, Stotz SC, Winkfein RJ, Wilson E, Davis GE, Braun AP, Zamponi GW, Davis MJ. Integrin receptor activation triggers converging regulation of Cav1.2 calcium channels by c-Src and protein kinase A pathways. J Biol Chem 2006 May 19;281(20):14015-25. Epub 2006 Mar 22.
Wilson E. Alpha 7 beta 1 integrin: putting the brakes on smooth muscle cell proliferation. Circ Res 2007 Sep 28;101(7):651-3.
Hu J-J, Ambrus A, Fossum TW, Miller MW, Humphrey JD, Wilson E. Time courses of growth and remodeling of porcine aortic media during hypertension: a quantitative immunohistochemical examination. J Histol Cytochem exPRESS: December 10, 2007. doi:10.1369/jhc.7A7324.2007.
Dye WW, Gleason RL, Wilson E, Humphrey JD. Altered biomechanical properties of carotid arteries in two mouse models of muscular dystrophy. J Appl Physiol Aug; 103(2):664-672, 2007.
Gleason RL, Dye WW, Wilson E, Humphrey JD. Quantification of the mechanical behavior of carotid arteries from wild-type, dystrophin-deficient, and sarcoglycan-δ knockout mice. J Biomech, 41(15) 3213-3218, 2008.