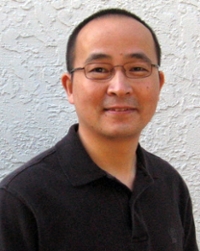 Associate Professor
Contact
Department of Neuroscience & Experimental Therapeutics
8447 Riverside Pkwy
2106 Medical Research and Education Building
Bryan , TX 77807
jwang188@tamu.edu
Phone: 979.436.0389
Fax: 979.436.0086

Biography
Techniques
Slice electrophysiology including whole-cell patch-clamp recording, field recording, and cell-attached recording in rodent striatal, midbrain, and hippocampal slices
Ex vivo and in vivo dual-channel optogenetics and chemogenetics
Mouse, rat, and viral genetics
Stereotaxic viral infusion, rabies-mediated monosynaptic tracing of neural circuits
Single neuron labeling, immunohistochemistry, and confocal imaging
3-D reconstruction of biocytin-infused neurons, analysis of dendritic branches and spines
Operant alcohol self-administration, intermittent-access 2-bottle choice drinking procedure, and locomotion test
Education and Training
Tongji Medical University, MD
Shanghai Brain Research Institute, Chinese Academy of Sciences, PhD
University of California at Berkeley and at San Francisco, Postdoctoral Fellow
Research Interests
Cellular and Circuit Neurobiology of Alcohol Use Disorder
Dr. Jun Wang's research focuses on identifying the neurobiological basis of neuropsychiatric disorders, such as alcohol use disorders. His group investigates the cellular and circuit alterations that occur in areas of the brain in response to excessive, pathological alcohol consumption. They are particularly interested in changes that occur at specific afferent projections onto distinct neuronal populations. They are also interested in contributions of these changes to excessive, pathological alcohol consumption. The results of the research will guide future efforts toward the development of more effective therapeutics for alcohol use disorders.
Dr. Wang participates in graduate training as a member of the faculty in the Interdisciplinary Program in Neuroscience and the Medical Science PhD program in the College of Medicine.
On-Going Projects 1. Explore alcohol-mediated input- and cell type-specific plasticity in the striatum
Using a combination of slice electrophysiology, optogenetics and chemogenetics, transgenic animals, and neuropharmacology, Wang's group currently investigates alcohol-mediated aberrant plasticity in the dorsal striatum, a major entry structure of the basal ganglia. The dorsal striatum is crucial for habit learning and goal-directed behaviors that are altered in addiction. The dorsal striatum receives several different glutamatergic inputs, including corticostriatal and amygdalostriatal afferents, and also contains two groups of principal neurons: dopamine D1 or D2 receptor-expressing medium spiny neurons (D1 or D2 MSNs, respectively). They are interested in elucidating how different afferent glutamatergic inputs in distinct types of neurons within the dorsal striatum are altered by excessive alcohol intake, and how such alterations contribute to excessive alcohol-drinking behaviors.
2. Ex vivo and in vivo optogenetic reversal of alcohol-mediated circuit-specific plasticity
The few available medications for alcoholisms have limited efficacy and often fail to prevent relapse to alcohol, perhaps because they do not reverse the alcohol-evoked long-term synaptic plasticity, which is believed to drive alcohol seeking and relapse. This project employs dual-channel optogenetics ex vivo and in vivo to reverse alcohol-evoked synaptic plasticity, thereby persistently reducing alcohol seeking and relapse. Long-term potentiation (LTP) and depression (LTD) will be induced identified inputs to striatal D1 or D2 MSNs.
Representative Publications
A full publication list can be found here:
https://www.ncbi.nlm.nih.gov/myncbi/browse/collection/48884973/?sort=date&direction=ascending
This article was recommended in Faculty of 1000 as being of special significance in its field: https://f1000.com/prime/732647279).
Xiaoyan, Wei#, Tengfei Ma#, Yifeng Cheng, Cathy C.Y. Huang, Xuehua Wang, Jiayi Lu, and Jun Wang. Dopamine D1 or D2 Receptor-Expressing Neurons in the Central Nervous System. Addiction Biology, 23:569-584 (2017). (#Equal contribution)
Cathy C.Y. Huang#, Tengfei Ma#, Emily Roltsch Hellard#, Xuehua Wang, Amutha Selvamani, Jiayi Lu, Farida Sohrabji, and Jun Wang. Stroke Triggers Nigrostriatal Plasticity and Increases Alcohol Consumption in Rats. Scientific Reports, 7:2501 (2017).
Tengfei Ma, Britton Barbee, Xuehua Wang, and Jun Wang. Alcohol Induces Input-Specific Aberrant Synaptic Plasticity in the Rat Dorsomedial Striatum. Neuropharmacology, 123: 46-54 (2017).
Yifeng Cheng#, Cathy C.Y. Huang#, Tengfei Ma#, Xiaoyan Wei, Xuehua Wang, Jiayi Lu, and Jun Wang*. Distinct Synaptic Strengthening of the Striatal Direct and Indirect Pathways Drives Alcohol Consumption. Biological Psychiatry, 81: 918-929 (2017).
Figure 1A of this article was selected for the cover page of this issue.
This article was highlighted "In This Issue" section.
This article received a Commentary "Tipping Scales Toward Addiction", 81: 903-904 (2017).
Jun Wang*, Yifeng Cheng, Xuehua Wang, Emily Roltsch, Tengfei Ma, Hannah Gil, Sami Ben Hamida, and Dorit Ron*. Alcohol Elicits Functional and Structural Plasticity Selectively in Dopamine D1 Receptor-Expressing Neurons of the Dorsomedial Striatum. Journal of Neuroscience 35: 11634-11643 (2015). *Corresponding authors.
This article was highlighted in the "This Week in The Journal" section.
Lab Members
Dr. Jun Wang - Principal Investigator
Dr. Xiaowen Zhuang – Postdoctoral Research Associate
Daisy Wang - Research Associate
Jiayi (Ada) Lu - PhD student
Annalise Binette - PhD student
Himanshu Gangal - PhD student
Xueyi Xie - Research Student
Emily Disney - Research Student
Taylor Davis - Research Student
Swetha Jayavelu - Research Student
Kayla Woodson - Research Student
Lauren Perez - Research Student
William Purvines - Research Student
Venkata Muthyals - Research Student
David Argyelan - Research Student
Kassidy Bego - Research Student
Jordan Bonifacio - Research Student
Mariam Zaidi - Research Student
Anna Chainaranont - Research Student
Former Lab Members
Dr. Tengfei Ma – Postdoctoral Fellow, Faculty member in Nanjin Medical University,
Dr. Cathy Huang – Postdoctoral Fellow, Faculty member in Taiwan National Central University
Dr. Yifeng Cheng – PhD student, Postdoctoral Fellow at John Hopkins University
Xiaoyan Wei – Visiting Scholar, The Fourth Military Medical University, China
Aggie Migut – Medical student, UT Health Science Center in Houston, 2015
Meagan Coner – Graduate Program in Neuroscience, Stony Brook University, 2016
Britton Barbee – Graduate Program in Molecular and Systems Pharmacology, Emory University, 2017
Lab Phone: 979.436.0339