Jerome P. Trezciakowski, PhD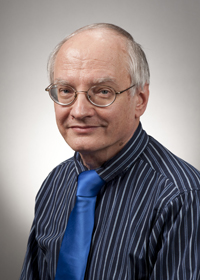 Jerome
P.
Trzeciakowski
, PhD
Professor
Contact
Medical Physiology
1048 Health Professions Education Building
8447 State Riverside Pkwy
Bryan , TX 77807
jpt@tamu.edu
Phone: 979.436.0388
Fax: 979.862.4638

Education and Training
University of Florida, PhD, Pharmacology, 1978
Cornell University Medical College, Post-doctoral Research
Research Interests
Biomathematics, particularly the application of nonlinear dynamics, signal processing techniques and pattern analysis to pharmacological and physiological systems. Some areas under current investigation:
Quantifying cell surface texture
The Atomic Force Microscope (AFM) in scanning mode allows detailed examination of cell surfaces at nanoscale resolutions and can track changes in surface texture in response to physiological and pathophysiological stimuli. Texture characterization requires quantifying the overall degree of roughness (fractal dimension) as well as the distribution or clustering of roughness (lacunarity). Lacunarity is a confounding factor in roughness assessment; it is not scale-invariant and there is no established method to interpret the changes in scale dependence that occur as fractal dimension varies.
Predicting age-related renal damage and dysfunction
In collaboration with Dr. Alan Parrish, we are developing a model to allow assessment of the degree of renal damage based on measurese of a small number of indices of renal function such as BUN, KIM-1, urine volume and urine albumin. Early detection of renal disease in the aging population could potentially allow intervention and slow or prevent the progression of damage.
Representative Publications
Trzeciakowski JP, Chilian WM. Polar symmetry plots. Mathematica J. 1994;4:61-66. NO PMID
Trzeciakowski JP. Analysis of stimulus-response chains using nonlinear dynamics. J Pharmacol Toxicol Methods. 1996 Oct;36(2):103-121. PMID: 8912229
Trzeciakowski JP. Simulus amplification, efficacy and the operational model. Part I - binary complex occupancy mechanisms. J Theor Biol. 1999 Jun 7;198(3):329-346. PMID: 10366490
Trzeciakowski JP. Stimulus amplification, efficacy, and the operational model II. Part II - ternary complex occupancy mechanisms. J Theor Biol. 1999 June 7;198(3):347-374. PMID: 10366491
Trzeciakowski JP. A method for normalizing drug responses to enhance reliability of parametric statistical tests. J Pharmacol Toxicol Meth. 1999 Apr-Jun;41(2-3):75-82. PMID: 10598678
Trzeciakowski J, Chilian WM. Chaotic behavior of the coronary circulation. Med Biol Eng Comput. 2008 May; 46(5):433-442. PMID: 18386090
Botting SK, Trzeciakowski JP, Benoit M, Salama SA, Diaz-Arrastia CR. Sample entropy analysis of cervical neoplasia gene-expression signatures. BMC Bioinformatics. 2009 Feb 20;10:66. PMID: 19232110; PMCID: PMC2656476
Hayenga HN, Trache A, Trzeciakowski J, Humphrey JD. Regional atherosclerotic plaque properties in ApoE-/- mice quantified by atomic force, immunofluorescence, and light microscopy. J Vasc Res. 2011; 48(6):495-504. PMID: 21832839
Gardiner L, Akintola A, Chen G, Catania JM, Vaidya V, Burghardt RC, Bonventre JV, Trzeciakowski J, Parrish AR. Structural equation modeling highlights the potential of Kim-1 as a biomarker for chronic kidney disease. Am J Nephrol. 2012;35(2):152-63. PMID: 22269876
Zhu Y, Qiu H, Trzeciakowski JP, Sun Z, Li Z, Hong Z, Hill MA, Hunter WC, Vatner DE, Vatner SF, Meininger GA. Temporal analysis of vascular smooth muscle cell elasticity and adhesion reveals oscillation waveforms that differ with aging (submitted to Aging Cell - currently in revision for re-review, 2012).