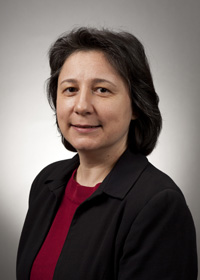 Associate Professor of Medical Physiology and Biomedical Engineering
Contact
Medical Physiology
8447 Riverside Pkwy
2340 Medical Research and Education Building 2
Bryan , TX 77807
trache@tamu.edu
Phone: 979.436.0826
Trache Lab

Education and Training
University of Bucharest, BS, Physics, 1989
Institute of Atomic Physics, Romania, PhD, Physics, 1996
Research Interests
Experimental Biophysics, Biomechanics, Microscopy
The research in Dr. Andreea Trache's laboratory focuses on the study of cellular responses to mechano-chemical stresses from a biophysical perspective. Biophysics research represents an applied field of science at the interface of physics, biology, engineering, and medicine.
Transmission of force is a classical physical concept applied to the study of live cell dynamics, intracellular protein translocation, and transduction of mechanical signals along intracellular pathways. Mechanical forces are important stimuli and determinants of many cell functions including contraction, proliferation, migration, and cell attachment. Relatively little is known about how cells sense and integrate mechanical forces at the molecular level to induce intracellular signaling. Thus, we are interested in studying in real-time the molecular mechanisms responsible for altering the intracellular cytoskeletal force balance and the effect of mechanotransduction on the reorganization of cell-cell and cell-matrix adhesion sites. To conduct these studies, we developed new microscopy techniques with unique capabilities that enable real-time study of cell behavior in response to mechanical stimulation. We aim to gain insights into the fundamental biophysical principles of cellular adaptation to the microenvironment by using non-traditional integrative experimental approaches. We are interested in developing microscopy technologies with unique capabilities that are broadly applicable across various fields of biological research.
Our lab uses live vascular cells as a model system because endothelial and smooth muscle cells reside 'in vivo' in a mechanically active environment that is continuously changing. Using real-time imaging of live cells is the only way to directly monitor cellular responses to mechano-chemical stimulation. Moreover, single-cell imaging experiments allow discrete measurements of transient microscopic events that may be masked by a macroscopic average behavior, and will aid in understanding such behavior.
Representative Publications
H Sreenivasappa, S Chaki, SM Lim, JP Trzeciakowski, MW Davidson, GM Rivera, Andreea Trache. Selective regulation of cytoskeletal tension and cell-matrix adhesion by RhoA and Src. Integr Biol (Camb). 2014 Jul 21;6(8):743-654. PMID 24984203.
Andreea Trache. Light meets force: Real-time cellular adaptation to mechanical stresses revealed by integrated microscopy. Microscopy and Analysis. 2013;27:7-10
SP Chaki, R Barhoumi, ME Berginski, H Sreenivasappa, Andreea Trache, SM Gomez, GM Rivera. Nck enables directional cell migration through the coordination of polarized membrane protrusion with adhesion dynamics. J Cell Sci. 2013 Apr 1;126(Pt 7):1637-1649. PMID: 23444376.
CL Papke, J Cao, CS Kwartler, C Villamizar, KL Byanova, SM Lim, H Sreenivasappa, G Fischer, J Pham, M Rees, M Wang, C Chaponnier, G Gabbiani, AY Khakoo, J Chandra, Andreea Trache, W Zimmer, DM Milewicz. Smooth muscle hyperplasia due to loss of smooth muscle α-actin is driven by activation of focal adhesion kinase, altered p53 localization, and increased levels of platelet-derived growth factor receptor-β. Hum Mol Genet. 2013 Aug 1;22(15):3123-3137. PMID: 23591991.
SM Lim, BA Kreipe, JP Trzeciakowski, H Sreenivasappa, L Dangott, Andreea Trache. RhoA-induced cytoskeletal tension controls adaptive cellular remodeling to mechanical signaling, Integr Biol (Camb). 2012 Jun;4(6):615-627. PMID: 22546924.
Z Sun, Andreea Trache, K Meissner, GA Meininger. Integration of AFM with optical microscopy techniques. In Atomic Force Microscopy in Liquid, AM Baro and RG Reifenberger eds., Wiley-Blackwell Verlag GmbH, Chapter 8 (2012) 211-229.
HN Hayenga, Andreea Trache, J Trzeciakowski, JD Humphrey. Regional atherosclerotic plaque properties in ApoE-/- mice measured by atomic force microscopy. J Vasc Res. 2011;48(6):495-504. PMID: 21832839.
Andreea Trache, SM Lim. Live cell response to mechanical stimulation studied by integrated optical and atomic force microscopy. J Vis Exp. 2010 Oct 4;(44). pii: 2072. PMID: 20972405. http://www.jove.com/index/details.stp?id=2072.
SM Lim, BA Kreipe, JP Trzeciakowski, L Dangott, Andreea Trache. Extracellular matrix effect on RhoA signaling modulation in vascular smooth muscle cells. Exp Cell Res. 2010 Oct 15;316(17):2833-2848. PMID: 20599954
Andreea Trache, JP Trzeciakowski, GA Meininger. Mg2+ modulates integrin-extracellular matrix interaction in vascular smooth muscle cells studied by atomic force microscopy. J Mol Recognit. 201 May-Jun;23(3):316-321. PMID: 20049771
Andreea Trache, SM Lim. Integrated microscopy for real-time imaging of mechanotransduction studies in live cells, J Biomed Opt. 2009 May-Jun;14(3):034024. PMID: 19566317
S Na, Andreea Trache, J Trzeciakowski, Z Sun, GA Meininger, JD Humphrey. Time-dependent changes in cell stiffness and focal adhesion area in response to cyclic stretch. Ann Biomed Eng. 2008 Mar;36(3):369-380. PMID: 18214679
Andreea Trache, GA Meininger. Atomic force microscopy (AFM). In: Current Protocols in Microbiology, R Coico, T Kowalik, J.M Quarles, B Stevenson and RK Taylor eds., Wiley & Sons Inc., 2C (2008) 2.1-17. PMID: 18770536
Andreea Trache, GA Meininger. Total internal reflection fluorescence (TIRF) microscopy. In: Current Protocols in Microbiology, R Coico, T Kowalik, JM Quarles, B Stevenson and RK Taylor eds., Wiley & Sons Inc., 2A (2008) 2.1-22. PMID: 18729056
DM Hawkins, Andreea Trache, AE Ellis, D Stevenson, A Holzenburg, GA Meininger, SM Reddy. Quantification and confocal imaging of fluorescently labeled protein specific molecularly imprinted polymers. Biomacromolecules 2006 Sep;7(9):2560-2564. PMID: 16961318
MH Chowdhury, VA Gant, Andreea Trache, A Baldwin, GA Meininger, GL Cote. The use of surface enhanced Raman spectroscopy for the detection of human integrins. J Biomed Opt. 2006 Mar-Apr;11(2):024004. PMID: 16674194
Andreea Trache, GA Meininger. Atomic force-multi-optical imaging integrated microscope for monitoring molecular dynamics in live cell. J Biomed Opt. 2005 Nov-Dec;10(6):064023. PMID: 16409088
Z Sun, LA Martinez-Lemus, Andreea Trache, JP Trzeciakowski, GE Davis, U Pohl, GA Meininger. Mechanical properties of the interaction between fibronectin and alpha5beta1-integrin on vascular smooth muscle cells studied using atomic force microscopy (PDF). Am J Physiol Heart Circ Physiol. 2005 Dec;289(6):H2526-2535. PMID: 16100245.
LA Martinez-Lemus, Z Sun, Andreea Trache, JP Trzeciakowski, GA Meininger. Integrins and regulation of the microcirculation: from arterioles to molecular studies using atomic force microscopy. Microcirculation. 2005 Jan-Feb;12(1):99-112. PMID: 15804978
Andreea Trache, JP Trzeciakowski, LA Gardiner, Z Sun, M Muthuchamy, M Guo, S Yuan, GA Meininger. Histamine effect on endothelial cell fibronectin interaction studied by atomic force microscopy. Biophys J. 2005 Oct;89(4):2888-2898. PMID: 16055535.
CW Tong, A Kolomenskii, VA Lioubimov, HA Schuessler, Andreea Trache, HJ Granger, M Muthuchamy. Measurements of the crossbridge attachment/detachment process within intact sarcomeres using the surface plasmon resonance. Biochemistry. 2001 Nov 20;40(46):13915-13924. PMID: 11705381