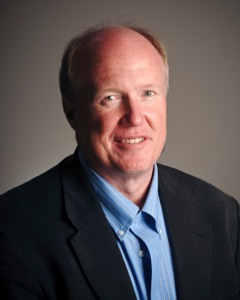 University Distinguished Professor
Professor and The Tom and Jean McMullin Chair of Genetics
Director, Texas A&M Institute for Genome Sciences and Society
Contact
Molecular & Cellular Medicine
428 Reynolds Medical Building
College Station , TX 77843
dwthreadgill@tamu.edu
Phone: 979.436.0850
Fax: 979.847.9481

Biography
Dr. David Threadgill holds a joint appointment with the Department of Veterinary Pathobiology. He is the director of the Whole Systems Genomics Initiative at Texas A&M University. He received his BS in zoology (1983) and PhD in genetics (1989), under the mentorship of Dr. James Womack, from Texas A&M University. Following an NIH-funded Postdoctoral Fellowship at Case Western Reserve University in Dr. Terry Magnuson's laboratory, he became an assistant professor in the Department of Cell Biology at Vanderbilt University in 1996. In 2000 he moved to the University of North Carolina at Chapel Hill where he was promoted to professor in the Department of Genetics. In 2008 he moved to North Carolina State University as professor and head of the Department of Genetics. Threadgill joined the faculty at the Texas A&M University Health Science Center in July 2013.
Research Interests
Our laboratory uses the mouse as an experimental genetic model to investigate factors that contribute to inter-individual differences in health and disease. Ourcurrent research activities include the identification and functional characterization of alleles contributing to cancer susceptibility, the function of theErbbgenefamily in development and disease, and the role of genetic variation in response to environmental stimuli. To support these investigations, we also aredeveloping new genetic tools to support mammalian systems genetic approaches to phenotypes with complex genetic and environmental etiologies.
Specific areas of current research activity include:
Cancer genetics We are focusing on colorectal, breast and kidney cancer to identify environmental factors and genetic polymorphisms contributing to differentialsusceptibility to the development and progression of cancer. We are also developing approaches to exploit these factors to prevent or delay cancer as well asto identify new therapies.
Epidermal growth factor receptor (Egfr) We are using mouse models with genetically engineered or spontaneous mutations to elucidate the biological roleofEgfrand other member of theErbbgene family in vivo. These studies have lead to new insights into the role of these genes in neuronal survival andbehavior, obesity, cancer and cardiovascular disease. We are currently performing mechanistic studies to identify how theErbbgenes contribute to normaland abnormal phenotypes.
Genetics of environmental response Just as individuals differ in their genetic constitution and disease susceptibility, they also differ in their responses toexogenous stimuli. We are using mouse models to investigate responses to environmental factors like the enteric flora of the gastrointestinal tract, diet andtoxicants like dioxin, trichloroethylene, and arsenic. The goal of these studies is to identify how individual responses to environmental factors leads to differential diseasesusceptibilities and methods to prevent disease in exposed individuals.
Systems genetics resources We are participating in a large international effort to develop and exploit a new mouse genetic resources that will support theintegration of genetics into systems biological analyses at the whole animal level. These efforts are based upon the Collaborative Cross, which is a uniquerecombinant inbred population of mice that have randomly assorted the genetic polymorphisms present in the eight founder inbred strains. A major focus of our work is the development and use of cell-based platforms for in vitro genetic studies.
Representative Publications
Donohoe, D.R., Holley, D., Collins, L.B., Montgomery, S.A., Whitmore, A.C., Hillhouse, A., Curry, K.P., Renner, S.W., Greenwalt, A., Ryan, E.P., Godfrey, V., Heise, M.T., Threadgill, D.S., Han, A., Swenberg, J.A., Threadgill, D.W., and Bultman, S.J. (2014) A gnotobiotic mouse model demonstrates that dietary fiber protects against colorectal tumorigenesis in a microbiota- and butyrate-dependent manner. Cancer Discovery 4: 1387-1397.
Church, R.J., Gatti, D.M., Urban, T.J., Long, N., Yang, X., Shi, Q., Eaddy, J.S., Mosedale, M., Ballard, S., Churchill, G.A., Navarro, V., Watkins, P.B., Threadgill, D.W., and Harrill, A.H. (2015) Sensitivity to hepatotoxicity due to epigallocatechin gallate is affected by genetic background in diversity outbred mice. Food Chem Toxicol. 76C: 19-26.
Large, M.J., Wetendorf, M., Lanz, R.B., Hartig, S.M., Creighton, C.J., Mancini, M.A., Kovanci, E., Lee, K.F., Threadgill, D.W., Lydon, J.P., Jeong, J.W., and DeMayo, F.J. (2014) The epidermal growth factor receptor critically regulates endometrial function during early pregnancy. PLoS Genetics 10: e1004451.
Didion, J.P., Buus, R.J., Naghashfar, Z., Threadgill, D.W., Morse, H.C., and Pardo-Manuel de Villena, F. (2014) SNP array profiling of mouse cell lines identifies their strains of origin and reveals cross-contamination and widespread aneuploidy. BMC Genomics 15:847.
Desimone MC, Rathmell WK,Threadgill DW. 2013.Pleiotropic Effects of the Trichloroethylene-Associated P81S VHL Mutation on Metabolism, Apoptosis, and ATM-Mediated DNA DamageResponse.Journal of the National Cancer Institute. 105(18): 1355-1364.
Bautz DJ, Broman KW,Threadgill DW. 2013.Identification of a Novel Polymorphism in X-Linked Sterol-4-alpha-carboxylate 3-dehydrogenase (Nsdhl) Associated with Reduced HDL CholesterolLevels in I/LnJ Mice.G3: Genes, Genomes, Genetics 3(10): 1819-1825.
Neufert C, Becker C, Türeci Ö, Waldner MJ, Backert I, Floh K, Atreya I, Leppkes M, Jefremow A, Vieth M, Schneider-Stock R, KlingerP, Greten FR,Threadgill DW, Sahin U, Neurath MF. 2013.Tumor fibroblast-derived epiregulin promotes growth of colitis-associated neoplasms through ERK.Journal of Clinical Investigation123:1428-1443.
Ferris MT, Aylor DL, Bottomly D, Whitmore AC, Aicher LD, Bell TA, Bradel-Tretheway B, Bryan JT, Buus RJ, Gralinski LE, HaagmansBL, McMillan L, Miller DR, Rosenzweig E, Valdar W, Wang J, Churchill GA,Threadgill DW, McWeeney SK, Katze MG, Pardo-Manuelde Villena F, Baric RS, Heise MT. 2013.Modeling host genetic regulation of influenza pathogenesis in the collaborative cross.PLoS Pathogen9:e1003196.
Saito K, Horiuchi K, Kimura T, Mizuno S, Yoda M, Morioka H, Akiyama H, Threadgill DW, Okada Y, Toyama Y, Sato K. 2013.Conditional inactivation of TNFα-converting enzyme in chondrocytes results in an elongated growth plate and shorter long bones.PLoS One8:e54853.
Eversley CD, Yuying X, Pearsall RS,Threadgill DW. 2012.Mapping six new susceptibility to colon cancer (Scc) loci using a mouse interspecific backcross.G3:Genes, Genomes, Genetics2:1577-1584.
Rinella ES,Threadgill DW. 2012.Efficacy of EGFR inhibition is modulated by model, sex, genetic background and diet: implications for preclinical cancer prevention and therapytrials.PLoS One7:e39552.
Threadgill DW, Churchill GA. 2012.Ten years of the Collaborative Cross. Genetics190:291-294.
Rinella E, Bankaitis E, Threadgill DW. 2012. Dietary calcium supplementation enhances efficacy but also toxicity of EGFR inhibitor therapy for colon cancer.Cancer Biology and Therapy13:130-137.
Lab Members
Postdoctoral Research Associate
Drew Hillhouse
Rachel Lynch
Research Assistant
William Barrington
Dona Kanavy
Amanda Vorphal
Graduate Research Assistant