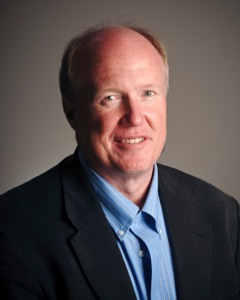 University Distinguished Professor
Professor and The Tom and Jean McMullin Chair of Genetics
Director, Texas A&M Institute for Genome Sciences and Society
Contact
Molecular & Cellular Medicine
428 Reynolds Medical Building
College Station , TX 77843
dwthreadgill@tamu.edu
Phone: 979.436.0850
Fax: 979.847.9481

Biography
Dr. David Threadgill holds a joint appointment with the Department of Biochemistry & Biophysics. He is the director of the Texas A&M Institute for Genome Sciences and Society. He received his BS in zoology (1983) and PhD in genetics (1989), under the mentorship of Dr. James Womack, from Texas A&M University. Following an NIH-funded Postdoctoral Fellowship at Case Western Reserve University in Dr. Terry Magnuson's laboratory, he became an assistant professor in the Department of Cell Biology at Vanderbilt University in 1996. In 2000 he moved to the University of North Carolina at Chapel Hill where he was promoted to professor in the Department of Genetics. In 2008 he moved to North Carolina State University as professor and head of the Department of Genetics. Threadgill joined the faculty at the Texas A&M University Health Science Center in July 2013.
Research Interests
Our laboratory uses the mouse as an experimental genetic model to investigate factors that contribute to inter-individual differences in health and disease. Ourcurrent research activities include the identification and functional characterization of alleles contributing to cancer susceptibility, the function of theErbbgenefamily in development and disease, and the role of genetic variation in response to environmental stimuli. To support these investigations, we also aredeveloping new genetic tools to support mammalian systems genetic approaches to phenotypes with complex genetic and environmental etiologies.
Specific areas of current research activity include:
Cancer genetics We are focusing on colorectal, breast and kidney cancer to identify environmental factors and genetic polymorphisms contributing to differentialsusceptibility to the development and progression of cancer. We are also developing approaches to exploit these factors to prevent or delay cancer as well asto identify new therapies.
Epidermal growth factor receptor (Egfr) We are using mouse models with genetically engineered or spontaneous mutations to elucidate the biological roleofEgfrand other member of theErbbgene family in vivo. These studies have lead to new insights into the role of these genes in neuronal survival andbehavior, obesity, cancer and cardiovascular disease. We are currently performing mechanistic studies to identify how theErbbgenes contribute to normaland abnormal phenotypes.
Genetics of environmental response Just as individuals differ in their genetic constitution and disease susceptibility, they also differ in their responses toexogenous stimuli. We are using mouse models to investigate responses to environmental factors like the enteric flora of the gastrointestinal tract, diet andtoxicants like dioxin, trichloroethylene, and arsenic. The goal of these studies is to identify how individual responses to environmental factors leads to differential diseasesusceptibilities and methods to prevent disease in exposed individuals.
Systems genetics resources We are participating in a large international effort to develop and exploit a new mouse genetic resources that will support theintegration of genetics into systems biological analyses at the whole animal level. These efforts are based upon the Collaborative Cross, which is a uniquerecombinant inbred population of mice that have randomly assorted the genetic polymorphisms present in the eight founder inbred strains. A major focus of our work is the development and use of cell-based platforms for in vitro genetic studies.
Representative Publications
Mantilla-Rojas C, Yu M, Rinella ES, Lynch RM, Perry A, Jaimes-Alvarado J, Anderson KR, Barba E, Bourgeois EJ, Konganti K, Threadgill DW. 2021. A molecular subtype of colorectal cancers initiates independently of epidermal growth factor receptor and has an accelerated growth rate mediated by IL10-dependent anergy. Oncogene, in press.

Salvador AC, Arends D, Barrington WT, Elsaadi AM, Brockmann GA, Threadgill DW. 2021. Sex-specific genetic architecture in response to American and ketogenic diets. International Journal of Obesity, in press.

Vaes N, Schonkeren SL, Rademakers G, Holland A, Koch A, Gijbels MJ, Keulers T, de Wit M, Moonen L, Van der Meer JRM, Van den Boezem E, Wolfs T, Threadgill DW, Demmers J, Fijneman R, Jimenez C, Van den Berghe P, Smits K, Rouschop K, Boesmans W, Hofstra R, Melotte V. 2021. Loss of enteric neuronal Ndrg4 promotes colorectal cancer via increased release of Nid1 and Fbln2. EMBO Reports, in press.

Jurgelewicz A, Dornbos P, Warren M, Nault R, Arkatkar A, Lin H, Threadgill DW, Zacharewski T, LaPres JJ. 2021. Genetics-based Approach to Identify Novel Genes Regulated by the Aryl Hydrocarbon Receptor (AHR) in Mice Liver. Toxicological Sciences, in press. 

Warren MR, Radulescu A, Dornbos P, Cuomo D, Zumwalt S, Bueso-Mendoza D, Nitcher M, LaPres J, Threadgill DW. 2021. Peanut butter as an alternative dose delivery method to prevent strain-dependent orogastric gavage-induced stress in mouse teratogenicity studies. J Pharmacol Toxicol Methods 107:106948.

Zhong C, He L, Lee SY, Chang H, Zhang Y, Threadgill DW, Yuan Y, Zhou F, Celniker SE, Xia Y, Snijders AM, Mao JH. 2021. Host genetics and gut microbiota cooperatively contribute to azoxymethane-induced acute toxicity in Collaborative Cross mice. Archives of Toxicology 95:949-958.

Bissahoyo AC, Xie Y, Yang L, Pearsall RS, Lee DK, Elliott RW, Demant P, McMillan L, de Villena FPM, Angel JM, Threadgill DW. 2020. A new polygenic model for non-familial colorectal cancer inheritance based on the genetic architecture of the azoxymethane-induced mouse model. Genetics 214:691-702.

Aminian M, Andrews-Polymenis H, Gupta J, Kirby M, Kvinge H, Ma X, Rosse P, Scoggin K, Threadgill DW. 2020. Mathematical methods for visualization and anomaly detection in telemetry datasets. Interface Focus 10:20190086.

Price A, Okumura A, Haddock E, Feldman F, Meade-White K, Sharma P, Artami M, Lipkin WI, Threadgill DW, Feldmann H, Rasmussen AL. 2020. Transcriptional correlates of tolerance and lethality in mice predict Ebola virus disease patient outcomes. Cell Reports 30:1702-1713.



Arora S, Li X, Hillhouse A, Konganti, K, Little S, Lawhon S, Threadgill DW, Shelburne, Hook M. 2020. The Staphylococcus epidermidis MSCRAMM SesJ is encoded in composite islands. mBio 11:e02911-e02919.

Ma L, Li H, Hu J, Zheng J, Zhou J, Botchlett R, Matthews D, Zeng T, Chen L, Xiao X, Athrey G, Threadgill DW, Li Q, Glaser S, Francis H, Meng F, Li Q, Alpini G, Wu C.2020. Indole alleviates diet-induced hepatic steatosis and inflammation in a manner involving myeloid cell PFKFB3. Hepatology 72:1191-1203.



Mao; J-H, Kim Y-M, Zhou Y-X, Hu D, Zhong C, Chang H, Brislawn C, Langley S, Wang Y, Peisl BYL, Celniker SE, Threadgill D, Wilmes P, Orr G, Metz TO, Jansson JK, Snijders A. 2020. Genetic and metabolic links between the murine microbiome and memory. Microbiome 8:53.



Garbutt TA, Konganti K, Konneker T, Hillhouse A, Phelps D, Jones A, Ayler, D, Threadgill DW. 2020. Derivation of stable embryonic stem cell-like, but transcriptionally heterogenous, induced pluripotent stem cells from non-permissive mouse strains. Mammalian Genome 31:263-286.



Eldridge R, Osorio D, Amstalden K, Edwards C, Young CR, Cai JJ, Konganti K, Hillhouse A, Threadgill DW, Welsh CJ, Brinkmeyer-Langford C. 2020. Antecedent presentation of neurological phenotypes in the Collaborative Cross reveals four classes with complex sex-dependencies. Scientific Reports 10:7918.



Sigmon JS, Blanchard MW, Baric RS, Bell TA, Brennan J, Brockmann GA, Burks AW, Calabrese JM, Caron KM, Cheney RE, Ciavatta D, Conlon F, Darr DB, Faber J, Franklin C, Gershon TR, Gralinski L, Gu B, Gaines CH, Hagan RS, Heimsath EG, Heise MT, Hock P, Ideraabdullah F, Jennette JC, Kafri T, Kashfeen A, Kulis M, Kumar V, Linnertz C, Livraghi-Butrico A, Lloyd KCK, Lutz C, Lynch RM, Magnuson T, Matsushima GK, McMullan R, Miller DR, Mohlke KL, Moy SS, Murphy C, Najarian M, O'Brien L, Palmer AA, Philpot BD, Randell SH, Reinholdt L, Ren Y, Rockwood S, Rogala AR, Saraswatula A, Sassetti CM, Schisler JC, Schoenrock SA, Shaw GD, Shorter JR, Smith CM, St Pierre CL, Tarantino LM, Threadgill DW, Valdar W, Vilen BJ, Wardwell K, Whitmire JK, Williams L, Zylka MJ, Ferris MT, McMillan L, Pardo-Manuel de Villena F. 2020. Content and performance of the MiniMUGA genotyping array, a new tool to improve rigor and reproducibility in mouse research. Genetics 216:905-930.
Lab Members
Postdoctoral Research Associate
Research Assistants
Kristen Hanneman
Krishna Patel
Graduate Research Assistant
Michael McGill
Julia Popp
Brittni Ming-Whitfield
Kristin Scoggin
Anna Salvador
Ana Valesquez
Scientist