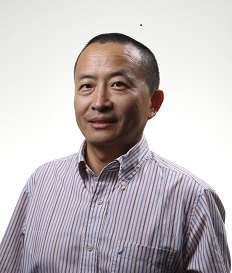 Professor
Contact
Microbial Pathogenesis & Immunology
8447 Riverside Pkwy
Medical Research & Education Building II (MREB II), Room 3344
Bryan , TX 77807-3260
jus35@tamu.edu
Phone: 979.436.0633
Fax: 979.436.9038

Education and Training
The Third Military Medical University, PhD, 1998
Research Interests
The primary focus of my research is the investigation of the cellular regulation of T-cell immunity and tolerance, and how membrane-bound costimulatory molecules control T-cell function and immune disease.
Membrane-expressed receptors termed costimulatory molecules are essential for T-cell responses and play important roles in the immune system to guard the body against harmful microorganisms. There are a number of costimulatory molecules that control T-cell activity. Understanding how these molecules function is likely key to understanding how immune disease and inflammation are controlled and how immune responses to malignancies and infectious pathogens can be generated.
Most effort is being expended to develop and optimize strategies for utilizing highly reactive T lymphocytes for cell-based therapies. Because of the plasticity and potentially unlimited capacity for self-renewal, stem cell-derived T lymphocytes have great potential in the treatment of diseases (e.g., chronic viral infection, cancer, and autoimmune disease). In addition, the function of T lymphocytes is tightly associated with metabolic reprogramming. Combination of development of stem cell-derived T lymphocytes with metabolic reprogramming by unique immune-modulatory targets will contribute important information in the areas of vaccine design, autoimmune therapy, and immune-based anti-cancer strategies.
Representative Publications
Haque M, Sandhu P, Ravi S, Kurapati S and Song J (2017). Immunotherapy in autoimmune diabetes. Autoimmunity - Immunopathogenesis and Immune-based Therapy for Selected Autoimmune Disorders. InTech Europe.
Haque M, Sandhu P and Song J (2016). Stem cell-derived regulatory T cells for therapeutic use. Pluripotent Stem Cells. InTech Europe.
Song J (2015). Frontiers in Cancer Immunotherapy - Mechanisms of cancer immunity, engineering immune-based therapies and developing clinical trials. Bentham Science Publishers. ISBN: 978-1-68108-049-9 (http://ebooks.benthamscience.com/book/9781681080482/).
Lei F, Haque R, Xiong X and Song J (2014). Generation of antigen-specific T lymphocytes from induced pluripotent stem cells for adoptive immunotherapy. Stem Cells and Cancer Stem Cells, Volume 10. Springer Science, Dordrecht.
Representative Publications
Ji C, Xu Q, Guo L, Wang X, Ren Y, Zhang H, Zhu W, Ming Z, Yuan Y, Ren X, Song J, Cheng Y, Yang J, Zhang Y. eEF-2 Kinase-targeted miR-449b confers radiation sensitivity to cancer cells. Cancer Lett. 2018 Jan 11;418:64-74.
Jia H, Truica CI, Wang B, Wang Y, Ren X, Harvey HA, Song J, Yang JM. Immunotherapy for triple-negative breast cancer: Existing challenges and exciting prospects. Drug Resist Updat. 2017 May;32:1-15.
Desai P, Abboud G, Stanfield J, Thomas PG, Song J, Ware CF, Croft M, Salek-Ardakani S. HVEM Imprints Memory Potential on Effector CD8 T Cells Required for Protective Mucosal Immunity. J Immunol. 2017 Oct 15;199(8):2968-2975.
Lei F, Haque M, Sandhu P, Ravi S, Song J, Ni B, Zheng S, Fang D, Jia H, Yang JM, Song J. Development and characterization of naive single-type tumor antigen-specific CD8+ T lymphocytes from murine pluripotent stem cells. Oncoimmunology. 2017 May 30;6(7):e1334027.
Sandhu P, Haque M, Humphries-Bickley T, Ravi S, Song J. Hepatitis B Virus Immunopathology, Model Systems, and Current Therapies. Front Immunol. 2017 Apr 13;8:436.
Gao B, Kong Q, Zhang Y, Yun C, Dent SYR, Song J, Zhang DD, Wang Y, Li X, Fang D. The Histone Acetyltransferase Gcn5 Positively Regulates T Cell Activation. J Immunol. 2017 May 15;198(10):3927-3938.
Haque R, Song J, Haque M, Lei F, Sandhu P, Ni B, Zheng S, Fang D, Yang JM, Song J. c-Myc-Induced Survivin Is Essential for Promoting the Notch-Dependent T Cell Differentiation from Hematopoietic Stem Cells. Genes (Basel). 2017 Mar 6;8(3). pii: E97.
Haque M, Fino K, Sandhu P, Song J. Development of Stem Cell-derived Antigen-specific Regulatory T Cells Against Autoimmunity. J Vis Exp. 2016 Nov 8;(117).
Kong S, Yang Y, Xu Y, Wang Y, Zhang Y, Melo-Cardenas J, Xu X, Gao B, Thorp EB, Zhang DD, Zhang B, Song J, Zhang K, Zhang J, Zhang J, Li H, Fang D. Endoplasmic reticulum-resident E3 ubiquitin ligase Hrd1 controls B-cell immunity through degradation of the death receptor CD95/Fas. Proc Natl Acad Sci U S A. 2016 Sep 13;113(37):10394-9.
Xu Y, Zhao F, Qiu Q, Chen K, Wei J, Kong Q, Gao B, Melo-Cardenas J, Zhang B, Zhang J, Song J, Zhang DD, Zhang J, Fan Y, Li H, Fang D. The ER membrane-anchored ubiquitin ligase Hrd1 is a positive regulator of T-cell immunity. Nat Commun. 2016 Jul 15;7:12073.
Xu A, Liu Y, Chen W, Wang J, Xue Y, Huang F, Rong L, Lin J, Liu D, Yan M, Li QZ, Li B, Song J, Olsen N, Zheng SG. TGF-β-Induced Regulatory T Cells Directly Suppress B Cell Responses through a Noncytotoxic Mechanism. J Immunol. 2016 May 1;196(9):3631-41.
Haque M, Song J, Fino K, Sandhu P, Song X, Lei F, Zheng S, Ni B, Fang D, Song J. Stem cell-derived tissue-associated regulatory T cells ameliorate the development of autoimmunity. Sci Rep. 2016 Feb 5;6:20588.
Haque M, Song J, Fino K, Wang Y, Sandhu P, Song X, Norbury C, Ni B, Fang D, Salek-Ardakani S, Song J. C-Myc regulation by costimulatory signals modulates the generation of CD8+ memory T cells during viral infection. Open Biol. 2016 Jan;6(1):150208.
Haque M, Song J, Fino K, Sandhu P, Wang Y, Ni B, Fang D, Song J. Melanoma Immunotherapy in Mice Using Genetically Engineered Pluripotent Stem Cells. Cell Transplant. 2016;25(5):811-27.