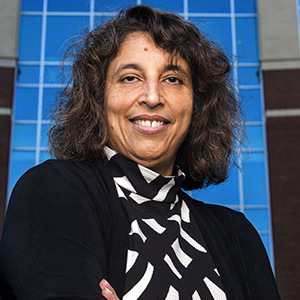 Associate Department Chair, Department of Neuroscience and Experimental Therapeutics
Professor, Department of Neuroscience and Experimental Therapeutics
Director, Women's Health in Neuroscience Program
Contact
Department of Neuroscience & Experimental Therapeutics
8447 Riverside Pkwy
4102 Medical Research and Education Building
Bryan , TX 77807
f-sohrabji@tamu.edu
Phone: 979.436.0335
Fax: 979.436.0086

Research Interests
My research program focuses on brain-immune interactions regulated by estrogen and its implications for neuro-inflammatory diseases such as stroke in women. Additionally, I am also interested in estrogen's interactions with other endogenous and environmental endocrine mediators, including Vitamin D hormone and the peptide hormone Insulin-like Growth Factor (IGF)-1. Our current studies use an animal model to examine age and sex differences in recovery from stroke, focusing at the cellular level on the endothelium and astrocytes, which are the principal components of the blood brain barrier. At the molecular level, we are examining sex and age differences in miRNA and epigenetic markers, with a view to developing biomarkers for diseases and uncovering new therapeutic targets.
I serve as the Director of the Women's Health in Neuroscience Program at the College of Medicine and on the steering committee of the Texas Alzheimer's Research and Care Consortium (TARCC).
I also participate in graduate training as a member of the faculty in the Interdisciplinary Program in Neuroscience.
Representative Publications
Selvamani A. and Sohrabji F. (2010) The neurotoxic effects of estrogen on ischemic stroke in older female rats is associated with age-dependent loss of IGF-1. J. Neurosci. 30: 6852-61. PMID: 20484627
Lewis DK, Bake S., Thomas K., Jezierski MK., Sohrabji, F. (2010) A high cholesterol diet elevates hippocampal cytokine expression in an age and estrogen-dependent manner in female rats. Journal of Neuroimmunology, 223:31-38, PMID: 20435353
Lewis DK, Thomas KT, Selvamani A, Sohrabji, F. (2012) Age-related severity of focal ischemia in female rats is associated with impaired astrocyte function. Neurobiol of Aging, 33:1123.e1-16. Epub 2011. PMID: 22154819
Selvamani A, Sathyan P, Miranda R.C. Sohrabji, F. (2012) An antagomir to microRNA Let7f promotes neuroprotection in an ischemic stroke model. PLoS ONE 7(2): e32662. PMID: 22393433
Balden R., Selvamani A., Sohrabji, F. (2012) Vitamin D deficiency exacerbates experimental stroke injury and dysregulates ischemia-induced inflammation in adult rats. Endocrinology, 153: 2420-35 PMID: 22408173
Sohrabji F, Selvamani A, Balden R. (2012) Revisiting the timing hypothesis: Biomarkers that define the therapeutic window of estrogen for stroke. Horm Behav. Jun 19. [Epub ahead of print] PMID: 22728278.
Sohrabji F, Williams M. Stroke neuroprotection: Estrogen and IGF-1 interactions and the role of microglia. J Neuroendocrinol. 2013 Jun 14. doi:10.1111/jne.12059. [Epub ahead of print] PubMed PMID: 23763366.
Sohrabji F, Bake S, Lewis DK. (2013) Age-related changes in brain support cells: Implications for stroke severity. Neurochem Int. 63: 291-301. Epub 2013 Jun 28. PubMed PMID: 23811611.
Selvamani A, Williams M, Miranda RC, Sohrabji F. (2014) Circulating miRNA profiles provide a biomarker for severity of stroke outcomes associated with age and sex in a rat model. Clin Sci, 127:77-89. PMID: 24428837
Bake S, Selvamani A, Cherry J. Sohrabji F. (2014) Blood Brain Barrier and Neuroinflammation Are Critical Targets of IGF-1-Mediated Neuroprotection in Stroke for Middle-Aged Female Rats. PLoS One, e91427.