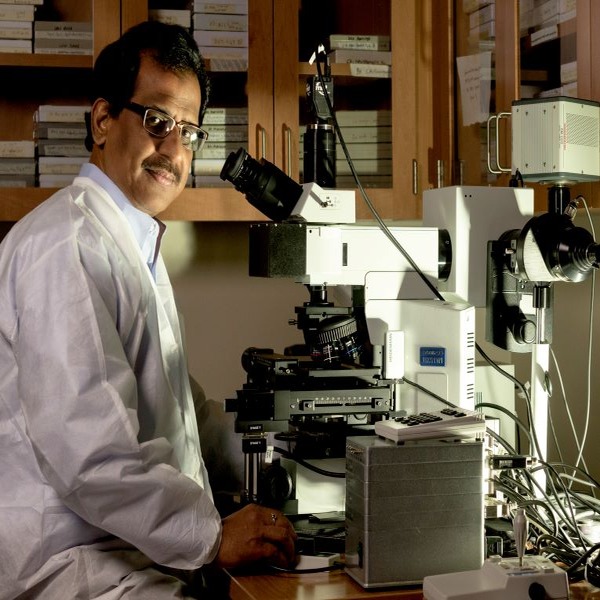 Professor, Department of Cell Biology and Genetics
Associate Director, Institute for Regenerative Medicine
Contact
Cell Biology and Genetics
Institute for Regenerative Medicine
240A Reynolds Medical Building
College Station , TX 77843-1114
akskrs@tamu.edu
Phone: 979.436.9653
Fax: 979.845.9481

Biography
Ashok K. Shetty received a Ph.D. degree in Neuroscience from the All India Institute of Medical Sciences (AIIMS), New Delhi.  Following his postdoctoral research work at Duke University, Dr. Shetty joined the Division of Neurosurgery (Department of Surgery) at Duke University Medical Center as an Assistant Professor in 1995. He became Associate Professor in 1999 and held the position of Professor from 2004 to 2011. Dr. Shetty joined the faculty at Texas A&M University Health Science Center in July 2011.
Dr. Shetty has received continuous extramural research funding as Principal Investigator for over 24 years from sources such as the National Institutes of Health, Department of Defense, and Department of Veterans Affairs. These include five R01 grant awards and an R21 grant award from the National Institutes of Health (NIH), six Peer-Reviewed Congressionally Directed Medical Research Program (CDMRP) grant awards from the Department of Defense (DOD), and five Merit Review grant awards and two Research Career Scientist Awards from the Department of Veterans Affairs. Grants from the NIH and DOD fund Dr. Shetty's current research.
Dr. Shetty has authored 162 peer-reviewed publications (135 as Senior or First author), and his work has appeared in many top-class journals including Molecular Psychiatry, Journal of Extracellular Vesicles, Proceedings of the National Academy of Sciences (PNAS), Neuropsychopharmacology, Journal of Neuroscience, Stem Cells, Aging Cell, Redox Biology, Progress in Neurobiology, Neuroscience and Biobehavioral Reviews, Pharmacology and Therapeutics, Brain, Behavior and Immunity, EBioMedicine, Journal of Controlled Release, Neurobiology of Aging, Neurobiology of Disease, Experimental Neurology, Neurotherapeutics, Stem Cells Translational Medicine, Epilepsia, and Nature Scientific Reports. Dr. Shetty has received over 12,800 citations (with an h-index of 60) for his published research articles.
Dr. Shetty has the distinction of serving on two different NIH Study Sections as a Chartered Member. These include Clinical Neuroplasticity and Neurotransmitters (CNNT) study section panel from 2004-2008 and Developmental Brain Disorders (DBD) study section panel from 2010-2016. Besides, he has served as a member of over 50 other study section panels of the NIH, Congressionally Directed Medical Research Program of DOD, Maryland State Stem Cell Research Fund, New York State Stem Cell Research Fund and Henry M. Jackson Foundation Regenerative Medicine Program, and the Department of Veterans Affairs. He has also served as a reviewer of grant applications for over 12 international funding agencies from Germany, France, England, Ireland, Israel, India, and Singapore.
Dr. Shetty is Co-Editor-in-Chief of the journal, Aging & Disease, and Associate Editor of 6 journals (Frontiers in Neuroscience, Frontiers in Molecular Neuroscience, Frontiers in Neurology, Frontiers in Aging Neuroscience, Neurogenesis, and Neuroscience Insights). Dr. Shetty is also a Member of the Editorial Board for many other international journals, which include Stem Cells, Aging Cell, and Cell Transplantation. Dr. Shetty is a Fellow of the American Society for Neural Transplantation and Repair.
Research Interests
Dr. Shetty's laboratory is interested in developing clinically applicable strategies that are efficacious for enhancing brain function after injury, disease, or aging. The central areas of investigation are focused on the following topics.
Mechanisms by which intranasally administered stem cell-derived extracellular vesicles (EVs) promote neuroprotection, neuroregeneration, neural plasticity, and alleviate neuroinflammation. The sources of EVs include human bone marrow mesenchymal stem cells (hMSCs), and human induced pluripotent stem cell-derived neural stem cells (hiPSC-NSCs), astrocytes, and microglia. The model systems include penetrating traumatic brain injury (TBI), concussion or closed head injury (CHI), status epilepticus (SE), temporal lobe epilepsy (TLE), and Alzheimer's disease (AD).
Mechanisms by which transplanted human neural stem cells or human GABA-ergic precursor cells derived from hiPSCs promote brain repair, and alleviate spontaneous seizures, and cognitive and mood impairments in prototypes of SE, TLE, and TBI.
Elucidating mechanisms of brain dysfunction and chronic neuroinflammation in prototypes of Gulf War Illness. Developing therapeutic strategies to alleviate neuroinflammation, increased oxidative stress, systemic inflammation, and learning, memory, and mood impairments in models of Gulf War Illness (GWI).
Developing clinically feasible strategies for improving hippocampal neurogenesis and memory and mood function in aging and AD models via stimulation of endogenous neural stem/progenitor cells in neurogenic regions of the brain using drugs and biologics.
Representative Publications
Kodali M, Attaluri S, Madhu LN, Shuai B, Upadhya R, Gonzalez JJ, Rao X, Shetty AK. Metformin treatment in late middle age improves cognitive function with alleviation of microglial activation and enhancement of autophagy in the hippocampus. Aging Cell, 20:e13277, 2021. Research Article
Dickey B, Madhu LN, Shetty AK. Gulf War Illness: Mechanisms Underlying Brain Dysfunction and Promising Therapeutic Strategies. Pharmacology & Therapeutics, 220:107716, 2021. Research Article
Madhu LN, Kodali, M, Attaluri S, Shuai B, Melissari L, Rao X,  Shetty AK. Melatonin improves brain function in a model of chronic Gulf War Illness with modulation of oxidative stress, NLRP3 inflammasomes, and BDNF-ERK-CREB pathway in the hippocampus. Redox Biology, in press, 2021.
Upadhya R, Madhu LN, Attaluri S, Gitai DLG, Pinson MR, Kodali M, Shetty G, Zanirati G, Kumar S, Shuai B, Weintraub ST, Shetty AK. Extracellular vesicles from human iPSC-derived neural stem cells: miRNA and protein signatures, and antiinflammatory and neurogenic properties. Journal of Extracellular Vesicles, 9: 1809064, 2020.  Research Article
Hattiangady B, Kuruba R, Shuai B, Grier R, Shetty AK. Hippocampal Neural Stem Cell Grafting after Status Epilepticus Alleviates Chronic Epilepsy and Abnormal Plasticity, and Maintains Better Memory and Mood Function. Aging Dis. 11(6):1374-1394, 2020. Research Article
Shetty AK, Attaluri S, Kodali M, Shuai B, Shetty GA, Upadhya D, Hattiangady B, Madhu LN, Upadhya R, Bates A, Rao X. Monosodium luminol reinstates redox homeostasis, improves cognition, mood and neurogenesis, and alleviates neuro- and systemic inflammation in a model of Gulf War Illness. Redox Biology 28:101389, 2020.
Upadhya R, Zingg W, Shetty S, Shetty AK. Astrocyte-derived extracellular vesicles: Neuroreparative properties and role in the pathogenesis of neurodegenerative disorders. Journal of Controlled Release, 323:225-239, 2020. Research Article
Shetty AK, Zanirati G. The interstitial system of the brain in health and disease. Aging & Disease, 11:200-211, 2020. Research Article
Kodali M, Castro OW, Kim DK, Thomas A, Shuai B, Attaluri S, Upadhya R, Gitai D, Madhu LN, Prockop DJ, Shetty AK. Intranasally Administered Human MSC-Derived Extracellular Vesicles Pervasively Incorporate into Neurons and Microglia in both Intact and Status Epilepticus Injured Forebrain. International Journal of Molecular Sciences, 21:181, 2020. Research Article 
Gitai D, Santos YDR, Upadhya R, Kodali M, Madhu LN, Shetty AK: Extracellular Vesicles in the Forebrain Display Reduced miR-346 and miR-331-3p in a Rat Model of Chronic Temporal Lobe Epilepsy. Molecular Neurobiology, 57(3):1674-1687, 2020. Research Article
Shetty AK. Mesenchymal Stem Cell Infusion Shows Promise for Combating Coronavirus (COVID-19)- Induced Pneumonia. Aging Dis  11(2):462-464, 2020. Research Article
Upadhya D, Hattiangady B, Castro O, Shuai B, Kodali M, Attaluri S, Bates A, Dong Y, Zhang S-C, Prockop DJ, Shetty AK: Human iPSC-derived MGE cell grafting after status epilepticus attenuates chronic epilepsy and co-morbidities via synaptic integration. Proceedings of the National Academy of Sciences (PNAS), USA, 116:287-296, 2019. Research Article
Leite Góes Gitai D, de Andrade TG, Dos Santos YDR, Attaluri S, Shetty AK: Chronobiology of Limbic Seizures: Potential Mechanisms and Prospects of Chronotherapy for Mesial Temporal Lobe Epilepsy. Neuroscience & Biobehavioral Reviews, 98:122-134, 2019. Research Article
Madhu LN, Attaluri S, Kodali M, Shuai B, Upadhya R, Gitai D, Shetty AK: Neuroinflammation in Gulf War Illness is linked with HMGB1 and complement activation, which can be discerned from brain-derived extracellular vesicles in the blood. Brain Behavior Immunity, 81:430-443, 2019. Research Article
Upadhya D, Kodali M, Gitai D, Castro OW, Zanirati G, Upadhya R, Attaluri S, Mitra B, Shuai B, Hattiangady B, Shetty AK. A Model of Chronic Temporal Lobe Epilepsy Presenting Constantly Rhythmic and Robust Spontaneous Seizures, Co-morbidities and Hippocampal Neuropathology. Aging & Disease, 10:915-936, 2019. Research Article 
Shetty AK, Upadhya R, Madhu LN, Kodali M. Novel Insights on Systemic and Brain Aging, Stroke, Amyotrophic Lateral Sclerosis, and Alzheimer's Disease. Aging & Disease, 10:470-482, 2019. Research Article
Upadhya D, Shetty AK: Promise of extracellular vesicles for diagnosis and treatment of epilepsy. Epilepsy & Behavior, in press, 106499, October 18, 2019. Research Article
Kodali M, Hattiangady B, Shetty G, Bates A, Shuai B, Shetty AK: Curcumin Treatment Leads to Better Cognitive and Mood Function in a Model of Gulf War Illness with Enhanced Neurogenesis, and Alleviation of Inflammation and Mitochondrial Dysfunction in the Hippocampus. Brain, Behavior and Immunity. 69:499-514, 2018.
Vogel A, Upadhya R, Shetty AK:  Neural stem cell derived extracellular vesicles: Attributes and prospects for treating neurodegenerative disorders. EBioMedicine 38:273-282, 2018. Research Article
Shetty AK, Kodali M, Upadhya R, Madhu LN: Emerging Anti-Aging Strategies - Scientific Basis and Efficacy. Aging & Disease 9:1165-1184, 2018. Research Article
Upadhya U, Castro, OW, Upadhya R, Shetty AK (2018): Prospects of Cannabidiol for Easing Status Epilepticus Induced Epileptogenesis and Related Co-morbidities. Molecular Neurobiology, In press, 2018. Research Article
Long Q, Upadhya D, Hattiangady B, Kim DK, An SY, Shuai B, Prockop DJ, Shetty AK (2017) Intranasal MSC-derived A1-exosomes ease inflammation and prevent abnormal neurogenesis and memory dysfunction after status epilepticus. Proceedings of the National Academy of Sciences (PNAS), USA. Apr 25;114(17): E3536-E3545, 2017. Research Article
Shetty G, Hattiangady B, Upadhya D, Bates A, Attaluri S, Shuai B, Kodali M, Shetty AK (2017) Chronic oxidative stress, mitochondrial dysfunction, Nrf-2 activation and inflammation in the hippocampus accompany heightened systemic inflammation and oxidative stress in Gulf war illness. Frontiers in Molecular Neuroscience, Jun 14;10:182. 2017. Research Article
Shetty AK, Hattiangady B (2016): Grafted subventricular zone neural stem cells display robust engraftment and similar differentiation properties and form new neurogenic niches in the young and aged hippocampus. Stem Cells Translational Medicine, Sep;5(9):1204-15, 2016. Research Article
Kodali M, Megahed T, Mishra V, Shuai B, Hattiangady B, Shetty AK (2016): Voluntary running exercise mediated enhanced neurogenesis does not obliterate retrograde spatial memory. Journal of Neuroscience, Aug 3;36(31):8112-22. 2016. Research Article
Upadhya D, Hattiangady B, Shetty GA, Zanirati G, Kodali M, Shetty AK (2016): Neural stem cell or human induced pluripotent stem cell-derived GABA-ergic progenitor cell grafting in an animal model of chronic temporal lobe epilepsy. Current Protocols in Stem Cell Biology, Aug 17; 38: 2D.7.1-2D.7.47. 2016. Research Article
Shetty AK, Upadhya D (2016): GABA-ergic cell therapy for epilepsy: Advances, Limitations and Challenges. Neuroscience and Biobehavioral Reviews, 62:35-47, 2016. Research Article
Kim DK, Nishida H, An SY, Shetty AK, Bartosh TJ, Prockop DJ (2016). Chromatographically isolated CD63+CD81+ extracellular vesicles from mesenchymal stromal cells rescue cognitive impairments after TBI. Proceedings of the National Academy of Sciences (PNAS), USA. 113: 170-175, 2016. Research Article
Mishra V, Shuai B, Kodali M, Shetty GA, Hattiangady B, Rao X, Shetty AK (2015): Resveratrol treatment after status epilepticus restrains neurodegeneration and abnormal neurogenesis with suppression of oxidative stress and inflammation. Scientific Reports (Nature Publishing Group), 5:17807; Dec 7, 2015. Research Article
Agadi S, Shetty AK (2015): Prospects of Bone Marrow Mononuclear Cells and Mesenchymal Stem Cells for Treating Status Epilepticus and Chronic Epilepsy. Stem Cells, 33:2093-2103, 2015. Research Article
Kodali M, Parihar V, Hattiangady B, Mishra V, Shuai B, Shetty AK (2015): Resveratrol prevents age-related memory and mood dysfunction with increased hippocampal neurogenesis and microvasculature and reduced glial activation. Scientific Reports (Nature Publishing Group), 5:8075; Jan 28, 2015. Research Article
Shetty AK, Mishra V, Kodali M, Hattiangady B (2014): Blood brain barrier dysfunction and delayed neurological deficits in mild traumatic brain injury induced by blast shock waves. Frontiers in Cellular Neuroscience, 8:232, Aug 13, 2014. Research Article
Hattiangady B, Mishra V, Kodali M, Shuai B, Rao, X, Shetty AK (2014): Object location and object recognition memory impairments, motivation deficits and depression in a model of Gulf War illness. Frontiers in Behavioral Neuroscience, 8:78, March 13, 2014. Research Article
Parihar VK, Hattiangady B, Shuai B, Shetty AK (2013): Mood and memory deficits in a model of Gulf war illness are linked with reduced neurogenesis, partial neuron loss and mild inflammation in the hippocampus. Neuropsychopharmacology, 38: 2348-2362, 2013. Research Article
Watanabe J. Shetty AK, Hattiangady B, Kim D-K, Foraker JE, Nishida H, Prockop DJ (2013): Administration of TSG-6 improves memory after traumatic brain injury in mice. Neurobiology of Disease, 59:86-99, 2013. Research Article
Shetty GA, Hattiangady B, Shetty AK (2013): Neural stem cell- and neurogenesis-related gene expression profiles in the young and aged dentate gyrus. AGE, 35: 2165-2176, 2013. Research Article
Hattiangady B, Shetty AK (2012): Neural stem cell grafting counteracts hippocampal injury-mediated impairments in mood, memory and neurogenesis. Stem Cells Translational Medicine, 1:696-708, 2012. Research Article
Parihar VK, Hattiangady B, Kuruba R, Shuai B, Shetty AK (2011): Predictable chronic mild stress improves mood, hippocampal neurogenesis and memory. Molecular Psychiatry, 16, 171-183, 2011. Research Article
Shetty AK (2011): Progress in Cell Grafting Therapy for Temporal Lobe Epilepsy. Neurotherapeutics, 8(4): 721-735, 2011. Research Article
Hattiangady B, Kuruba R, Shetty AK (2011): Acute seizures in old age leads to a greater Loss of CA1 pyramidal neurons, an increased propensity for developing chronic TLE and a severe cognitive dysfunction, Aging and Disease, 2:1-17, 2011. Research Article
Shetty AK (2011): Promise of resveratrol for easing status epilepticus and epilepsy. Pharmacology & Therapeutics, 131 (3), 269-86, 2011. Research Article
Waldau B, Hattiangady B, Kuruba R, Shetty AK (2010): Medial ganglionic eminence-derived neural stem cell grafts ease spontaneous seizures and restore GDNF expression in a rat model of chronic temporal lobe epilepsy. Stem Cells, 28, 1153-1164, 2010. Research Article
Hattiangady B, Shetty AK (2010): Decreased neuronal differentiation of newly generated cells underlies diminished neurogenesis in chronic temporal lobe epilepsy. Hippocampus, 20:97-112, 2010. Research Article
Kuruba, Hattiangady B, Shetty AK (2009): Hippocampal neurogenesis and neural stem cells in chronic temporal lobe epilepsy Epilepsy & Behavior, 14 Suppl 1:65-73, 2009. Research Article
Shetty AK, Hattiangady B, Rao MS (2009): Vulnerability of hippocampal GABA-ergic interneurons to kainate induced excitotoxic injury during old age. Journal of Cellular & Molecular Medicine, 13(8B):2408-2423, 2009. Research Article
Hattiangady B, Rao MS, Shetty AK (2008) Grafting of Striatal Precursor Cells into Hippocampus Shortly after Status Epilepticus Restrains Chronic Temporal Lobe Epilepsy. Experimental Neurology. 212:468-481, 2008. Research Article
Hattiangady B, Rao MS, Shetty AK (2008): Plasticity of hippocampal stem/progenitor cells to enhance neurogenesis in response to injury is lost by middle age, Aging Cell, 7:207-224. 2008. Research Article
Hattiangady B, Shetty AK (2008): Aging Does Not Alter the Number or Phenotype of Putative Stem/Progenitor Cells in the Neurogenic Region of the Hippocampus. Neurobiology of Aging, 29(1):129-47, 2008. Research Article
Waldau B, Shetty AK Behavior of Neural Stem Cells in the Alzheimer's Brain, Cellular and Molecular Life Sciences, 65:2372-84, 2008. Research Article
Acharya M, Hattiangady B, Shetty AK (2008): Progress in neuroprotective strategies for preventing epilepsy. Progress in Neurobiology, 84:363-404. 2008. Research Article
Dhanushkodi A, Shetty AK (2008): Is exposure to enriched environment beneficial for functional post-lesional recovery in TLE? Neuroscience and Biobehavioral Reviews, 32:657-674, 2008.  Research Article
Hattiangady B, Shuai B, Cai J, Coksaygan T, Rao MS, Shetty AK (2007): Increased dentate neurogenesis after grafting of glial restricted progenitors or neural stem cells in the aging hippocampus. Stem Cells, 25:2104-2117, 2007. Research Article
Shetty AK and Hattiangady B (2007). Prospects of Stem Cell therapy for Temporal Lobe Epilepsy. Stem Cells, 25:2396-2407, 2007. Research Article
Rao MS, Hattiangady B, Shetty AK (2006): The window and mechanisms of major age-related decline in the production of new neurons within the dentate gyrus of the hippocampus. Aging Cell, 5:545-558, 2006. Research Article
Shetty AK, Zaman V, Hattiangady B (2005): Repair of the injured adult hippocampus through graft-mediated modulation of the plasticity of the dentate gyrus in a rat model of temporal lobe epilepsy. Journal of Neuroscience, 25: 8391-8401, 2005. Research Article
Shetty AK, Hattiangady B, Shetty GA (2005): Stem/progenitor cell proliferation factors FGF-2, IGF-1, and VEGF exhibit early decline during the course of aging in the hippocampus: role of astrocytes, GLIA, 51:173-186, 2005. Research Article
Edited Books:
Neural Stem Cells in Health & Disease (2015): Link to Chapters 
Resources
Could A Common Diabetes Drug Slow Down Aging? Texas A&M Today, March 2021
Could A Nasal Spray Of "Nanovesicles" Repair Brain Cells? Texas A&M Today, October 2020
Inside the stem-cell pharmaceutical factory, NATURE, June 2020
Are Mesenchymal Stem Cells a Promising Treatment for COVID-19?, THE SCIENTIST, April 2020
Drug shows promise for treating cognitive problems and inflammation in Gulf War Illness d to Gulf War Illness, Vital Record, TAMU, January 2020
Possible Treatment for Cognitive Dysfunction Related to Gulf War Illness, Vital Record, TAMU, July 2019
Stem cell-derived neurons stop seizures and improve cognitive function, EureKAlert, AAAS, December 2018
Curcumin Shows Promise for Treating Gulf War Illness, Association of American Universities, March 2018
Nasal spray may limit brain damage from seizures, Futurity.org, April 2017
Modeling Gulf War illness: Knowing the cause of brain dysfunction is key to finding a cure Science Daily, June 2017
Exercise Boosts Brain Health, but is there a Downside?  THE NEW YORK TIMES, August 2016 
Exercise & Neurogenesis: The Effects of Running on Memory  INSITE Magazine, October 2016
Neural Stem Cells May Have Potential to Regenerate Memory in Old Brains THE SCIENCE EXPLORER, June 2016
Resveratrol Found In Red Wine May Help Prevent Memory Loss, HUFFINGTON POST, February 2015
Hippocampal Stem Cell Grafts Reportedly Improve Mood and Memory in Rats - Neurology Today, October 2012
Lab Members
Maheedhar Kodali, Ph.D.                                              Research Scientist
Raghavendra Upadhya, Ph.D.                                      Associate Research Scientist
L. N. Madhu, Ph.D.                                                           Associate Research Scientist
Sahithi Attaluri, M. Pharm                                            Senior Research Associate
Bing Shuai, M.D.                                                               Senior Research Associate
Xiaolan Rao, B.S.                                                               Research Assistant
Jenny J Gonzalez, B.S.                                                     Research Assistant
Gunel Ayyubova, Ph.D.                                                   FulBright Scholar
Zahra Abu Esa (M.BIOT Candidate)                            Graduate Student
Maha Kirmani                                                                    Undergraduate Student
Zhuang-Yao, Wei, B.S.                                                     Medical Student (MSRPP researcher)