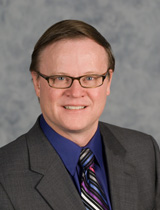 Professor
Executive Associate Vice President for Research
Contact
Molecular & Cellular Medicine
3113 Interdisciplinary Life Sciences Building
College Station , TX 77843
scholtz@tamu.edu
Phone: 979.845.8585
Fax: 979.845.1855

Biography
Dr. Marty Scholtz graduated summa cum laude with a BS in chemistry from the University of Nebraska Lincoln in 1984, where he did undergraduate research with Professor Sheldon M. Schuster. He then obtained his PhD in chemistry from the University of California Berkeley in 1989, working in the laboratory of Professor Paul A. Bartlett. After postdoctoral work with Robert L. Baldwin at Stanford University, he joined the faculty of Texas A&M in 1993, where he is also a professor in the Department of Biochemistry & Biophysics. He was named interim head of the Department of Medical Biochemistry & Genetics in 2003 and head of the Department of Molecular & Cellular Medicine in 2006. In 2010 he became associate vice president for research at Texas A&M University. He has taught courses in medical biochemistry, biophysics, cell biology and spectroscopy.
Research Interests
Currently, research in the Scholtz laboratory is in several areas related to protein folding and misfolding. In these studies we make extensive use of a battery of biophysical techniques including NMR, differential scanning calorimetry, fluorescence and visible spectroscopy and circular dichroism spectroscopy. In addition, we routinely employ molecular biology and protein chemistry techniques to produce and purify recombinant proteins and use automated peptide synthesis for the production of synthetic peptides.
Representative Publications
McLean, J.R., McLean, J.A., Wu, Z., Becker, C., Pérez, L.M., Pace, C.N., Scholtz, J.M., and Russell D.H. (2010) Factors that influence helical preferences for singly charged gas-phase peptide ions: the effects of multiple potential charge-carrying sites. J. Phys. Chem. B. 114(2): 809-816.
Cho, Y., Sagle, L.B., Iimura, S., Zhang, Y., Kherb, J., Chilkoti, A., Scholtz, J.M., and Cremer, P.S. (2009) Hydrogen bonding of beta-turn structure is stabilized in D(2)O. J. Am. Chem. Soc. 131(42): 15188-15193.
Fu, H., Grimsley, G.R., Razvi, A., Scholtz, J.M., and Pace, C.N. (2009). Increasing protein stability by improving beta-turns. Proteins. 77(3): 491-498.
Grimsley, G.R., Scholtz, J.M., and Pace, C.N. (2009) A summary of the measured pK values of the ionizable groups in folded proteins. Protein Sci. 18(1): 247-251.
Pace, C.N., Grimsley, G.R., and Scholtz, J.M. (2009) Protein ionizable groups: pK values and their contribution to protein stability and solubility. J. Biol. Chem. 284(20):13285-13289. Jan 21. [Epub ahead of print]
Shaw, K.L., Scholtz, J.M., Pace, C.N., and Grimsley, G.R. (2009) Determining the conformational stability of a protein using urea denaturation curves. Methods Mol. Biol. 490: 41-55.
Ilinskaya, O.N., Koschinski, A., Repp, H., Mitkevich, V.A., Dreyer, F., Scholtz, J.M., Pace, C.N., and Makarov, A.A. (2008) RNase-induced apoptosis: fate of calcium-activated potassium channels. Biochimie. 90(5): 717-725.
Trevino, S.R., Scholtz J.M., and Pace, C.N. (2008) Measuring and increasing protein solubility. J. Pharm. Sci. 97(10): 4155-4166. Review.
Alston, R.W., Lasagna, M., Grimsley, G.R., Scholtz, J.M., Reinhart, G.D., and Pace, C.N. (2008) Peptide sequence and conformation strongly influence tryptophan fluorescence. Biophys. J. 94(6): 2280-2287.