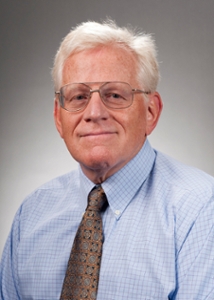 Regents Professor
MPIM Department Head
Wofford Cain Endowed Chair in Infectious Disease
Contact
Microbial Pathogenesis & Immunology
8447 Riverside Pkwy
Medical Research & Education Building II, Room 3209B
Bryan , TX 77807
jsamuel@tamu.edu
Phone: 979.436.0349
Fax: 979.436.9038
James Samuel Lab

Education and Training
Miami University, BA, 1976
Washington State University, MS, 1983
Washington State University, PhD, 1986
Research Interests
Molecular Pathogenesis of Coxiella burnetii, the agent of Q fever
Our laboratory works with the obligate intracellular bacterial pathogen, Coxiella burnetii, the etiologic agent of Q fever and a category B biothreat agent. Because of their obligate intracellular growth restriction, they have become exquisitely adapted to their specific niche, which is similar to a typical terminal phagolysosome that evolves into a large, replicative vacuole. C. burnetii depends on various strategies to down-regulate the normal innate host response to bacterial infection. The organism is extremely sensitive to oxidative stress, lacking several repair genes essential to mitigate oxidative DNA damage, has a reduce requirement for and uptake systems for acquisition of iron, and actively inhibits activation of an oxidative burst by phagocytic cells through the secretion of an acid phosphatase. Isolates that originate from acute Q fever patients are able to induce acute, atypical pneumonia in rodent challenge models while isolates from chronic Q fevers patients (most commonly endocarditis and hepatitis) do not cause acute disease in animal models, confirming distinct pathotype virulence potentials between isolate groups.
The long-term goal of this research is to understand the molecular pathogenic mechanisms involved in the host-pathogen interaction. To accomplish this broad goal, projects in the lab are designed to test the molecular mechanisms employed by both the host and pathogen. Current pathogen studies include 1) broad survey of proteins secreted via a type 4 secretion system (T4SS) followed by determination of essentiality of each substrate for virulence and detailed analysis of mechanism of host modulation 2) survey of essential virulence loci identified by specific mutant screens, and 3) definition of the relative virulence of phylogenetically distinct isolate groups.
Our studies and those of other key research groups in this field have allowed the development of a more refined model of host-pathogen interactions and mechanisms used for survival and pathogenesis (Figure 1). These studies have been enabled by recent paradigm-shifting advances in experimental approach allowing for growth in extracellular media and generation of defined mutants and resulting in a renaissance of discovery this important, but seldom-studied pathogen.
One overriding emphasis by the pathogen is to dampen typical innate response during infection. At least four T4SS effectors localize to the nucleus (CBU1314, CBU 794, CBU1217, and CBU1524/CaeA) during ectopic expression and may be involved in the transcriptional modulation that occurs during C. burnetii infection. We are currently screening through transposon mutants and site-specific mutants for those effectors that mediate this dampening of innate response to infection.
Vaccine and Diagnostic Development against Q fever
These current studies are focused on 1) the response to infection by the host, especially by cells of the immune system, 2) understanding the components of protective immunity elicited by a killed whole cellular antigen (WCV-1) and, 3) identify appropriate vaccine strategies composed of recombinant and native antigens to elicit protective immunity. Protection against Q fever can be induced by vaccination with (WCV-1), yet due to the adverse reaction to vaccination of previously sensitized individuals, wide use of the vaccine has not been employed and no Q fever vaccine is available in the US. Our recent studies demonstrated that antibody against the O side chain polysaccharide of C. burnetii LPS is an important component of vaccine-induced immunity. Additionally, control of infection by vaccinates involves the ability to stimulate recall responses to antigen by memory T cells that activate interferon gamma-mediated killing by host macrophages. These vaccine strategies are being evaluated in rodent and non-human primate models of human Q fever.
Representative Publications
Complete Bibliography:
Burette M, Allombert J, Lambou K, Maarifi G, Nisole S, Di Russo Case E, Blanchet FP, Hassen-Khodja C, Cabantous S, Samuel J, Martinez E, Bonazzi M. Modulation of innate immune signaling by a Coxiella burnetii eukaryotic-like effector protein. Proc Natl Acad Sci U S A. 2020 Jun 16;117(24):13708-13718. doi: 10.1073/pnas.1914892117. Epub 2020 Jun 1. PMID: 32482853; PMCID: PMC7306807.
Siadous FA, Cantet F, Van Schaik E, Burette M, Allombert J, Lakhani A, Bonaventure B, Goujon C, Samuel J, Bonazzi M, Martinez E. Coxiella effector protein CvpF subverts RAB26-dependent autophagy to promote vacuole biogenesis and virulence. Autophagy. 2020 Mar 1:1-17. doi: 10.1080/15548627.2020.1728098. Epub ahead of print. PMID: 32116095.
Gregory AE, van Schaik EJ, Russell-Lodrigue KE, Fratzke AP, Samuel JE. Coxiella burnetii Intratracheal Aerosol Infection Model in Mice, Guinea Pigs, and Nonhuman Primates. Infect Immun. 2019 Nov 18;87(12):e00178-19. doi: 10.1128/IAI.00178-19. PMID: 31501249; PMCID: PMC6867829.
Chen C, van Schaik EJ, Gregory AE, Vigil A, Felgner PL, Hendrix LR, Faris R, Samuel JE. Chemokine Receptor 7 Is Essential for Coxiella burnetii Whole-Cell Vaccine-Induced Cellular Immunity but Dispensable for Vaccine-Mediated Protective Immunity. J Infect Dis. 2019 Jul 19;220(4):624-634. doi: 10.1093/infdis/jiz146. PMID: 30938819; PMCID: PMC6639598.
Patrick KL, Wojcechowskyj JA, Bell SL, Riba MN, Jing T, Talmage S, Xu P, Cabello AL, Xu J, Shales M, Jimenez-Morales D, Ficht TA, de Figueiredo P, Samuel JE, Li P, Krogan NJ, Watson RO. Quantitative Yeast Genetic Interaction Profiling of Bacterial Effector Proteins Uncovers a Role for the Human Retromer in Salmonella Infection. Cell Syst. 2018 Sep 26;7(3):323-338.e6. doi: 10.1016/j.cels.2018.06.010. Epub 2018 Aug 1. PMID: 30077634; PMCID: PMC6160342.
Weber MM, Faris R, van Schaik EJ, Samuel JE. Identification and characterization of arginine finger-like motifs, and endosome-lysosome basolateral sorting signals within the Coxiella burnetii type IV secreted effector protein CirA. Microbes Infect. 2018 May;20(5):302-307. doi: 10.1016/j.micinf.2017.12.013. Epub 2018 Jan 10. PMID: 29331581; PMCID: PMC6021133.
Muruato LA, Tapia D, Hatcher CL, Kalita M, Brett PJ, Gregory AE, Samuel JE, Titball RW, Torres AG. Use of Reverse Vaccinology in the Design and Construction of Nanoglycoconjugate Vaccines against Burkholderia pseudomallei. Clin Vaccine Immunol. 2017 Nov 6;24(11):e00206-17. doi: 10.1128/CVI.00206-17. PMID: 28903988; PMCID: PMC5674190.
Xiong X, Jiao J, Gregory AE, Wang P, Bi Y, Wang X, Jiang Y, Wen B, Portnoy DA, Samuel JE, Chen C. Identification of Coxiella burnetii CD8+ T-Cell Epitopes and Delivery by Attenuated Listeria monocytogenes as a Vaccine Vector in a C57BL/6 Mouse Model. J Infect Dis. 2017 May 15;215(10):1580-1589. doi: 10.1093/infdis/jiw470. PMID: 27703037; PMCID: PMC6281342.
Pandey A, Ding SL, Qin QM, Gupta R, Gomez G, Lin F, Feng X, Fachini da Costa L, Chaki SP, Katepalli M, Case ED, van Schaik EJ, Sidiq T, Khalaf O, Arenas A, Kobayashi KS, Samuel JE, Rivera GM, Alaniz RC, Sze SH, Qian X, Brown WJ, Rice-Ficht A, Russell WK, Ficht TA, de Figueiredo P. Global Reprogramming of Host Kinase Signaling in Response to Fungal Infection. Cell Host Microbe. 2017 May 10;21(5):637-649.e6. doi: 10.1016/j.chom.2017.04.008. PMID: 28494245; PMCID: PMC5538893.
van Schaik EJ, Case ED, Martinez E, Bonazzi M, Samuel JE. The SCID Mouse Model for Identifying Virulence Determinants in Coxiella burnetii. Front Cell Infect Microbiol. 2017 Feb 3;7:25. doi: 10.3389/fcimb.2017.00025. PMID: 28217558; PMCID: PMC5289997.
Weber MM, Faris R, van Schaik EJ, McLachlan JT, Wright WU, Tellez A, Roman VA, Rowin K, Case ED, Luo ZQ, Samuel JE. The Type IV Secretion System Effector Protein CirA Stimulates the GTPase Activity of RhoA and Is Required for Virulence in a Mouse Model of Coxiella burnetii Infection. Infect Immun. 2016 Aug 19;84(9):2524-33. doi: 10.1128/IAI.01554-15. PMID: 27324482; PMCID: PMC4995899.
Case ED, Smith JA, Ficht TA, Samuel JE, de Figueiredo P. Space: A Final Frontier for Vacuolar Pathogens. Traffic. 2016 May;17(5):461-74. doi: 10.1111/tra.12382. Epub 2016 Feb 24. PMID: 26842840; PMCID: PMC6048968.
Case EDR, Samuel JE. Contrasting Lifestyles Within the Host Cell. Microbiol Spectr. 2016 Feb;4(1):10.1128/microbiolspec.VMBF-0014-2015. doi: 10.1128/microbiolspec.VMBF-0014-2015. PMID: 26999394; PMCID: PMC4804636.
Weber MM, Faris R, McLachlan J, Tellez A, Wright WU, Galvan G, Luo ZQ, Samuel JE. Modulation of the host transcriptome by Coxiella burnetii nuclear effector Cbu1314. Microbes Infect. 2016 May;18(5):336-45. doi: 10.1016/j.micinf.2016.01.003. Epub 2016 Jan 28. PMID: 26827929.
Soltysiak KA, van Schaik EJ, Samuel JE. Surfactant Protein D Binds to Coxiella burnetii and Results in a Decrease in Interactions with Murine Alveolar Macrophages. PLoS One. 2015 Sep 14;10(9):e0136699. doi: 10.1371/journal.pone.0136699. PMID: 26366725; PMCID: PMC4569269.
Brennan RE, Kiss K, Baalman R, Samuel JE. Cloning, expression, and characterization of a Coxiella burnetii Cu/Zn Superoxide dismutase. BMC Microbiol. 2015 May 12;15:99. doi: 10.1186/s12866-015-0430-8. PMID: 25962997; PMCID: PMC4427992.
Weber MM, Chen C, Rowin K, Mertens K, Galvan G, Zhi H, Dealing CM, Roman VA, Banga S, Tan Y, Luo ZQ, Samuel JE. Identification of Coxiella burnetii type IV secretion substrates required for intracellular replication and Coxiella-containing vacuole formation. J Bacteriol. 2013 Sep;195(17):3914-24. doi: 10.1128/JB.00071-13. PMID: 23813730; PMCID: PMC3754607.
van Schaik EJ, Chen C, Mertens K, Weber MM, Samuel JE. Molecular pathogenesis of the obligate intracellular bacterium Coxiella burnetii. Nat Rev Microbiol. 2013 Aug;11(8):561-73. doi: 10.1038/nrmicro3049. Epub 2013 Jun 24. PMID: 23797173; PMCID: PMC4134018.
Criscitiello MF, Dickman MB, Samuel JE, de Figueiredo P. Tripping on acid: trans-kingdom perspectives on biological acids in immunity and pathogenesis. PLoS Pathog. 2013;9(7):e1003402. doi: 10.1371/journal.ppat.1003402. Epub 2013 Jul 18. PMID: 23874196; PMCID: PMC3715416.
Pearson T, Hornstra HM, Sahl JW, Schaack S, Schupp JM, Beckstrom-Sternberg SM, O'Neill MW, Priestley RA, Champion MD, Beckstrom-Sternberg JS, Kersh GJ, Samuel JE, Massung RF, Keim P. When outgroups fail; phylogenomics of rooting the emerging pathogen, Coxiella burnetii. Syst Biol. 2013 Sep;62(5):752-62. doi: 10.1093/sysbio/syt038. Epub 2013 Jun 4. PMID: 23736103; PMCID: PMC3739886.
Lab Members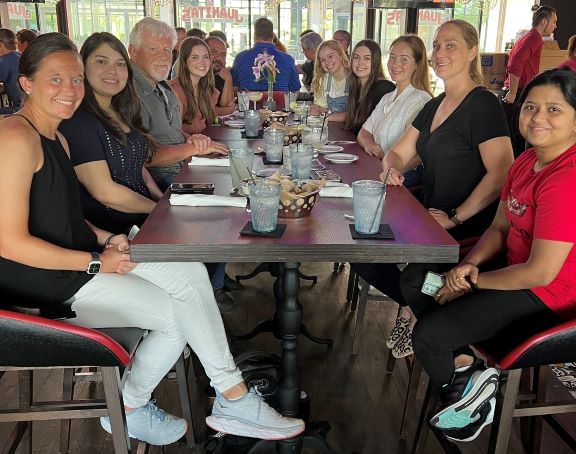 Samuel Lab, May 2022
Lab Members
Left to right: Jenny Dumaine, Sabrina Clark, Dr. Jim Samuel, Hope Love, Saugata Mahapatra, Kenna Burke, Courtney Gore, Samantha Butler, Erin van Schaik, Aryashree Arunima