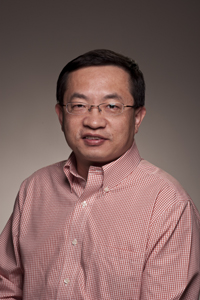 Associate Professor
Contact
Medical Physiology
8447 Riverside Pkwy
3417 Medical Research and Education Building 2
Bryan , TX 77807
xp23@tamu.edu
Phone: 979.436.9265

Education and Training
Shanghai Tiedao Medical College, MD, Clinical Medicine, 1992
Shanghai Second Medical University, MS, Internal Medicine-Cardiology, 1997
Peking University, PhD, Internal Medicine-Cardiology, 2000
Research Interests
Cardiovascular disease is the leading cause of human mortality globally and ranks as the number one killer in the United States. Despite dramatic advances in medical treatments, there remain many unmet medical needs in the treatment of cardiovascular disease. Our long-term goal is to explore and define novel genetic mechanisms that are involved in cardiovascular disease which can ultimately translate into potential strategies for its treatment. To achieve this goal, we will use a comprehensive approach including mouse genetics and molecular and cellular biology methods to explore the mechanisms involved in the regulation of cardiovascular development and disease.
Cdc42 is a Ras-related GTPase that plays an essential role in controlling cell polarity through the regulation of the actin cytoskeletal architecture. Blocking the ability of Cdc42 to activate its effectors has been shown to inhibit a range of cellular functions including cell migration, proliferation and differentiation. Consistent with these important in vitro functions, Cdc42 gene inactivation in mice induced lethality before embryonic day 7.5. Early embryonic lethal phenotypes make it impossible to study the functions of Cdc42 in later embryonic development and in adult mice. To overcome the problem of embryonic lethality of Cdc42 total knockout mice, we have generated Cdc42/flox mice with the Cdc42 gene flanked by two loxp sites. Evidence has shown that Cdc42 plays an important role in cardiomyocyte and vascular endothelial cells, however, Cdc42 functions in cardiovascular development in vivo remain largely unknown. To explore how Cdc42 functions in vivo in the cardiovascular system, we generated several lines of vascular endothelial cell and cardiomyocyte specific Cdc42 knockout mice and will try to explore:
How Cdc42 regulates vasculogenesis and organ-specific angiogenesis in embryonic development.
What are the Cdc42 upstream regulators and downstream effectors in angiogenesis and vasculogenesis.
How Cdc42 can regulate overall heart development and hypertrophy.
Representative Publications
Peng X, Ueda H, Zhou H, Stokol T, Shen TL, Alcaraz A, Nagy T, Vassalli J, Guan JL. Overexpression of focal adhesion kinase in vascular endothelial cells promotes angiogenesis in transgenic mice. Cardiovasc Res. 2004 Dec 1;64(3):421-430. PMID: 15537495; http://cardiovascres.oxfordjournals.org/content/64/3/421.long
Feng Q, Baird D, Peng X, Wang J, Ly T, Guan JL, Cerione RA. Cool-1 functions as an essential regulatory node for EGF receptor- and Src-mediated cell growth. Nat Cell Biol. 2006 Sep;8(9):945-956.
Peng X, Kraus MS, Wei H, Shen TL, Pariaut R, Alcaraz A, Ji G, Cheng L, Yang Q, Kotlikoff MI, Chen J, Chien K, Gu H, Guan JL. Inactivation of focal adhesion kinase in cardiomyocytes promotes eccentric cardiac hypertrophy and fibrosis in mice. J Clin Invest. 2006 Jan;116(1):217-227. PMID: 16374517; PMCID: PMC1319217
Peng X, Wu X, Druso JE, Wei H, Park AY, Kraus MS, Alcaraz A, Chen J, Chien S, Cerione RA, Guan JL. Cardiac developmental defects and eccentric right ventricular hypertrophy in cardiomyocyte focal adhesion kinase (FAK) conditional knockout mice. Proc Natl Acad Sci U S A. 2008 May 6;105(18):6638-6643. PMID: 18448675; PMCID: 2373317
Zhao X, Peng X, Sun S, Park AY, Guan JL. Role of kinase-independent and -dependent functions of FAK in endothelial cell survival and barrier function during embryonic development. J Cell Biol. 2010 Jun 14;189(6):955-965 . PMID: 20530207; PMCID: PMC2886345
Peng X*, Guan JL. Focal adhesion kinase: from in vitro studies to functional analyses in vivo. Curr Protein Pept Sci. 2011 Feb;12(1):52-67 (*corresponding author); PMID: 21190526
Wei H, Wei S, Gan B, Peng X, Zou W, Guan JL. Suppression of autophagy by FIP200 deletion inhibits mammary tumorigenesis. Genes Dev. 2011 Jul 15;25(14):1510-1527. doi: 10.1101/gad.2051011. PMID: 21764854; PMCID: PMC3143941
Peng X, Lin Q, Liu Y, Jin Y, Druso JE, Antonyak MA, Guan JL, Cerione RA. Inactivation of Cdc42 in embryonic brain results in hydrocephalus with ependymal cell defects in mice. Protein Cell. 2013 Mar;4:231-42. doi: 10.1007/s13238-012-2098-2. PMID:23150167; PMCID: PMC3632363

Jin Y, Liu Y, Lin Q, Li J, Druso JE, Antonyak MA, Meininger CJ, Zhang SL, Dostal DE, Guan JL, Cerione RA, Peng X. Deletion of Cdc42 Enhances ADAM17-Mediated Vascular Endothelial Growth Factor Receptor 2 Shedding and Impairs Vascular Endothelial Cell Survival and Vasculogenesis. Mol Cell Biol. 2013 Nov;33:4181-97. doi: 10.1128/MCB.00650-13. PMID: 23979594

Liu Y, Jin Y, Li J, Seto E, Kuo E, Yu W, Schwartz RJ, Blazo M, Zhang SL, Peng X. Inactivation of Cdc42 in neural crest cells causes craniofacial and cardiovascular morphogenesis defects. Dev Biol. 2013 Sep 18. pii:S0012-1606(13)00487-9. doi: 10.1016/j.ydbio.2013.09.013. PMID: 24056078