M. Karen Newell-Rogers, PhD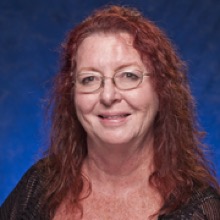 M.
Karen
Newell-Rogers
, PhD
Professor
Contact
Medical Physiology
702 Southwest H.K. Dodgen Loop, Room 114B
Temple , TX 76504
mknewellrogers@tamu.edu
Phone: 254.724.5638
Fax: 254.742.7145

Education and Training
University of Texas, BS, Microbiology, 1973
University of Colorado Health Science Center, PhD, Microbiology/Immunology, 1987
McGill University, Postdoctoral, Immunology, 1991
National Jewish Center and UCHSC, Postdoctoral, Immunology, 1994
Research Interests
Dr. Newell's research broadly involves the following areas of study: the first, studies of how an individual's immune response genes contribute to infectious and post-infectious chronic inflammatory syndromes, including Post-Traumatic Brain Injury Syndromes, Lyme Disease, Multiple Sclerosis, preeclampsia, and virally-induced post-infectious autoimmune syndromes. Most recently, her collaborative work with Dr. Carl Tong, a practicing cardiologist and researcher has revealed a link between an immune response and the progression of heart failure. A second avenue of research involves studies of how a cell's energy demands and energy strategy impacts the ability of the cell to be recognized by the immune system. By targeting metabolic disruption in tumor cells, she and her group have explored how to limit the cells' options for energy, rendering them susceptible to cell death and/or "recognizable" by the immune system. A major arm of her research utilizes a peptide replacement strategy to reverse the effects of chronic inflammatory disease, such as HIV/AIDS, MS, Lyme and Crohn's disease. Her work was honored in January 2011 when she was nominated as a 2011 TAMEST innovator protégé, and again in April 2011, when she received the 2011 Hope Award from the Time for Lyme Foundation, Stamford, Connecticut. A large donation to her cancer work lead to a Phase I clinical trial based at the University of Texas Health Sciences Center, San Antonio, under the clinical direction of Dr. Tyler Curiel.
Many of the technologies that have resulted from her research have been licensed to biotechnologies companies and are in various stages of commercialization.
Representative Publications
Chatterjee P, Chiasson VL, Seerangan G, De Guzman E, Milad M, Bounds KR, Gasheva O, Tobin RP, Hatahet M, Kopriva S, Jones KA, Newell-Rogers MK, Mitchell BM. Depletion of MHC class II invariant chain peptide or γ-δ T-cells ameliorates experimental preeclampsia. Clin Sci (Lond). 2017 Jul 16;131(15):2047-2058. doi: 10.1042/CS20171008. PMID: 28642294
Doersch KM, DelloStritto DJ, Newell-Rogers MK. The contribution of interleukin-2 to effective wound healing. Exp Biol Med (Maywood). 2017 Feb;242(4):384-396. doi: 10.1177/1535370216675773. PMID:27798123; PMCID: PMC5298541
Tobin RP, Mukherjee S, Kain JM, Rogers SK, Henderson SK, Motal HL, Newell-Rogers MK, Shapiro LA. Traumatic brain injury causes selective, CD74-dependent peripheral lymphocyte activation that exacerbates neurodegeneration. Acta Neuoropathol Commun. 2014 Oct 20;2:143. doi: 10.1186/s40478-014-0143-5. PMID: 25329434; PMCID: PMC4203873
Newell MK, Tobin RP, Cabrera JH, Sorensen MB, Huckstep A, Villalobos-Menuey EM, Burnett M, McCrea E, Harvey CP, Buddiga A, Bar-Or A, Freedman MS, Nalbantoglu J, Arbour N, Zamvil SS, Antel JP. TLR-mediated B cell activation results in ectopic CLIP expression that promotes B cell-dependent inflammation. J Leukoc Biol. 2010 Oct;88(4):779-89. doi: 10.1189/jlb.0410237. PMID: 20631258; PMCID: PMC3218675
Desbarats J, Birge RB, Mimouni-Rongy M, Weinstein DE, Palerme JS, Newell MK. Fas engagement induces neurite growth through ERK activation and p35 upregulation. Nat Cell Biol. 2003 Feb;5(2):118-25. doi: 10.1038/ncb916. PMID: 12545171
Harper ME, Antoniou A, Villalobos-Menuey E, Russo A, Trauger R, Vendemelio M, George A, Bartholomew R, Carlo D, Shaikh A, Kupperman J, Newell EW, Bespalov IA, Wallace SS, Liu Y, Rogers JR, Gibbs GL, Leahy JL, Camley RE, Melamede R, Newell MK. Characterization of a novel metabolic strategy used by drug-resistant tumor cells. FASEB J 2002 Oct;16(12):1550-7. doi: 10.1096/fj.02-0541com. PMID: 12374777