Cynthia J. Meininger, PhD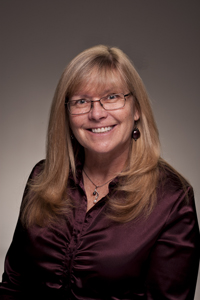 Cynthia
J.
Meininger
, PhD
Professor
Director, Division of Vascular Biology
Director, Graduate Studies - Temple Campus
Contact
Medical Physiology
8447 Riverside Pkwy
3418 Medical Research and Education Building 2
Bryan , TX 77807
cjm@tamu.edu

Education and Training
University of South Florida, BA, Cell Biology, 1980
Texas A&M University, PhD, Cell Biology, 1987
Research Interests
Endothelial Cell Dysfunction in Diabetes
My research focuses primarily on the vascular complications of diabetes. Using animal models of human diabetes, we have demonstrated that an inability of endothelial cells to produce nitric oxide may be partly responsible for these vascular complications. We have shown that impaired nitric oxide production in diabetes is due to a deficiency of tetrahydrobiopterin (BH4, an essential co-factor reduced in endothelial cells in diabetes) brought about by decreased expression/activity of an enzyme called GTP cyclohydrolase I (GTPCH), which is the rate-controlling enzyme for the synthesis of BH4. Without BH4, endothelial cells cannot generate nitric oxide. Since BH4 is also one of the most potent endogenous cellular antioxidants, reduced levels of BH4 may also render the endothelial cell more susceptible to oxidative injury.
We are developing a gene/drug therapy approach for treating cardiovascular disease associated with diabetes. Targeted nanoparticles will deliver either the gene for GTPCH or BH4 itself into endothelial cells oxidatively damaged by diabetes to correct endothelial GTPCH deficiency, increase tetrahydrobiopterin levels, restore nitric oxide production and reverse the vascular dysfunction seen in diabetes. Our endothelium-targeting nanoparticle approach will not only reverse the damage caused by disease but will increase antioxidant levels to protect the endothelial cells from future damage and/or dysfunction.
Representative Publications
Wu G, Meininger CJ. Nitric Oxide and Vascular Insulin Resistance. BioFactors 35: 21-27, 2009. PMID: 19319842
Sanchez FA, Rana R, Kim D, Iwahashi T, Zheng R, Lal B, Gordon D, Meininger CJ, Duran WN. Internalization of eNOS and NO delivery to subcellular targets determine agonist-induced hyperpermeability. Proceedings of the National Academy of Science USA 106: 6849-6853, 2009 [Epub 2009 Apr 2]. PMID: 19342481
Jobgen W, Meininger CJ, Jobgen SC, Li P, Lee M-J, Smith SB, Spencer TE, Fried SK, Wu G. Dietary L-arginine supplementation reduces white-fat gain and enhances skeletal muscle and brown fat masses in diet-induced obese rats. Journal of Nutrition 139: 230-237, 2009 [Epub 2008 Dec 23]. PMID: 19106310
Wu G, Meininger CJ. Analysis of Citrulline, Arginine, and Methylarginines Using High-Performance Liquid Chromatography. Methods in Enzymology 440: 177-189, 2008. PMID: 18423217
Sanchez FA, Kim DD, Duran RG, Meininger CJ, Duran WN. Internalization of eNOS via caveolae regulates PAF-induced inflammatory hyperpermeability to macromolecules. American Journal of Physiology: Heart and Circulatory Physiology 295: H1642-1648, 2008. (Epub 2008 Aug 15) [doi:10.1152/ajpheart.00629.2008]. PMID: 18708444
Wu G, Collins JK, Perkins-Veazie P, Siddiq M, Dolan KD, Kelly KA, Heaps CL, Meininger CJ. Dietary supplementation with watermelon pomace juice enhances arginine availability and ameliorates the metabolic syndrome in Zucker diabetic fatty rats. Journal of Nutrition 137: 2680-2685, 2007. PMID: 18029483
Jobgen WS, Fried SK, Fu WJ, Meininger CJ, Wu G. Regulatory Role for the Arginine-Nitric Oxide Pathway in Metabolism of Energy Substrates. Journal of Nutritional Biochemistry, 17: 571-588, 2006. PMID: 16524713
Fu W, Haynes TE, Kohli R, Hu J, Shi W, Spencer TE, Carol RJ, Meininger CJ, Wu G. Dietary L-Arginine Supplementation Reduces Fat Mass in Zucker Diabetic Fatty Rats. Journal of Nutrition 135: 714-721, 2005. PMID: 15795423
Meininger CJ, Cai S, Parker JL, Channon KM, Kelly KA, Becker EJ, Wood MK, Wade LA, Wu G. GTP cyclohydrolase I gene transfer reverses tetrahydrobiopterin deficiency and increases nitric oxide synthesis in endothelial cells and isolated vessels from diabetic rats. FASEB J 18: 1900-1902, 2004 (Full text: doi 10.1096/fj.04-1702fje). PMID: 15467010
Shi W, Meininger CJ, Haynes TE, Hatakeyama K, Wu G. Regulation of Tetrahydrobiopterin Synthesis and Bioavailability in Endothelial Cells, Cell Biochemistry and Biophysics, 41: 415-431, 2004. PMID: 15509890