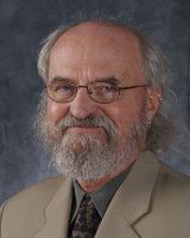 Professor Emeritus
Contact
Microbial Pathogenesis & Immunology
Reynolds Medical Building Room 407A
College Station , TX 77843
dmcmurray@tamu.edu
Phone: 979.436.0837
Fax: 979.845.3479

Education and Training
BS, 1965
MS, 1971
University of Wisconsin-Madison, PhD, 1972
Tulane University International Center for Medical Research, Postdoctoral
Research Interests
Following PhD training in medical microbiology and animal models of infectious diseases at the University of Wisconsin, and post-doctoral training in immunology at the Tulane University International Center for Medical Research in Cali, Colombia, I began my academic research career at the Texas A&M College of Medicine in 1976. One major research focus has been the impact of vaccination and nutritional status on immune responses and infectious disease resistance in a highly relevant guinea pig model of low-dose pulmonary tuberculosis (TB). Protein-deprived guinea pigs exhibit many of the metabolic and clinical hallmarks of kwashiorkor in humans. In many papers published over the past 35 years, with continual funding from NIH, we have dissected the detrimental impact of diet on mechanisms of vaccine-induced resistance of guinea pigs to pulmonary TB.
In order to study macrophage-lymphocyte interactions, including cytokine cross-talk, in the guinea pig model of TB, we have sub-cloned and expressed several guinea pig cytokine and chemokine genes, and studied the immunological response to vaccination and virulent mycobacterial infection in various leukocyte populations ex vivo, and directly in pulmonary granulomas in situ. In addition, the development of both prokaryotic and eukaryotic expression systems have allowed us to produce sufficient quantities of recombinant protein to alter cellular functions in vivo and in vitro, and to raise neutralizing antibodies to block cytokine function in cell cultures and in the whole animal. These reagents are being used to assess the role of specific chemokines and cytokines in vaccine-induced immunity to pulmonary tuberculosis.
In addition to our NIH R01 grant-funded research program, we obtained several years of support under an NIH subcontract to Colorado State University to test more than 100 candidate TB vaccines for protective efficacy in guinea pigs against low-dose, pulmonary infection. In a second NIH sub-contract to Johns Hopkins University, we tested many putative virulence mutants of M tuberculosis to determine their phenotype in guinea pigs infected by the respiratory route.
A second major research focus has been a 20-year collaboration with Dr. Robb Chapkin on an NIH-and USDA-funded program to examine the mechanisms by which n-3 poly-unsaturated fatty acids (PUFA) suppress T cell activation and pro-inflammatory immune function in several mouse models. We have utilized various gene knock-out (e.g., IL-10 -/- ; PPARδ-/-), transgenic (e.g., D011.10; fat-1), and reporter (IL-17, IFNγ) mouse strains to delineate the functions of specific immune and metabolic mediators of the n-3 PUFA effects. We have applied mouse models of inflammatory bowel disease (IBD) to link basic immunological changes induced by n-3 PUFA to the pathogenesis of gut inflammation.
My extramural grants and contracts, principally from NIH, brought in more than $10 million in the past 35 years. One NIH R01 grant was funded continuously for 27 years. We have published more than 210 papers in peer-reviewed journals, and I have trained nearly 50 graduate students and post-doctoral fellows.
International Experiences
In addition to living overseas in Kenya as a Peace Corps Volunteer (2 years) and in Colombia as a post-doctoral fellow (4 years), I have been associated with several international public health organizations. I served as a Consultant to the World Health Organization (WHO) for nearly 10 years and was the Chair of the Immunology of Mycobacteria Steering Committee. During that time, I traveled frequently to Geneva and many TB high-burden countries (e.g., Morocco, Ethiopia, South Africa, China, Russia, India) and other countries (e.g., England, Denmark, France, Spain) each year for meetings.
I served for 20 years on the Tuberculosis and Leprosy Panel of the US-Japan Cooperative Medical Sciences Program and chaired the US Panel from 2004-2010. I traveled often to Japan and other Pacific Rim countries (e.g., China, Vietnam, Thailand, India) as part of my responsibilities to that program. From 2000-2011, I was a member of the Board of Directors of the Aeras Global TB Vaccine Foundation which has received more than $500 million from the Bill and Melinda Gates Foundation to take a portfolio of promising TB vaccines through pre-clinical development and into human trials. For two years, I served as member of an Expert Panel convened by the Academy of Sciences of South Africa to develop a consensus study of nutritional influences on human immunity in TB and HIV infection.
Teaching Activities
I was hired as an assistant professor in 1976 to develop the immunology curriculum which was delivered to the charter class of second year medical students in 1978. The curriculum consisted of 12 lectures and three small-group, patient-oriented problem-solving (POPS) exercises. We were using small-group, case-based exercises long before they became so popular in curriculum reform. The immunology section is now a part of the Introduction to Disease Block for the first year students and we now involve additional faculty members in the teaching rotation.
In addition to immunology, I was involved from the beginning in teaching components of medical microbiology to medical students. I developed and taught the sections on mycology and parasitology for several years, as well as the material on respiratory bacterial pathogens. I also was responsible with a faculty colleague for designing an extensive wet laboratory experience in immunology and medical microbiology for the second year medical students and compiling a comprehensive laboratory manual which we used for many years. On the basis of my medical student teaching, I earned two distinguished teaching awards, one in 1982 and the other in 2010. I was inducted into the charter class of the College of Medicine Academy of Distinguished Medical Educators in 2012.
In addition to medical education, I have been heavily involved in graduate education for the past 35 years. I mentored nearly 50 MS and PhD students in my NIH-funded research projects. Many of the more than 210 publications from the laboratory are based upon thesis and dissertation research performed by my students, many of whom went on to develop their own careers in biomedical research. In addition, I served on the faculty advisory committees of nearly 60 other graduate students. I developed an advanced immunology course for PhD students which is based upon the current scientific literature and involves student presentations of recent papers in a "journal club" format.
Representative Publications
**Skwor TA, Cho H, Cassady C, Yoshimura T, McMurray DN. 2004. Recombinant guinea pig CCL5 (RANTES) differentially modulates cytokine production in alveolar and peritoneal macrophages. J Leukocyte Biol 76: 1229-1239. [PMID: 15277675]
Fan Y-Y, Ly LH, Barhoumi R, McMurray DN, Chapkin RS. 2004. Dietary docosahexaenoic acid suppresses T cell protein kinase C theta lipid raft recruitment and interleukin-2 production. J Immunol 173: 6251-6260. [PMID: 15528352]
**Cho H, Lasco TM, Allen SS, Yoshimura T, McMurray DN. 2005. Recombinant guinea pig TNFαstimulates expression of IL-12 and the inhibition of Mycobacterium tuberculosis growth in macrophages. Infect Immun 73: 1367-1376. [PMID: 15731034]
**Ly LH, Smith R, Chapkin RS, McMurray DN. 2005. Dietary n-3 polyunsaturated fatty acids suppress splenic CD4+ T cell function in interleukin (IL)-10-/- mice. Clin Exp Immunol 139: 202-209.
Jeevan A, McFarland CT, Yoshimura T, Skwor T, Cho H, Lasco T, McMurray DN. 2006. Production and characterization of guinea pig recombinant interferon-gamma: effect on macrophage activation. Infect Immun 74: 213-224. [PMID: 16368975]
**Zhang P, Kim W, Zhou L, Wang N, Ly LH, McMurray DN, Chapkin RS. 2006. Dietary fish oil inhibits antigen-specific murine Th1 cell development by suppression of clonal expansion. J Nutr 136: 2391-2398. [PMID: 16920860]
Ly LH, Russell MI, McMurray DN. 2007. Microdissection of the cytokine milieu of pulmonary granulomas from tuberculous guinea pigs. Cell Micro 9: 1127-1136. [PMID: 17217432]
**Sawant KV, McMurray DN. 2007. Guinea pig neutrophils infected with Mycobacterium tuberculosis produce cytokines which activate alveolar macrophages in non-contact co-cultures. Infect Immun 75: 1870-1877. [PMID: 17283104]
**Jia Q, Lupton JR. Smith R, Weeks BR, Callaway E, Davidson LA, Kim W, Fan Y-Y, Yang P, Newman RA, Kang JX, McMurray DN, Chapkin RS. 2008. Reduced colitis-associated colon cancer in fat-1 (n-3 fatty acid desaturase) transgenic mice. Cancer Res 68: 3985-3991. [PMCID: PMC3628804]
**Kim W, Fan Y-Y, Barhoumi R, Smith R, McMurray DN, Chapkin RS. 2008. n-3 polyunsaturated fatty acids suppress the localization and activation of signaling proteins at the immunological synapse in murine CD4+ T cells by affecting lipid raft formation. J Immunol 181: 6236-6243. [PMCID:PMC2597670]
Ly LH, Russell MI, McMurray DN. 2008. Cytokine profiles in primary and secondary pulmonary granulomas of guinea pigs with tuberculosis. Am J Resp Cell Molec Bio. 38: 455-462. [PMID: 18032570]
Ly LH, Jeevan A, McMurray DN. 2009. Neutralization of TNFα alters inflammation in guinea pig tuberculous pleuritis. Microbes Infect 11: 680-688. [PMID: 19389482]
**Bonilla DL, Fan Y-Y, Chapkin RS, McMurray DN. 2010. Transgenic mice enriched in omega-3 fatty acids are more susceptible to pulmonary tuberculosis: impaired resistance to tuberculosis in fat-1 mice. J Infect Dis 201: 399-408. [PMID: 20526363]
**Yog R, Barhoumi R, McMurray DN, Chapkin RS. 2010. n-3 polyunsaturated fatty acids suppress mitochondrial translocation to the immunological synapse and modulate calcium signaling in T cells. J. Immunol 184:5865-5873. [PMID: 20393134]
McMurray DN, Bonilla DL, Chapkin RS. 2011. N-3 fatty acids uniquely affect anti-microbial resistance and immune cell plasma membrane organization. Chem Phys Lipids 164: 626-635. [PMID: 21798252]
**Hou TY, Monk JM, Fan YY, Barhoumi R, Chen Y, Rivera GM, McMurray DN and Chapkin RS. 2012. n-3 polyunsaturated fatty acids suppress phosphatidylinositol-(4,5)-bisphosphate dependent actin remodeling during CD4+ T cell activation. Biochem J 443:27-37. [PMID:22250985]
Dirisala VR, Jeevan A, Bix G, Yoshimura T, McMurray DN. 2012. Molecular cloning and expression of the IL-10 gene from guinea pigs. Gene 498: 120-127.
Monk JM, Hou TY, Turk HF, Weeks B, Wu C, McMurray DN and Chapkin RS..2012. Dietary n-3 polyunsaturated fatty acids (PUFA) decrease obesity-associated Th17 cell-mediated inflammation during colitis. PLoS One 7(11): e49739. [PMCID:PMC 3500317]