Roderick E. McCallum, PhD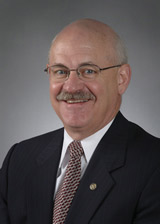 Roderick
E.
McCallum
, PhD
Professor Emeritus
Contact
Microbial Pathogenesis & Immunology
8447 Riverside Pkwy
Bryan , TX 77807
rmccallum@tamu.edu
Phone: 979.436.0348
Fax: 979.436.0360

Education and Training
University of Kansas, BA, 1967
University of Kansas,, PhD, 1970
University of Texas at Austin, Postdoctoral, 1972
Research Interests
Pathogenesis of Gram negative bacteria, mechanism of action of bacterial endotoxins and role of cytokines in disease. Immunization status of preschool children.
Representative Publications
McCallum, R.E., J. Griswold, F. Dahm and R. Nader. 2013. Geographic clustering of neighborhood groups at risk for incomplete childhood immunization. Manuscript in preparation.
Chorinchath, B.B., L.-Y. Kong, L. Mao, and McCallum, R. E.. 1996. Age associated differences in TNF-a and nitric oxide production in endotoxic mice. J. Immunol. 156:1525-1530.
Hill, M.R., and McCallum, R.E.. 1992. Identification of TNF as a transcriptional regulator of the phosphoenolpyruvate carboxykinase gene following endotoxin treatment in mice. Infect. Immunity 60:4040-4050.
McCallum, R.E., andHill, M. R., 1992. Interleukin-6 and LPS host response. In Bacterial Endotoxic Lipopolysaccharides, vol. II, Immunopharmacology and Pathophysiology (Ryan, J.L., and D.C. Morrison, eds.), CRC Press, Inc., Boca Raton, FL, pp. 145-164.