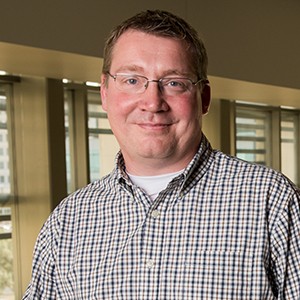 Associate Professor
Contact
Molecular & Cellular Medicine
4414 Medical Research Education Building II
College Station , TX 77843-1114
cgregory@tamu.edu
Phone: 979.436.9643
Fax: 979.847.9481

Education and Training
University of York, BS, 1995
University of Manchester, PhD, 1999
University of Manchester Medical School, Postdoctoral
Research Interests
General Biology of MSCs Mesenchymal stem cells (MSCs) are purified from bone marrow based on their ability to adhere to plastic. The resulting cultures are therefore heterogeneous, contaminated with small numbers of differentiated cells such as fibroblasts and osteoblasts. As MSCs are further expanded, they gradually lose their plasticity and proliferative activity. In some cases, therefore, the quality and purity of MSC preparations can seriously influence their efficacy. Gregory's lab has been examining the biology of MSCs with a view to developing rapid molecular markers and tests for evaluating/purifying maximally efficacious cultures of MSCs. For example, the group has recently demonstrated leukemia inhibitory factor secretion is a robust predictor of differentiation potential.Our most recent studies are focused on MSCs generated from induced pluripotent stem cells. MSCs and bone healing The group specializes in bone repair by MSCs. Based on detailed characterization of the molecular mechanism of osteoblast differentiation by MSCs, a novel and effective bone regeneration strategy has been developed. This strategy, based on pharmaceutical conditioning of MSC cultures prior to administration in a specialized matrix, re-initiates bone formation in non-healing bone defects in rodents. Further trials in large animals are ongoing. Malignant bone disease Many tumors of the skeleton destroy bone tissue to facilitate their expansion and metastasis. Furthermore, the mechanisms by which some tumors inhibit the repair of host bone, often increase the aggressiveness of the tumor cells themselves. The Gregory group contributed to the discovery that Dkk-1, a secreted inhibitor of the Wnt pathway inhibits the repair of bone by MSCs. When Dkk-1 is over expressed by osteosarcoma cells, they are more effective in destroying and infiltrating bone. The tumor cells themselves also respond in an autocrine manner to Dkk-1 by becoming highly primitive and highly proliferative, thus becoming a highly aggressive tumor. The group is currently examining the effects of various small molecules and immunological strategies for the safe and effective inhibition of Dkk-1 activity in bone tumors.We have recently established methods to model bone-tumor interactions using bioreactors that simulate microgravity.
Representative Publications
Clough, B. H., McCarley, M. R., Gregory, C. A. (2015) A Simple Critical-Sized Femoral Defect Model in Mice." J. Vis. Exp. In Press.
Clough, B. H., McCarley M. R., Krause, U., Zeitouni, S., Froese, J., McNeill, E. P., Chaput, C. D., Sampson, H. W., and Gregory, C. A. (2015) Bone regeneration with osteogenically enhanced mesenchymal stem cells and their extracellular matrix proteins. J. Bone. Min. Res. 30, 83-94. PMCID 4280327 PMID: 25130615 http://www.ncbi.nlm.nih.gov/pubmed/25130615
Krause, U, Ryan, DM, Clough, BH, Gregory, CA (2014) An unexpected role for a Wnt-inhibitor: Dickkopf-1 triggers a novel cancer survival mechanism through modulation of aldehyde-dehydrogenase-1 activity. Cell Death Dis. 5, e1093. DOI: 10.1038/cddis.2014.67. PMID: 24577091. http://www.ncbi.nlm.nih.gov/pubmed/24577091
Murphy, MB, Suzuki, RK, Sand, TT, Chaput, CD and Gregory, CA (2013) Short term culture of human mesenchymal stem cells with commercial osteoconductive carriers provides unique insights into biocompatibility. J. Clin. Med. 2, 49-66. doi:10.3390/jcm2030115
Zeitouni, S, Krause, U, Clough, BH, Halderman, H, Falster, A, Blalock, DT, Chaput, CD, Sampson, HW, and Gregory, CA (2012) Human mesenchymal stem cell-derived matrices for enhanced osteoregeneration. Science, Transl. Med. 4, 132ra55. DOI: 10.1126scitranslmed.3003396 PMID: 22553253 http://www.ncbi.nlm.nih.gov/pubmed/22553253
Gunn, WG., Krause, UK., Lee, N and Gregory, CA (2011) Pharmaceutical inhibition of glycogen synthetase kinase-3β reduces multiple myeloma-induced bone disease in a novel murine plasmacytoma xenograft model. Blood. 117, 1641-1651. PMCID:3318776 PMID:
Krause U, Harris S, Green A, Ylostalo J, Zeitouni S, Lee N, Gregory CA. (2010) Pharmaceutical modulation of canonical Wnt signaling in multipotent stromal cells for improved osteoinductive therapy. Proc. Natl. Acad. Sci. USA. 107, 4147-4152. PMCID: 2840116. PMID: 20150512 http://www.ncbi.nlm.nih.gov/pubmed/20150512
Whitney MJ, Lee A, Ylostalo J, Zeitouni S, Tucker A, Gregory CA. (2009) Leukemia inhibitory factor secretion is a predictor and indicator of early progenitor status in adult bone marrow stromal cells. Tiss. Eng. Part A 15, 33-44. PMCID: 2809661. PMID: 18637760. http://www.ncbi.nlm.nih.gov/pubmed/18637760
Zeitouni S, Ford BS, Harris SM, Whitney MJ, Gregory CA, Prockop DJ. (2008) Pharmaceutical induction of ApoE secretion by multipotent mesenchymal stromal cells (MSCs). BMC Biotechnol. 29, 75. PMCID:2596794. PMID: 18823563. http://www.ncbi.nlm.nih.gov/pubmed/18823563
Lee N, Smolarz AJ, Olson S, David O, Reiser J, Kutner R, Daw NC, Prockop DJ, Horwitz EM, Gregory CA. (2007) A potential role for Dkk-1 in the pathogenesis of osteosarcoma predicts novel diagnostic and treatment strategies. Br J Cancer 97, 1552-1559. PMCID:2360262. PMID: 17987039. http://www.ncbi.nlm.nih.gov/pubmed/17987039
Gregory CA, Reyes E, Whitney MJ, Spees JL. (2006) Enhanced engraftment of mesenchymal stem cells in a cutaneous wound model by culture in allogenic species-specific serum and administration in fibrin constructs. Stem Cells 24, 2232-2243. DOI: 10.1634/stemcells.2005-0612. PMID: 16763199 http://www.ncbi.nlm.nih.gov/pubmed/16763199
Gunn WG, Conley A, Deininger L, Olson SD, Prockop DJ, Gregory CA. (2005) A crosstalk between myeloma cells and marrow stromal cells stimulates production of DKK1 and interleukin-6: a potential role in the development of lytic bone disease and tumor progression in multiple myeloma. Stem Cells. 24, 986-991. DOI:10.1634/stemcells.2005-0220. PMID: 16293576. http://www.ncbi.nlm.nih.gov/pubmed/16293576
Gregory CA, Ylostalo J, Prockop DJ. (2005) Adult bone marrow stem/progenitor cells (MSCs) are preconditioned by microenvironmental "niches" in culture: a two-stage hypothesis for regulation of MSC fate. Sci STKE 294, pe37.DOI: 10.1126/stke.2942005pe3 PMID: 16046665 http://www.ncbi.nlm.nih.gov/pubmed/16046665
Gregory CA, Perry AS, Reyes E, Conley A, Gunn WG, Prockop DJ. (2004) Dkk-1 derived synthetic peptides and lithium chloride for the control and recovery of adult stem cells from bone marrow. J Biol Chem 280, pp. 2309-2323. DOI: 10.1074/jbc.M406275200. PMID: 15504735. http://www.ncbi.nlm.nih.gov/pubmed/15504735
Gregory CA, Gunn WG, Peister A, Prockop DJ. (2004) An Alizarin red-based assay of mineralization by adherent cells in culture: comparison with cetylpyridinium chloride extraction. Anal Biochem329, pp. 77-84. DOI:10.1016/j.ab.2004.02.00. PMID: 15136169http://www.ncbi.nlm.nih.gov/pubmed/15136169
Spees JL*, Gregory CA*, Singh H, Tucker HA, Peister A, Lynch PJ, Hsu SC, Smith J, Prockop DJ. (2004) Internalized antigens must be removed to prepare hypo-immunogenic mesenchymal stem cells for cell and gene therapy. Mol. Ther. 9, pp. 747-756. *equal contributors. DOI: 10.1016/j.ymthe.2004.02.012. PMID: 15120336. http://www.ncbi.nlm.nih.gov/pubmed/15120336
Gregory CA, Singh H, Perry AS, Prockop DJ. (2003) The Wnt signaling inhibitor dickkopf-1 is required for reentry into the cell cycle of human adult stem cells from bone marrow. J Biol Chem 278, pp. 28067-28078. DOI: 10.1074/jbc.M300373200 PMID: 12740383. http://www.ncbi.nlm.nih.gov/pubmed/12740383
---
Reviews
Gregory, C.A. Mesenchymal Stem Cells: From Culture to Clinic. In: N. Levicar, N., Habib, N., Gordon, M. Y., Dimarakis, I. (eds). (2008). Stem Cell Repair and Regeneration, Volume 3. Imperial College Press, London, UK. pp. 21-44.
Gregory, C. A. (2008) MM-induced osteolysis: partners in crime. Wnt inhibition and the RANKL/osteoprotegrin axis in multiple myeloma induced osteolysis. Blood. 112, 3-4. PMID: 18574032. http://www.ncbi.nlm.nih.gov/pubmed/18574032
Krause U. K. Seckinger, A. and Gregory C. A. (2011) Assays of osteogenic differentiation by cultured human mesenchymal stem cells Methods Mol. Biol. 698, 215-230. PMID: 21431522. http://www.ncbi.nlm.nih.gov/pubmed/21431522
Krause U. K. and Gregory C. A. (2012) The potential of modulating Wnt signaling pathway toward the development of bone anabolic agent. Curr. Mol. Pharmacol. 5, 164-173. PMID: 21787289 http://www.ncbi.nlm.nih.gov/pubmed/21787289
Gregory C. A. Genetic manipulation of adult stem cells. In. DiNardo, P. and Singla, D. (eds). (2012). Stem Cell Biology. Basic concepts to New Frontiers. Create Space, North Charleston, NC. pp. 182-207.