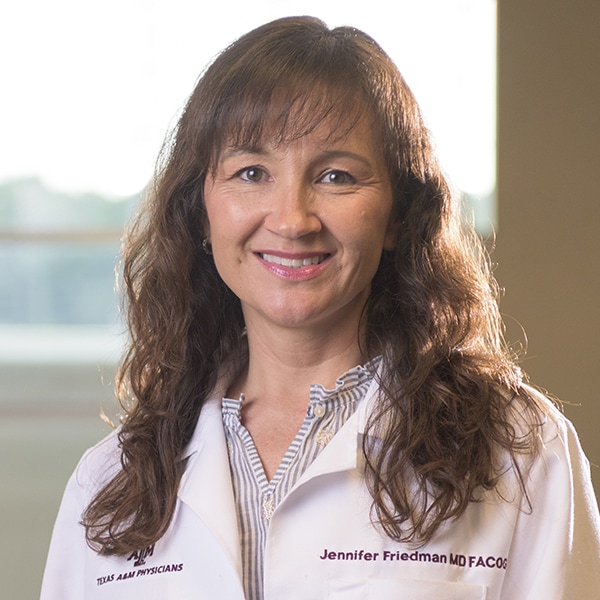 Jennifer
Friedman
, MD, FACOG
Clinical Assistant Professor
Assistant Dean for Student Affairs
Contact
Family Medicine Residency
2900 East 29th Street
Suite 100
Bryan , TX 77802
friedman@tamu.edu
Phone: 979.436.0485

Education and Training
University of California, Santa Barbara, BA, Biological Sciences, 1993
University of California, San Francisco, MD, 1997
Mayo Clinic, Rochester MN, Residency, Obstetrics and Gynecology, 2002
Professional Certifications
Board Certified American Board of Obstetrics & Gynecology (2003-present)
Teaching Interests
Office Gynecology: Well-woman exams, contraception, abnormal uterine bleeding, symptoms of menopause, hormone replacement therapy, urinary incontinence, sexual dysfunction, pelvic pain, abnormal pap smears, STI's, vaginal and vulvar disorders, breast abnormalities and masses.
Office Gynecologic procedures: Colposcopy, LEEP, endometrial biopsy, gynecologic ultrasound, Long-acting reversible contraception: IUD placement/removal, Nexplanon.
Awards, Recognition and Service
The Prenatal Clinic: You're The Tops Honoree, College Station, TX 2012
Merit Scholarship for Academic Excellence, Cook Inlet Foundation, 1993-1995
Graduation with Honors, UC Santa Barbara, 1993
President's Undergraduate Fellowship in Genetics, UC Santa Barbara, 1992
Memberships
Fellow American College of Obstetricians and Gynecologists, 2004-Present
Junior Fellow ACOG, 1998-2004
Texas Medical Association, 2006-Present
Brazos-Robertson County Medical Society, 2006-Present
Minnesota Medical Association, 1998-2003
Zumbro Valley Medical Association, MN 1998-2003
Department of Obstetrics and Gynecology, Education Committee, Mayo Clinic, Rochester, MN
Representative Publications
Cohen-Gadol AA, Friedman JA, Friedman JD , Tubbs RS, Munis JR, Meyer FB.
Neurosurgical Management of Intracranial Lesions in the Pregnant Patient: a 36-year
institution experience and review of the literature. J Neurosurg. 2009 Dec;111(6):1150-7.
Friedman JD , et al. Contributing Medical Editors. Mayo Clinic Guide to a Healthy
Pregnancy . Harper Collins, 2004.
Friedman JD , Ramsey PS, Ramin KD, Berry C. Pneumoamnion and Pregnancy Loss
Following Second Trimester Laparoscopic Surgery. Obstetrics & Gynecology
2002;99:511-3.
Friedman JD , Ramsey PS, Ramin KD, Vasdev GM. Perioperative Morbidity in
Obstetric Hysterectomy: Elective Versus Emergency. Anesthesiology 2001;94(1A):A95.
Friedman JD , Raffel C, Breckle RJ, Ogburn PL, Ramsey PS, Ramin KD. Chronology
of Neurologic Manifestations of Prenatally Diagnosed Neural Tube Defects. J
Ultrasound Med 20:S70, March 2001.
Etzel ED, Friedman JD , McQueen K, Chantigian R, Vasdev GM. Does Spinal Needle
Design Impact Procedural Success in Obstetric Anesthesia Residents? Anesthesiology
2000;93(3A):A1206.