Sanjukta Chakraborty, PhD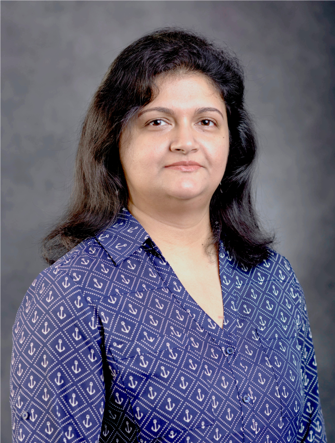 Sanjukta
Chakraborty
, PhD
Assistant Professor
Contact
Medical Physiology
8447 Riverside Pkwy
2416 Medical Research and Education Building 2
Bryan , TX 77807
schakraborty@tamu.edu
Phone: 979.436.0697
Dr. Chakraborty Lab

Education and Training
University of Calcutta, India, BS, 2000
Banaras Hindu University, MS, 2002
Indian Institute of Science, PhD, 2007
Texas A&M Health Science Center, Postdoctoral Fellowship, 2013
Research Interests
My research program is primarily focused on the central theme of inflammation as a prime modulator of lymphatic associated pathologies. The lymphatics have emerged as central players in the regulation of inflammation and immunity yet the precise mechanisms remain undefined. My research interests primarily lie in elucidating a number of these inflammatory signaling mechanisms maintaining the balance between normal and disease states using cutting edge molecular biology techniques, cellular, physiological and biochemical tools and ex vivo and in vivo approaches. Current projects include:
Role of an inflammatory tumor-lymphatic microenvironment in cancer progression.
One primary area of interest in my laboratory is to determine how an inflammatory tumor-lymphatic microenvironment contributes to cancer metastasis and progression. The lymphatics were believed to provide a passive transport to migrating tumor cells but recent evidence clearly implicates their active role in fostering tumor metastasis including the transit of tumor cells via the lymphatic vessels and establishment of a metastatic niche in draining lymph nodes. However, the mechanisms remain unclear. Our research focuses on the interplay between cytokine and chemokine gradients that regulate tumor cell entry, migration and subsequent metastasis through the lymphatics and the various factors that regulate these interactions.
Role of microbiota dysbiosis in lymphatic inflammation and effect on associated pathologies.
Another focus of the lab is to investigate the role of inflammation and diet related changes in the gut microbiome (dysbiosis) and how specific microbiota metabolites impact lymphatic function, inflammatory response and affects diseases such as cancer, obesity, and metabolic disorders. This is a cross-collaborative research program using molecular biology, immunology and metabolomics approaches with researchers in chemical engineering and microbial pathogenesis & immunology at Texas A&M.
Representative Publications
Roy S, Kumaravel S, Banerjee P, White TK, O'Brien A, Seelig C,Chauhan R,Ekser B, Bayless KJ, Alpini G, Glaser S, Chakraborty S. 2021. Tumor lymphatic interactions induce CXCR2-CXCL5 axis and alter cellular metabolism and lymphangiogenic pathways to promote cholangiocarcinoma. Cells Nov 9;10(11):3093. doi: 10.3390/cells10113093.PMID: 34831316.
Selahi A, Fernando T, Chakraborty S, Muthuchamy M, Zawieja DC, Jain A. Lymphangion-chip: a microphysiological system which supports co-culture and bidirectional signaling of lymphatic endothelial and muscle cells. Lab Chip. 2021 Dec 1. doi: 10.1039/d1lc00720c. PMID: 34850797.
Roy S, Banerjee P, Ekser B, Bayless KJ, Zawieja DC, Alpini G, Glaser S, Chakraborty S. Targeting lymphangiogenesis and lymph node metastasis in liver cancer. 2021. Am J Pathol. 2021 Sep 9:S0002-9440(21)00384-9. doi: 10.1016/j.ajpath.2021.08.011. Online ahead of print.
Karmakar M, Lai PC, Sinha S, Glaser S and Chakraborty S. Identification of miR-203a, mir-10a, and miR-194 as predictors for risk of lymphovascular invasion in head and neck cancers. 2021. Oncotarget. 2021 Jul 20;12(15):1499-1519. doi: 10.18632/oncotarget.28022. eCollection 2021 Jul 20. PMID: 34316330.
Zhang X, Chakraborty S, Muthuchamy M, Zawieja DC. Isolation of Lymphatic Muscle Cells (LMCs ) from Rat Mesentery. Methods Mol Biol. 2021;2319:137-141. doi: 10.1007/978-1-0716-1480-8_15. PMID: 34331251.
Baiocchi L, Sato K, Ekser B, Kennedy L, Francis H, Ceci L, Lenci I, Alvaro D, Franchitto A, Onori P, Gaudio E, Wu C, Chakraborty S, Glaser S, Alpini G. Cholangiocarcinoma: Bridging the translational gap from preclinical to clinical development and implications for future therapy. Expert Opin Investig Drugs. 2021 Apr;30(4):365-375. doi: 10.1080/13543784.2021.1854725. Epub 2020 Dec 8. PMID: 33226854.
Zhang X, Chakraborty S, Muthuchamy M, Zawieja DC. Isolation of Lymphatic Muscle Cells (LMCs ) from Rat Mesentery. Methods Mol Biol. 2021;2319:137-141. doi: 10.1007/978-1-0716-1480-8_15. PMID: 34331251.
Singh S, Kumaravel S, Dhole S, Roy S, Pawan V, Chakraborty, S. Neuropeptide Substance P enhances tumor promoting pathways in head and neck cancers. 2021. In J Surgical Oncology, 2021 Apr;12(Suppl 1):93-102. doi: 10.1007/s13193-020-01210-7. Epub 2020 Sep 1. PMID: 33994734.
Kumaravel S, Duran CL, Bayless KJ, Chakraborty S.The β1 integrin plays a key role in lymphatic endothelial cell invasion in an optimized 3D Collagen matrix model. 2020. Am J Physiol Cell Physiol. 2020 Oct 14. doi: 10.1152/ajpcell.00299.2020. Online ahead of print. PMID: 33052069.
Chen L, Zhou T, White T, O'Brien A, Chakraborty S, Liangpunsakul S, Zhihong Yang Z, Kennedy L, Saxena R, Huang Q, Francis H, Alpini G, Glaser S. The apelin-apelin receptor axis triggers cholangiocyte proliferation and liver fibrosis during cholestasis. 2020. Hepatology, Sep 7. PMID: 32964473.
Johnson SC, Chakraborty S, Anastasios Drosou A, Paula Cunnea P, Dimitrios Tzovara D, Katherine Nixon K, Zawieja DC, Muthuchamy M, Fotopoulou C and Moore jr JE. Inflammatory state of lymphatic vessels and miRNA profiles associated with relapse in ovarian cancer patients. 2020. Plos One Jul 27;15(7):e0230092. doi:10.1371/journal.pone.0230092. PMID: 32716937; PMCID: PMC7384632
Lee Y, Chakraborty S, Muthuchamy M. Roles of sarcoplasmic reticulum Ca2+ ATPase pump in the impairments of lymphatic contractile activity in a metabolic syndrome rat model. Sci Rep. 2020 Jul 23;10(1):12320. doi: 10.1038/s41598-020-69196-4. PMID: 32704072; PMCID: PMC737855
Roy S, Kumaravel S, Sharma A, Duran CL, Bayless KJ, Chakraborty S. Hypoxic tumor microenvironment: Implications for cancer therapy. Exp Biol Med (Maywood). 2020 Jul;245(13):1073-1086. doi: 10.1177/1535370220934038. PMID: 32594767 PMCID: PMC7400722 [available on 2021-07-01]
Kumaravel S, Singh S, Roy S, Venkatasamy S, White T, Sinha S, Glaser S, Safe S, Chakraborty S. CXCL11-CXCR3 axis mediates tumor lymphatic crosstalk and inflammation induced tumor promoting pathways in head and neck cancers. Am J Pathol. 2020 Apr;190(4):900-915. doi: 10.1016/j.ajpath.2019.12.004. PMID: 32035061.
Roy S, Glaser S, Chakraborty S. Inflammation and progression of cholangiocarcinoma: Role of angiogenic and lymphangiogenic mechanisms. Front Med (Lausanne). 2019 Dec 18;6:293. doi: 10.3389/fmed.2019.00293. PMID: 31921870.
Kim J*, Chakraborty S*, Jayaprakasha GK, Muthuchamy M, Patil BS. Citrus nomilin down-regulates TNF-α-induced proliferation of aortic smooth muscle cells via apoptosis and inhibition of IκB. Eur J Pharmacol. 2017 Sep 15;811:93-100. doi: 10.1016/j.ejphar.2017.05.043. PMID: 28551013 (*equal contribution)
Lee Y, Fluckey JD, Chakraborty S*, Muthuchamy M*. Hyperglycemia- and hyperinsulinemia-induced insulin resistance causes alterations in cellular bioenergetics and activation of inflammatory signaling in lymphatic muscle. FASEB J. 2017 Jul;31(7);2744-2759. doi: 10.1096/fj.201600887R. PMID: 28298335; PMCID: PMC5471512 (* corresponding author)
Chakraborty S, Zawieja SD, Wang W, Lee Y, Wang YJ, von der Weid PY, Zawieja DC, Muthuchamy M. Lipopolysaccharide modulates neutrophil recruitment and macrophage polarization on lymphatic vessels and impairs lymphatic function in rat mesentery. Am J Physiol Heart Circ Physiol. 2015 Dec 15;309(12):H2042-57. doi: 10.1152/ajpheart.00467.2015. PMID: 26453331; PMCID: PMC4698422
Chakraborty S, Zawieja DC, Davis MJ, Muthuchamy M. MicroRNA signature of inflamed lymphatic endothelium and role of miR-9 in lymphangiogenesis and inflammation. Am J Physiol Cell Physiol. 2015 Nov 15;309(10):C680-92. doi: 10.1152/ajpcell.00122.2015. PMID: 26354749; PMCID: PMC4652079
Chakraborty S, Davis MJ, Muthuchamy M. Emerging trends in the pathophysiology of lymphatic contractile function. Semin Cell Dev Biol. 2015 Feb;38:55-66. doi: 10.1016/j.semcdb.2015.01.005. PMID: 25617600; PMCID: PMC4397138
Chakraborty S, Nepiyushchikh Z, Davis MJ, Zawieja DC, Muthuchamy M. Substance P activates both contractile and inflammatory pathways in lymphatics through the neurokinin receptors NK1R and NK3R. Microcirculation. 2011 Jan;18(1):24-35. doi: 10.1111/j.1549-8719.2010.00064.x. PMID: 21166923; PMCID: PMC3058475
Chakraborty S, Mohiyuddin SM, Gopinath KS, Kumar A. Involvement of the TSC genes and differential expression of other members of the mTOR signaling pathway in oral squamous cell carcinoma. BMC Cancer. 2008 Jun 6; 8:163. doi: 10.1186/1471-2407-8-163. PMID: 18538015; PMCID: PMC2430211
Chakraborty S, Khare S, Dorairaj SK, Prabhakaran VC, Prakash DR, Kumar A. Identification of genes associated with tumorigenesis of retinoblastoma by microarray analysis. Genomics. 2007 Sep;90(3):344-53. doi: 10.1016/j.ygeno.2007.05.002. PMID: 17604597