Amy L. Waer, MD, FACS
Jean and Tom McMullin Endowed Dean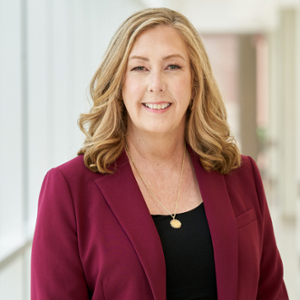 Amy Waer, MD, has served as the dean of the Texas A&M School of Medicine since January 1, 2021.
Before being named the dean, Waer served as interim dean since September 2019, while continuing her role as executive dean for education and academic programs for the college. She started in the School of Medicine in February 2018 as the vice dean of education and academic programs.
Waer joined Texas A&M University after several decades of surgical experience and medical education expertise from private group general surgery practice in Virginia followed by 14 years at the University of Arizona Health Sciences Center and School of Medicine in Tucson, Arizona. She served in multiple roles while in Arizona including as surgery clerkship director, surgery residency program director, chair of general surgery, chief medical officer, medical director for the Arizona Telehealth Program, associate dean for curricular affairs, and the interim assistant vice president of interprofessional education, collaborative practice, and community engagement. She oversaw the rural medicine Professions Program at the University of Arizona, traveling throughout Arizona conducting site visits and recruiting for the rural faculty preceptors.
Waer has been recognized throughout her academic career with awards that honor her teaching and ability to serve as a role model. She held the position of director of the surgery clerkship at the University of Arizona for five years, during which time the clerkship was twice recognized for excellence with the award for "Outstanding Achievement in Teaching by a Clerkship or Elective in the Clinical Sciences."
A noted scholar and educator, Dr. Waer holds numerous certifications, including being a member of the American Board of Surgery and a Fellow of the American College of Surgeons. She is also recipient of numerous awards for her contributions to medical education and curriculum design, including:
Charles W. Putnam Teaching Award, as voted by her peers
Award for Excellence in Clinical Science Teaching
Induction into Texas A&M School of Medicine's Academy of Distinguished Medical Educators
More recently she was the first Texas A&M School of Medicine individual to be accepted in the nationally recognized Drexel University Executive Leadership in Academic Medicine Fellowship for 2020/2021.
Waer received her undergraduate and medical degrees from the University of Arizona. Her research and clinical interests have focused on surgery, surgical education and breast surgery. More specifically, her research has centered on breast cancer prevention and early detection.